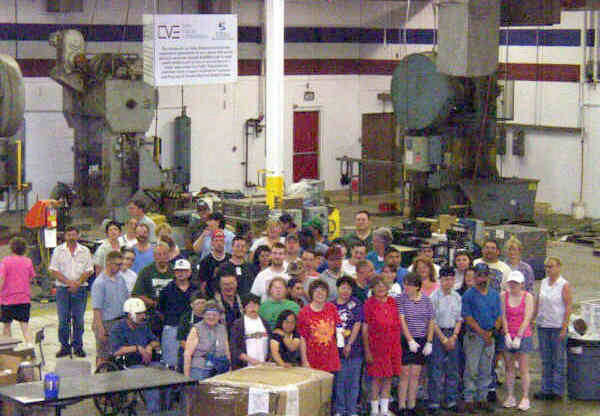 Scene on the busy factory floor at Cass Valley Enterprises, Vassar.
---
Rotarians to Hear Chamber's Pitch on Minor League Baseball by Mike Seward
Bob Chadwick of Cass Valley Enterprises Grows Workforce with New Contract
August 8, 2004
By: Dave Rogers
THE BREEZES -- Weekly Newsletter of the Rotary Club of Bay City
           This week's program: Mike Seward speaking on proposed minor league baseball in Bay City. Don't miss this presentation, it is important to the future of the community!
      Last week's program: Bob Chadwick, Cass Valley Enterprises, Vassar.
      One main safeguard against "friendly fire" accidents in combat zones around the world where U.S. forces are engaged is produced right here in Michigan's Thumb region.
      Cass Valley Enterprises is expanding its workforce of disabled people to about 140 under a new contract for $11 million worth of combat identification panels for tanks and other vehicles, Caro Rotarian Bob Chadwick told Bay City Rotarians last week.
      "This is a terrific success story not only for Cass Valley Enterprises but also for people with disabilities," said Chadwick.
      The firm, operated under sponsorship of Tuscola BehavioralHealth Systems, Caro, for which Mr. Chadwick is CEO, already had longterm government contracts for production of seats and side racks for 2 1/2 and 5 ton troop carriers, fire rakes for the U.S. Forest Service, and metal dust pans for the General ServicesAdministration.
      The latest contract, received just last month, is for passive louvered shutter-like devices mounted on turrets of combat vehicles.
      "These devices prevent friendly fire incidents since from the air they show up as white rectangles," said Mr. Chadwick. "We are pleased to be able to contribute to saving the lives of our troops."
      He's especially pleased to be able to employ 30-40 new disabled persons under this new contract that he expects will last at least 3-4 years, maybe longer.
      There are other, higher tech solutions to the problem of vehicle identification, but they are more costly. And this one works just fine, Mr. Chadwick points out.
      Twelve years ago, before hearrived on the scene from a similar post in Ionia, Cass Valley Enterprises did about $500 a year on a ceramics contract with Dollywood, the entertainment complex operated by singer Dolly Parton.
      Today the firm's contracts total about $15 million a year and the company has moved from 10,000 square feet in Caro to about 40,000 square feet in Vassar.
      Mr. Chadwick has been in the field of management of enterprises for the disabled since 1972. He earned a bachelor's degree from Western Michigan University, Kalamazoo, and a master's in Business Administration from Saginaw Valley State University, Saginaw. He was previously CEO of Ionia County Community Mental Health.###
---
eClub-One
: Members with internetconnections are encouraged to visit eClub-One monthly for a makeup. To get makeup credit you need to fill out the makeup form on that site. Print the acknowlegement for you receive and turn it in to recive credit. Be sure to enter our club's district number (
6310
) on that form.
Click this link to open eClubOne in a new window:
www.RotaryEclubOne.org