Literacy Council Recipient of Rotary Community Grant
August 31, 2010
By: Stephen Kent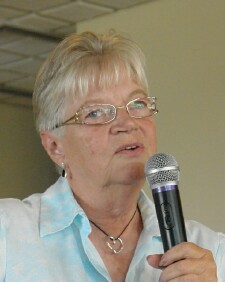 Kathy Rayner
Kathy Rayner
, Executive Director of the Literacy Council of Bay County, spoke to Rotary about the mission and work of the organization, which was the recent recipient of a Rotary Community Grant for supplies for summer program.
Raynor has been involved with adult education and tutoring since 1970. Today she is a state certified tutor trainer and provides training throughout the state. She accepted her position with the Literacy Council in 1997.
The Rotary grant helped with the summer reading program, which targets youngsters in the second to fourth grade. Eighty six kids were tutored this summer by almost as many tutors. The session just ended last week. With about 25% of the evaluations in the average improvement is about one grade level, which is on par with the last seven years.
The Rotary funds were used to buy supplies like pencils, markers, folders and materials but also helped purchase fun things like word games, scrabble tiles, and other hands on item that help a child learn.
The program recruits kids with letters to all Bay County public, private and parochial schools. Teachers refer parents of kids who need help to the program.
Limited time is available to screen this many children in the month before the program starts. Of the 174 applications, 87 were selected. Students who are behind their grade level are targeted.
In adult programs the student and tutor are matched. With the summer children's program tutors usually select their own students based on location, time availability and other factors.
In the past most tutors have been high school students who need community service hours toward their own graduation. This year, with the help of a Bay City Times article, a larger number of adults volunteered.
Students typically work with their tutor twice a week for 45 minutes. The key to the success is the student having a non-judgmental, interested and fun person to work.
The adult tutors generally love the program and often become very attached to their students. Some have continued helping their students even into the following school year.
Raynor says that she sees a much evidence that labels may be a root problem in our society. Kids are labeled as slow learners, or problems, or suffering with ADD. This label becomes an excuse for the child to fail or to stop trying.
Raynor says it's very important to not set the child up for failure by using a label. School must assess and must grade children, but parents should not allow the labels to impede the child's progress.Don't discuss these issues in front of them. Encourage them that they can do anything. Let them know that no matter what the barriers are, they can succeed.
From Raynor's perspective, reading is a key to success. "From Kindergarten to third grade kids are learning to read. From then on they are reading to Learn".
The program served 86 kids this year. They hope to expand to 100 kids next year.
---
Raynor said that her ability to read let her memorize her first poem, and she quoted the first stanza. For those interested, the poem is by Oliver Herford (1863-1935) and goes:
Here's to the man who invented stairs
And taught our feet to soar!
He was the first who ever burst
Into a second floor.
The world would be downstairs to-day
Had he not found the key;
So let his name go down to fame,
Whatever it may be.
---
CLUB NEWS and ANNOUNCEMENTS
The next
incoming GSE
team will be from
Afghanistan
and will be arriving in Bay City on October 12. This is the first team, ever, from that country and Bay City is the first stop. This is both an honor and a huge responsibility for the Bay City club to make that all important first impression.
International Night
is scheduled for
October 14
. (The Afghanistan GSE team will be here!) Bob Chadwick asked Rotarians to begin coming up with AUCTION ITEMS. The minimum value should be $25.
. . . . Donation forms can be found on the club
DOWNLOAD Page
. . . . Other information is on the
International Night
page.
---
LINKS
Make-up On-Line
at
www.RotaryEclubOne.org
Rotary history
www.rotaryfirst100.org
, the Rotary Global History Fellowship web site.
---
DATES TO REMEMBER
International Night - October 14, 2010.
---
Upcoming Programs
(See the official schedule at RotaryBayCity.org )
September 7: B.A.S.E. Team - Foster youth helping foster youth.
A youth run council of current or former foster youth talk about there group empowering others to succeed.
September 14: District outbound Ambassadorial Scholar Tyler Mathew.
Tyler is a graduate of West Point and our district's outbound Ambassadorial Scholar.
September 21: District Governor Visit.
Our new District Governor Eileen Jennings will be here to share her vision for our District.
September 28: Field's Neuroscience Institute.
Dr. Gary Dunbar will be presenting a full program about FNI.
---
Visit RotaryBayCity.org