Doug Lewis Speaks to Rotary About BASETEAM
September 7, 2010
By: Stephen Kent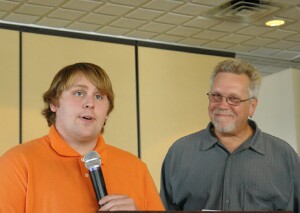 Jason Geere and Doug Lewis
Doug Lewis is the Youth In Transition Coordinator for the Department of Human Services. Doug spoke to Rotary on BASETEAM, a locally driven youth board that works to help young people coming out of the Foster Children.
Kids enter foster care because of abuse and neglect on the part of their caregivers. These kids are not guilty of doing something wrong. They are the victims of something wrong done to them.
Foster kids leave the program at eighteen and have historically been immediately on their own. Some six years ago the Bay County DHS looked at those kids and found that at age 22 almost half lack a high school diploma, a quarter had been homeless at some point. Almost a third of the males had been incarcerated at least once and seven percent of the girls had become pregnant before age 21. A third had been diagnosed with mental illness or drug problems.
With help from the Jim Casey Foundation, the State of Michigan tried a new way of helping these foster youth in a number of ways. The youth run BASETEAM helped young fosters have a voice in what happens to them.
Many of these kids grew up in a culture of poverty. The program tries to teach present them with other options and teach them to utilize resources without becoming a burden on the system.
The program partners with banks to develop Individual Development accounts where the kids can save money. The program will match up to $1,000 a year to help the kids acquire assets like an education, housing and vehicles. Rather than handing them money, the program partners to teach them how to purchase things on their own.
Young people are encouraged to change the system that they know best. The youth board developed a handbook for youth coming into care. They were instrumental in a Bay DHS policy that foster kids be moved with their possessions in something other than garbage bags. The program now provides duffel bags to each foster child.
The program follows a set of guiding principles, including: Independence at 18 is a myth. The best cure is prevention, it's also the cheapest. The community has an important role to play. Young people should be active in developing and advocating opportunities to meet their best needs.
To be successful the program needs community partners to volunteer their time to teach youth how to succeed. They need mentors, new clothing, and other supplies.
Lastly, the program needs financial support. The Casey Foundation's eight year commitment is coming to an end. Additional support has been given by Do All and by the Meier and Associates.
The young people assisted by this program are victims of circumstances beyond their control. The goal and desire is that they grow beyond being victims, even beyond being survivors, to become over comers.
---
CLUB NEWS and ANNOUNCEMENTS
Thanks and congratulations to Andrea Hales on attaining her Paul Harris fellow. Andrea benefited from recognition points provided by Cindy Chadwick. Cindy has more point available, which can be used as a matching contribution toward any member's first level Paul Harris.
And also to Andreas Teich who achieved his Paul Harris PLUS SIX, his Ruby level.
Welcome new member Ann Russell, who transferred to the Bay City club from the Northern Bay and Arenac Rotary.
Andreas Teich reported on the District's Pure Water for The World that he attended representing our club. An effort was made a million dollars for water projects in the Dominican Republic. That goal was met. A modest follow up project targeting sanitation for the region is now being discussed to raise $24,600. This proposal will be discussed by the Club's board and committees as a possible international project.
The
incoming GSE
team from
Afghanistan
, which was scheduled to visit in October, has been delayed. The hope is that the trip will still happen sometime next year.
International Night
is scheduled for
October 14
. (The Afghanistan GSE team will be here!) Bob Chadwick asked Rotarians to begin coming up with AUCTION ITEMS. The minimum value should be $25.
. . . . Donation forms can be found on the club
DOWNLOAD Page
. . . . Other information is on the
International Night
page.
---
LINKS
Make-up On-Line
at
www.RotaryEclubOne.org
Rotary history
www.rotaryfirst100.org
, the Rotary Global History Fellowship web site.
---
DATES TO REMEMBER
International Night - October 14, 2010.
---
Upcoming Programs
(See the official schedule at RotaryBayCity.org )
September 14: District outbound Ambassadorial Scholar Tyler Mathew.
Tyler is a graduate of West Point and our district's outbound Ambassadorial Scholar.
September 21: District Governor Visit.
Our new District Governor Eileen Jennings will be here to share her vision for our District.
September 28: Field's Neuroscience Institute.
Dr. Gary Dunbar will be presenting a full program about FNI.
---
Visit RotaryBayCity.org