Rotary Ambassadorial Scholar to Oxford Speaks
West Point graduate will read for Masters of Science in African Studies
September 14, 2010
By: Stephen Kent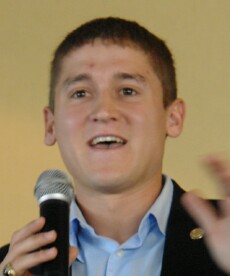 Tyler Matthews
Tyler Matthews
is Rotary District 6310's Ambassadorial Scholar for 2010 to 2011. Tyler, a 2006 Midland High School graduate and a 2010 West Point graduate, will be leaving shortly for a year of study at
Oxford University
where he will read for a Masters in Science in African Studies.
The Ambassadorial Scholar program was designed to promote international understanding, cooperation and peace. To that end it funds one year of advanced study abroad. Scholars engage in cultural enrichment, participate in local service projects, and make lasting friendships abroad.
Anticipating the question of why a soldier should be selected as a scholar, Army Infantry 2nd Lieutenant Matthews quoted Thucydides who said "A nation that makes a great distinction between its scholars and its warriors will have its laws made by cowards and its wars fought by fools". He then quoted Douglas MacArthur who said "The soldier, above all other people, prays for peace, for he must suffer and bear the deepest wounds and scars of war".
Matthews has a passion for African studies after serving there on a humanitarian effort as a cadet. As a member of a nine member team he lived in a remote village in central Ghana where he taught English and math. He has also traveled to Johannesburg and just returned from Tanzania where he worked in the US embassy.
As a West Point graduate, Matthews will serve five years in the Army. He was granted a year deferment to complete his Oxford studies. He anticipates entering active service in 2012. His longer term goal is to serve as a Foreign Area Officer in Sub-Saharan Africa. He anticipates eventually returning to Mid-Michigan to serve at the state and local level. He believes that committing to a career of Public service lives up to the values of Rotary.
Matthews keeps a blog on-line and will use it to communicate his experiences with Rotary. Link to this blog at
Oxfordtales.WordPress.com
.
---
CLUB NEWS and ANNOUNCEMENTS
District Governor Eileen Jennings will speak to the club this week, September 21. She will meet with the board prior to the regular meeting.
Sherri Burke
from Saginaw's
Field Neurosciences Institute
presented a short video promoting their "Close to Home" fundraiser at the Temple Theater on September 24th. This year's event will raise funds toward the purchase of a 3-D Incubator Microscope for the study of stem cells. This new technology allows scientists to study stem cells as they divide and in real time, greatly speeding research efforts in this exciting branch of science. More information is available at
www.FNI.org
.
The Rotary Board met prior to the regular meeting. Members discussed dues, major projects, community grants, and fund raising at some length. A working group was established to continue this discussion and make recommendations to the Board. The first meeting will be held
October 19
following
the regular meeting. All interested members are welcome to attend.
Remember International Night on October 14
. Buy your tickets now. Bob Chadwick is looking for more auction items or contributions to purchase items. (The minimum value of any should be $25.)
. . . . Donation forms can be found on the club
DOWNLOAD Page
. . . . Other information is on the
International Night
page.
---
Upcoming Programs
(See the official schedule at RotaryBayCity.org )
September 21: District Governor Visit.
Our new District Governor Eileen Jennings will be here to share her vision for our District.
September 28: Field's Neuroscience Institute.
Dr. Gary Dunbar will be presenting a full program about FNI.
---
DATES TO REMEMBER
International Night - October 14, 2010.
---
LINKS
Make-up On-Line
at
www.RotaryEclubOne.org
Rotary history
www.rotaryfirst100.org
, the Rotary Global History Fellowship web site.
---
Visit RotaryBayCity.org