District Governor Speaks to Rotary Club
September 19, 2010
By: Stephen Kent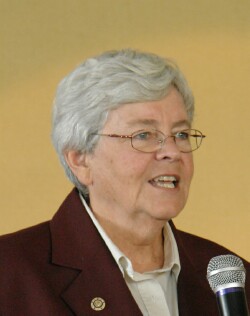 District Governor Eileen Jennings
District Governor Eileen Jennings addressed the Bay City Club. Jennings joined Central Michigan University in 1980 and serves as the school's General Counsel. She joined Rotary in 1990 and has been active at many levels leading up to her year as District Governor.
Prior to the regular meeting Jennings met with the board to review the club's goals and plans for the year and how those relate to the district and international goals. She asked for reports on the club's community activities, fundraising, and impact on society.
Jennings addressed the entire club after lunch. Jennings noted that the international theme for the year is "Building Great Communities, Bridging Continents". Her own challenge to clubs is to undertake one local community service project and one international project during the year.
"Rotary did not start as a service club", said Jennings. "It was started by a group of businessmen who wanted to encourage and support each other in the ethical practices of business." The significant and far reaching service aspects of Rotary came a few years later.
Jennings congratulated the Bay City club for it's annual Career Days job shadowing programs. She was pleased to learn that the programs this year will emphasize business ethics.
Addressing membership she suggested several ideas that she has seen at clubs around the district. Rotary's International President has challenged clubs to become bigger, better and bolder. Reporting that if all clubs meet their membership goals, the district will gain over 80 new members.
Clubs were encouraged to expand the horizon for potential members. Look for younger people. Look to professions and businesses that may not be represented by the membership. Above all, invite people to visit. The key to attracting new members is often to just ask.
Among all service clubs, Rotary is unique in its global, international reach. Through Rotary's efforts, Polio will be eradicated as a disease in our lifetime. Rotary's water and sanitation projects world wide are having just as significant impact.
Noting that Bay City is one of the top contributors to Rotary's causes each year, Jennings reinforced the Rotary goal of Every Rotarian, Every Year. The Amount is not as important as the fact that every member has given something. "Write a $10 check. Even if you give more, if everyone does this, then the goal will be met."
---
CLUB NEWS and ANNOUNCEMENTS
Welcome new member
Ann Russell
who transferred from the Northern Bay and Arenac Club.
The working group established to discussion and make recommendations to the Board concerning
dues, fund raising, and charitable grants
will meet
October 5
after the regular meeting. All interested members are welcome to attend.
Dictionary Project
deliveries are being scheduled now. If you want to deliver to schools please contact Chuck Cusick as soon as possible.
Remember International Night on October 14
. Buy your tickets now. Bob Chadwick is looking for more auction items or contributions to purchase items. (The minimum value of any should be $25.)
. . . . Donation forms can be found on the club
DOWNLOAD Page
. . . . Other information is on the
International Night
page.
Tim Hollsworth ask for donations to cover the cost of the
Princess Wenona Cruise
that is auctioned each year at International Night. Several members stepped to the plate immediately. Thanks to those folks from the entire club.
---
Upcoming Programs
(See the official schedule at RotaryBayCity.org )
September 28: Field's Neuroscience Institute.
Dr. Gary Dunbar will be presenting a full program about FNI.
October 5: Water Resource Development in Africa
Presented by Evan Griffith
October 12: State of the Bay County Library System
Presented by Library Director, and Rotarian, Tom Birch.
October 19: Youth Study Exchange
Presented by Brenda Rowley.
October 26: **Off Site** luncheon at the Delta College Planetarium
Club members will experience the brand new 360-degree theater and hear about the expanded capabilities.
---
DATES TO REMEMBER
International Night - October 14, 2010.
---
LINKS
Make-up On-Line
at
www.RotaryEclubOne.org
District 6310 Web Site
Rotary International
www.rotaryfirst100.org
the Rotary Global History Fellowship web site.
---
Visit RotaryBayCity.org