Dr. Gary Dunbar Speaks to Rotary About Stem Cell Research
October 2, 2010
By: Stephen Kent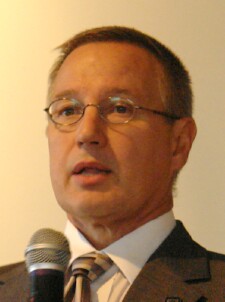 Dr. Gary Dunbar
Dr. Gary Dunbar, Executive Director of the Field Neurosciences Institute (FNI), and Co-Director of CMU's Program in Neuroscience, spoke to Rotary about the stem cell research being done at FNI in Saginaw, specifically "Adult Stem Cell Therapies in Rodent Models of Huntington's Disease".
According to
www.fni.org
"The Field Neurosciences Institute was founded in l988 through a gift from the four Field brothers to the Daughters of Charity. Their gift of the family dairy farm laid the groundwork for the Field Neurosciences Institute. The Institute stands in tribute to the Field family and exemplifies a commitment to perpetuate the Christian principles of honesty, integrity, compassion, love, and loyalty?the very principles that shaped the lives of the Field brothers."
Huntington's disease is a genetic disorder that causes progressive nerve degeneration that affects coordination and eventually to dementia. Striking in middle age, the condition initially causes involuntary muscle movements. Children of parents with Huntington's have a 50% risk of getting the disease.
A line of mice and rats have been developed to have the Huntington's gene and they are used as research subjects. Dr. Dunbar showed a number of video's showing various experiments and test using these rodents. Bone marrow stem cell therapies being developed at FNI using these animals show great promise for the treatment of the disease.
This year's funding focus for FNI is the purchase of an Incubator Fluorescence Microscope System. The $120,000 device will make FNI's Saginaw lab one of the best equipped cellular neuroscience labs in the country. The system provides 3-D, time-lapse analysis of cultured cells. Using the system allows researchers to screen treatments faster than can ever be done with animal experiments.
FNI is one of many labs working on these problems. Dr. Dunbar said that there is great hope of effective treatments coming in the next few years. Funding by the community and organizations like Rotary are essential in continuing this noble work.
---
CLUB NEWS and ANNOUNCEMENTS
The working group established to discuss and make recommendations to the Board concerning
dues, fund raising, and charitable grants
will meet
October 5
after the regular meeting. All interested members are welcome to attend.
Dictionary Project
deliveries are being scheduled now. If you want to deliver to schools please contact Chuck Cusick as soon as possible.
Remember International Night on October 14
. Buy your tickets now. Bob Chadwick is looking for more auction items or contributions to purchase items. (The minimum value of any should be $25.)
. . . . Donation forms can be found on the club
DOWNLOAD Page
. . . . Other information is on the
International Night
page.
---
Upcoming Programs
(See the official schedule at RotaryBayCity.org )
October 5: Water Resource Development in Africa
Presented by Evan Griffith
October 12: State of the Bay County Library System
Presented by Library Director, and Rotarian, Tom Birch.
October 19: Youth Study Exchange
Presented by Brenda Rowley.
October 26: **Off Site** luncheon at the Delta College Planetarium
Club members will experience the brand new 360-degree theater and hear about the expanded capabilities.
---
DATES TO REMEMBER
International Night - October 14, 2010.
---
LINKS