Griffiths Speaks On His Work In Malawi, Africa
October 5, 2010
By: Stephen Kent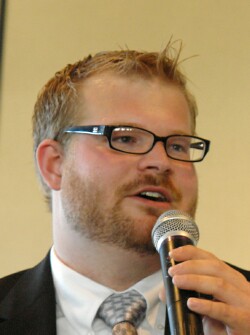 Evan Griffiths
Evan Griffiths
, son of Rotarian Jim Griffiths, spoke to the Rotary Club about his recent work in Malawi. Located south of equator in central Africa, Malawi is a country the size of Ohio with a population of 15 million people (compared to Michigan's 10 million). The country, which declared its independence from the United Kingdom in 1964, features Lake Malawi, the 8th largest freshwater lake in the world.
Griffiths went to Africa to fulfill a Public Affairs practicum but also for the opportunity to help others and for the educational opportunity. He also felt it would be an adventure and he had a desire to see Africa.
He chose to work in Malawi partly on the influence of Jeffrey Weenink, Pastor of First Presbyterian Church and another Rotarian, who had done missionary work there. Griffiths also cited the high poverty rate and need for water and sanitation work. He volunteered through Church of Central Africa Presbyterian (CCAP) and worked through partnership with CCAP and Water for People.
Getting to Malawi was an adventure in itself. A 6 hour flight to Atlanta and a 16 hour flight to Jo-berg led to a 13 hour layover in the Jo-Berg airport. That was followed by a 5 hour flight to Lilongwe and a 6 hour truck ride to Jasungu. After a 12 hour, over night stay in Kasungu the final leg was a 3 hour bus ride to Mzuzu where Griffiths spent much of his time.
When he was not in the bush, Griffiths stayed in the guest house of Jim McGill and his wife. McGill is director of the Water and Sanitation program for the Synod of Livingstonia.
Griffiths spent his time doing water surveys, teaching sanitation, working with local entrepreneurs, and helping drill boreholes for shallow wells.
Clean water, which is one of Rotary Internationals causes, is essential to a healthy population. Wells are a major step forward in Malawi. Shallow wells and borehole wells are a significant step forward in areas where people otherwise use open water sources for bathing, washing, and drinking.
Griffiths was impressed by the people where were happy, friendly and inquisitive while also being very poor. The average annual income is equivalent to about $250. He said that being a white man was a novelty and everywhere he went he would find groups of children who found him a fascinating sight.
---
CLUB NEWS and ANNOUNCEMENTS
International Night Is NEXT WEEK! October 14.
Be sure to get your tickets now.
Bob Chadwick is still accepting auction items if you have any.
Welcome back to
Jim Griffiths
who was a member of this club from 1981 to 2001 before leaving while working in Lansing. Jim was club president for the 1986-87 year.
Contragulations and thanks to
Barb Englehardt
who achieved her Paul Harris Fellowship status for contributaions to the Rotary Foundation. And a special thanks to
Barb Fisher
and
Jeffrey Weenink
who became PH Fellows PLUS 2.
The working group established to discuss and make recommendations to the Board concerning
dues, fund raising, and charitable grants
met for the first time and outlined the topics to be considered.
Dictionary Project
deliveries are being scheduled now. If you want to deliver to schools please contact Chuck Cusick as soon as possible.
---
Upcoming Programs
(See the official schedule at RotaryBayCity.org )
October 5: Water Resource Development in Africa
Presented by Evan Griffith
October 12: State of the Bay County Library System
Presented by Library Director, and Rotarian, Tom Birch.
October 19: Youth Study Exchange
Presented by Brenda Rowley.
October 26: **Off Site** luncheon at the Delta College Planetarium
Club members will experience the brand new 360-degree theater and hear about the expanded capabilities.
---
DATES TO REMEMBER
International Night - October 14, 2010.
---
LINKS