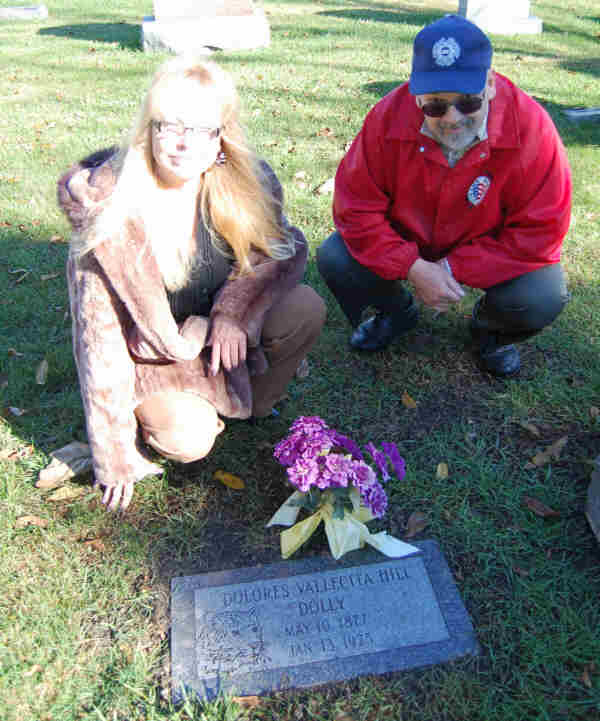 Elm Lawn Cemetery employee Sherry Trudeau and local historian Alan Flood inspect stone marker for vaudeville star Dolores Vallecita.
---
Elm Lawn Cemetery Honors Vaudeville Figure Killed Here in 1925 by Leopard
Dolores Vallecita Finally Has Proper Grave Marking, Thanks to the Cemetery
October 17, 2010
By: Dave Rogers
For 85 years the body of vaudeville star Dolores Vallecita, also known as Dolly V. Hill, has lain unidentified in Elm Lawn Cemetery.
That all changed last week when the cemetery, responding to queries from many local historians, did the right and proper thing for Ms. Vallecita.
They marked her grave with a granite stone featuring not only her name and birth and death date but also an engraving of a leopard's head. The stone was designed by Sherry Trudeau, cemetery sales associate.
The stone was dedicated Saturday at the culmination of a daylong series of events and mini-workshops that also included a walking tour given by tour guide Maureen McDermott.
The beautiful Spanish-born Ms. Vallecita was killed in the building now known as Old City Hall Restaurant, 814 Saginaw St., when one of her leopards swiped at her, tearing her windpipe with a razor sharp claw. The mishap occurred Jan. 13, 1925 and she died shortly thereafter in Mercy Hospital despite heroic efforts by doctors to save her.
---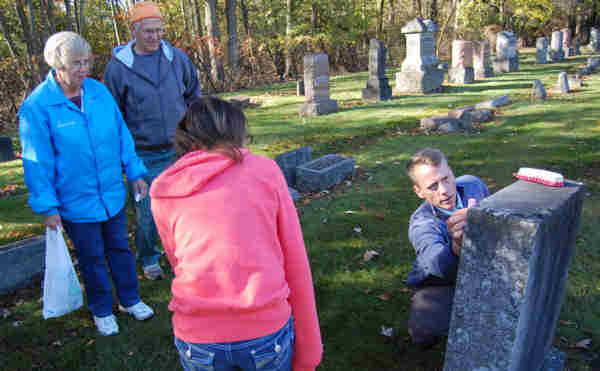 Rodney Neuman demonstrates techniques of rubbing cemetery headstones with chalk to Elm Lawn Cemetery Heritage Days visitors.
(MyBayCity Photo by Dave Rogers)
She had traveled the world, appearing in dozens of major cities over the course of a 15-year show business career -- only to end her life in Bay City, Michigan, in an unmarked grave.
No one knows why Ms. Vallecita's husband, animal broker Arthur I. Hill (a New Yorker no relation to the Saginaw lumber baron for whom a high school is named) came for the funeral but left town without ordering a marker for her grave.
Research by Ms. McDermott and the cemetery staff revealed that while Ms. Vallecita had claimed to be 42 years old in her vaudeville publicity, she actually was 47. The marker lists her correct birth date of May 10, 1877.
Cemetery managers said Elm Lawn Heritage Days will be an annual event.