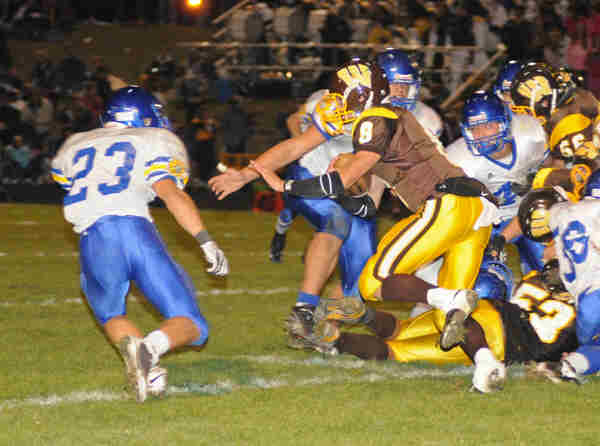 Western QB Austin Pichiotino (8) finds some running room as he avoids Midland's Tyler Kuehne.
---
Midland Holds Off Western's Fourth Quarter Charge 19-14
October 17, 2010
By: John Keuvelaar
With two games remaining and needing a win to clinch the playoffs, Western was poised to use a home crowd advantage to capture all that. But Midland still has hopes of a Saginaw Valley Title and a win would assure them that hope plus a higher playoff ranking. While the Chemics defense kept the high powered Warrior offense in check most of the night, it was the inability to handle the snap from center that almost cost Midland the game. Following a successful Warrior on side kick, Midland shut down the Warrior air attack to preserve a 19-14 win.
Midland got the first game break in the first quarter. After Western was flagged for intentional grounding moving the Warriors back to their 15 yard line, the center snap sailed over Austin Pichiotino's head and he alertly kicked the ball out of the end zone for a safety. Midland was now up 2-0.
Midland received the ensuing kick and drove it down to Western's 24 yard line. But a key fumble on the snap ended the drive.
After Western went three and out, Midland started near midfield. As play entered the second quarter, Midland mixed up running and passing to keep Western off guard. Then a nice out pass from quarterback Paul Lynch to David Walter brought the ball to the Warrior one. Lynch, filling in for injured starter Alex Rapanos, took the snap in the spread formation and ran it in for a touchdown. With the extra point kick, the Chemics were in front 9-0.
Soon the Chemics were back in business when punt returner, Alex Albrecht, busted the return up the sidelines to the Warrior 42. Then Toby Wilson busted off left tackle for a 42 yard touchdown run and a 16-0 lead.
With the kickoff going out of bounds, Western enjoyed good field position on their 35. Needing to get something going on offense, the Warriors went for it on fourth and 2. Midland came up big stopping Western and taking over on the Warrior 44. While the Chemics were looking to carry that momentum into another score, two fumbled snaps killed any chance of a drive. The good field position allowed a punt to pin the Warriors back on their 8 yard line.
Western showed a lot of determination. On third down, Pichiotino stepped back into his end zone and hit Tyler Kuch streaking down the middle of the field for a big gain as Midland's Alex Albrecht caught Kuch from behind at Midland's 26 yard line preventing a touchdown. It appeared Western had climbed back into the game when standout receiver Tyler Ellis made a beautiful over the shoulder catch while heavily guarded by Midland's Lukas Smillie. But the play was nullified by an offensive pass interference penalty and Midland was able to hold off Western.
But Western had gained some confidence. Soon they were back on the attack when Pichiotino found Ellis over the middle for a 34 yard touchdown with 8 seconds to play in the half. The extra point kick made it 16-7 Midland at the half.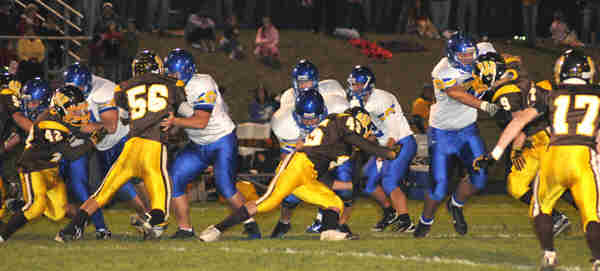 Midland's offensive line opens up big holes for running back Toby Wilson.
(MyBayCity Photo by John Keuvelaar)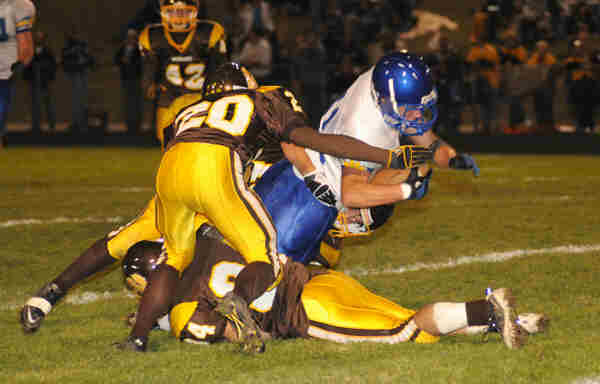 Western's defense made Midland fight for every yard.
(MyBayCity Photo by John Keuvelaar)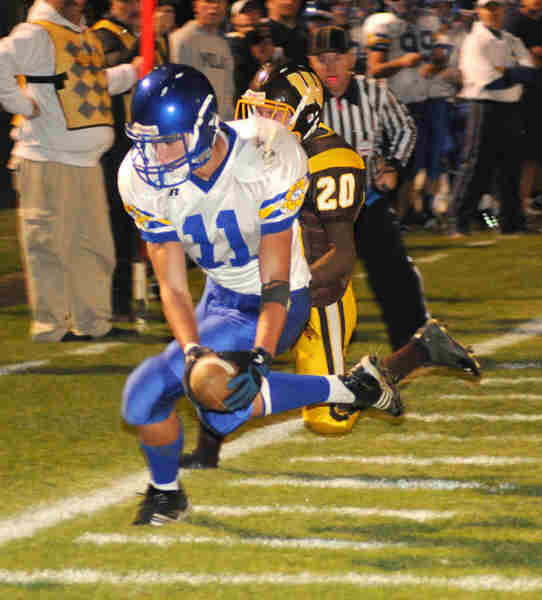 David Walter reaches for the end zone after receiving a nice pass from Paul Lynch.
(MyBayCity Photo by John Keuvelaar)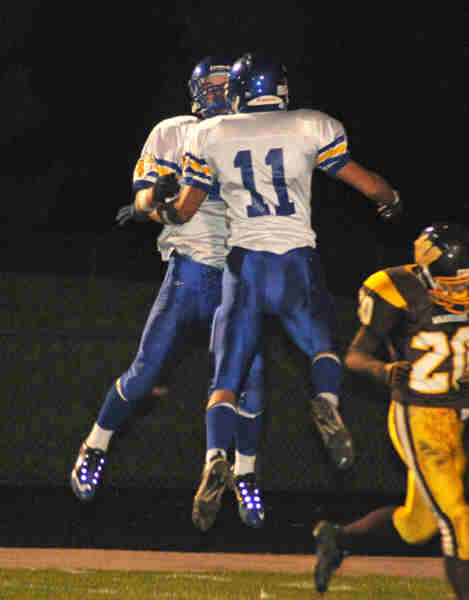 Teammates celebrate their score.
(MyBayCity Photo by John Keuvelaar)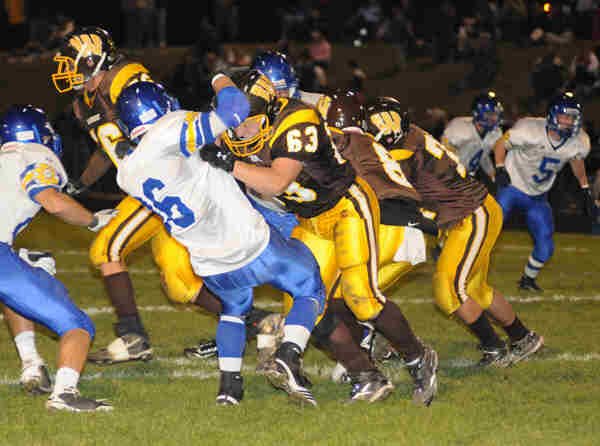 Jeremy Gwizdala puts a big hit on Midland's Brent Jozwiak to open up a hole.
(MyBayCity Photo by John Keuvelaar)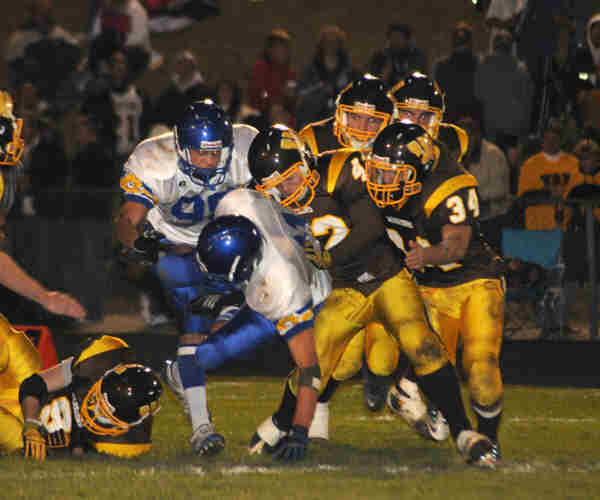 Jordan Bird and company bring down the Midland ball carrier.
(MyBayCity Photo by John Keuvelaar)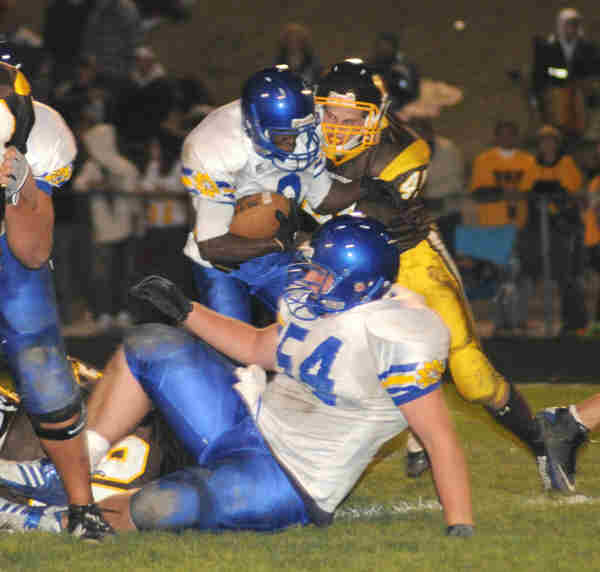 Avery Chapman finds a seam to run through.
(MyBayCity Photo by John Keuvelaar)
Midland took the second half kickoff and immediately took back the momentum. A pass interference call and a nice run by quarterback Paul Lynch had the Chemics on the Western 5. But two fumbled snaps helped Western hold off the charge forcing Midland to settle for a Matthew Frazier 21 yard field goal making it 19-7.
On Western's next possession, more troubles happened as quarterback Austin Pichiotino went down with an apparent ankle injury pressing into action backup Brett Leppek.
After a short punt, Midland had the ball at midfield and looked to take some time off the clock. The Chemics ground away behind Toby Wilson as they moved the ball to the Warrior 8 yard line. Three fumbled snaps helped Western make a goal line stand and the Warriors regain possession of the football on their 5.
Inspired, Josh Alba found some running room up the middle to get Western away from their end zone. Then Leppek went around right end for a big gain and Western was on the move. Once deep in Midland's territory, Pichiotino returned to the field. He quickly found Ellis for a 17 yard touchdown and narrowed the margin to 19-14.
Western came out with an onside kick that they recovered. With 6:23 left to play, Western had the ball on Midland's 42 down by 5 points. While the stars seemed to be aligned for a major upset, the Midland defense stepped up. The Chemics stopped all four passing attempts to take back possession of the ball with just over six minutes to play.
Midland looked to run some time off the clock but yet another fumbled snap allowed Western to hold forcing a punt. Western almost got a break when the punt snap sailed over the punter's head. But he fielded the ball and got the kick off receiving a favorable roll with the ball stopping on the Western 13.
Western's comeback hopes ended when on third down, Midland's Tyler Kuehne sacked Pichiotino forcing a punt and sealing a victory.
Midland's Toby Wilson led all rushers with 133 yards on 25 carries. Josh Alba had 44 yards for Western.
Next week Western hosts the Bay County game with Central. This game takes on more meaning than just County bragging rights. Western will be looking to lock up a playoff position with a sixth victory while Central will be playing the roll of the spoiler.
Meanwhile Midland plays Midland Dow for similar bragging rights but more importantly, keeping themselves in position should Mt. Pleasant stumble against Saginaw Heritage. It should add up for a great weekend of football no matter where the game is.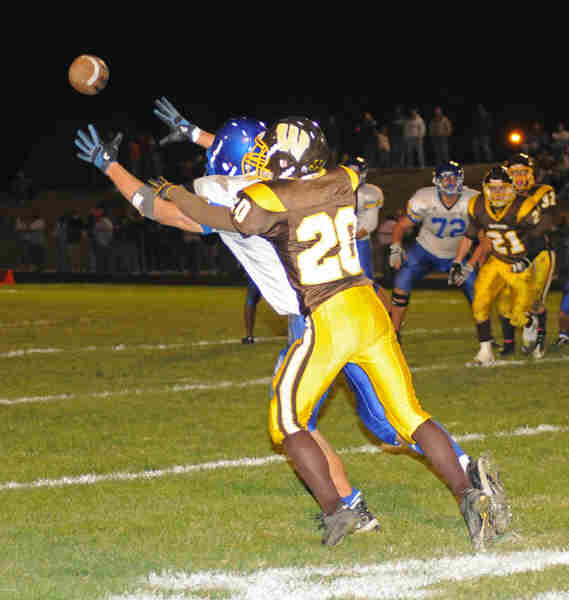 The pass is just wide of David Walter who is heavily guarded by Taylor Parker.
(MyBayCity Photo by John Keuvelaar)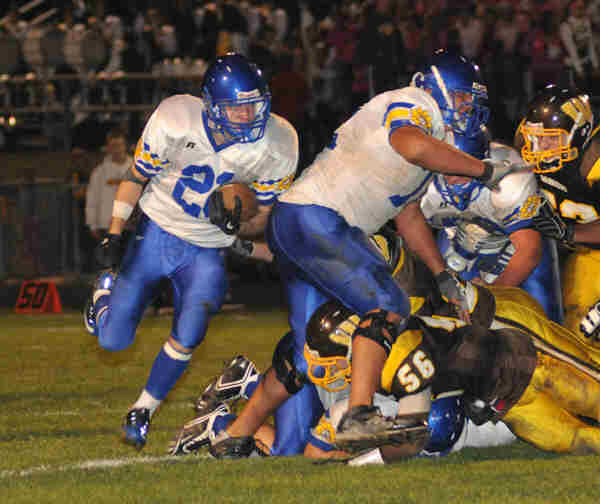 Toby Wilson follows his blocker on way to a 133 yard rushing night.
(MyBayCity Photo by John Keuvelaar)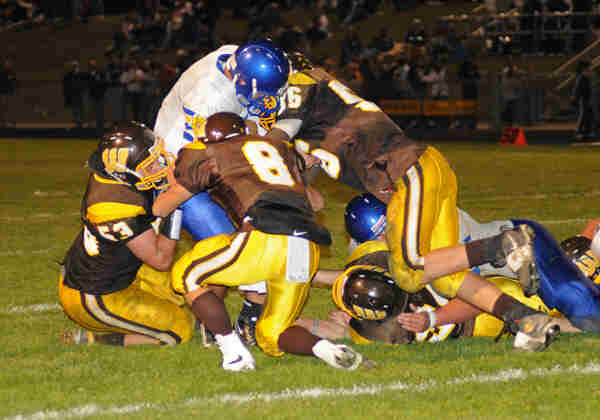 Austin Pichiotino and two unidentified teammates make a strong defensive stand.
(MyBayCity Photo by John Keuvelaar)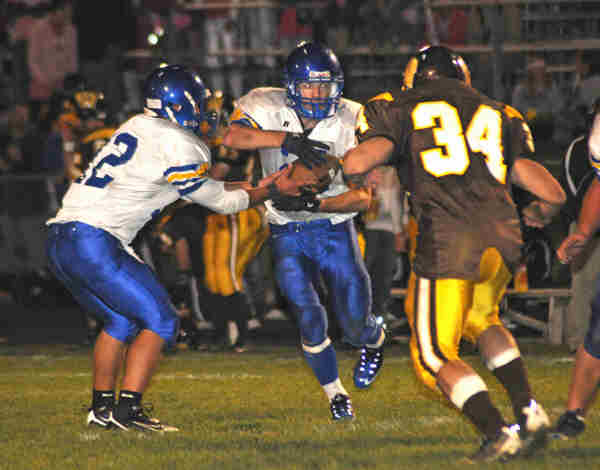 Josh Alba awaits the Midland ball carrier.
(MyBayCity Photo by John Keuvelaar)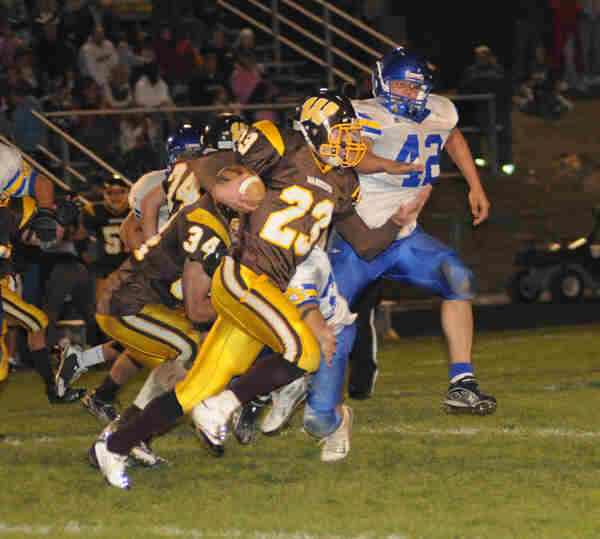 Brett Leppek heads around right end as he added a spark to the Western offense.
(MyBayCity Photo by John Keuvelaar)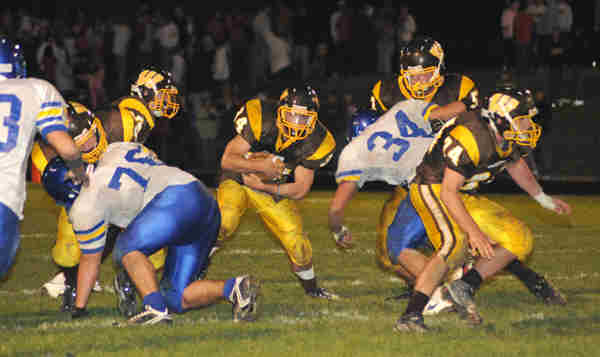 Josh Alba finds a hole for tough yards.
(MyBayCity Photo by John Keuvelaar)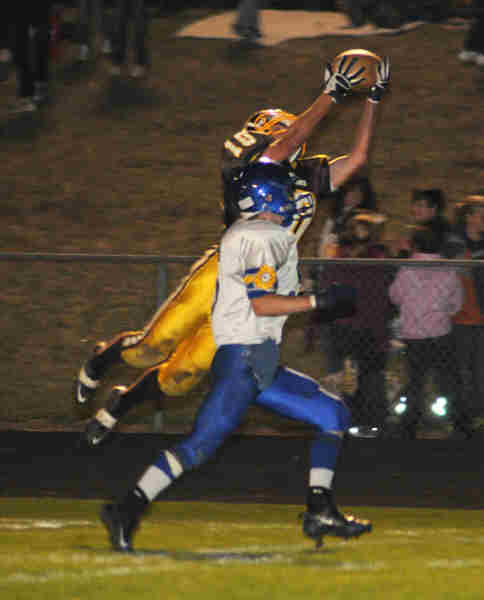 Chris Proctor lays it all out to make this catch.
(MyBayCity Photo by John Keuvelaar)