Rotary Youth Study Exchange Topic of Presentation
October 19, 2010
By: Stephen Kent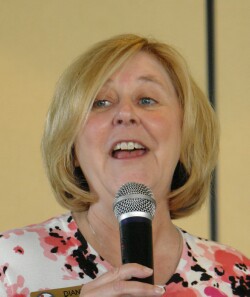 Diane Rodgers
District Youth Exchange Coordinator
District Youth Exchange Coordinator
Diane Rodgers
and Outbound Coordinator
Maureen Acker
Spoke to the Rotary Club about the District Exchange program. The Bay City club has sponsored a number of inbound students over the years but has seldom had an outbound student.
The Central States Rotary Youth Exchange (RYE) group covers 18 districts in six stated and Ontario Canada. The program is aimed at high school age youth and gives students the opportunity to live in another country and go to school there for the eleven months from August to June or July.
Students coming to the US from abroad are classified Inbounds. They arrive in either August and leave in July or arrive in January and leave in December.
Outbound students going abroad are selected in the Fall and leave the following August. They are prepared through orientation programs given by the District Committee. Rebound students returning in June have and instrumental role in the orientation by providing real life experience as part of the training.
In October of this year ten clubs will be hosting twelve inbound students. Three clubs will be sponsoring six outbounds. Next Rotary year, twelve clubs will sponsor thirteen inbounds. The outbounds have yet to be selected.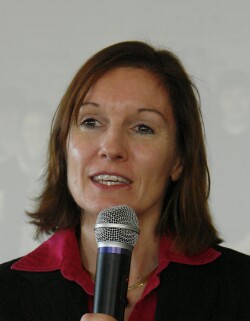 Maureen Acker
District Outbound Coordinator
Each Rotary Club that participates in the program appoints a Youth Exchange Officer (YEO) and forms a Youth Exchange Committee. Their responsibility is the recruit Outbounds and provide host families for Inbounds.
Each participating club assumes certain cost for Inbound Students, including a District fee of $1,100 and a monthly allowance for the student of $75. The club also covers the cost of meals when a student visits or makes a presentation.
The cost of Outbounds is covered by the host club abroad and by the student and his or her parents. Typically a family will spend around $4,000 for basic transportation and expenses.
The most important task of the local club is to find host families for the inbound students. The program asks that three families be assigned and each will take three to four months. These families do not have to be member of Rotary. The host families are encouraged to tread the visiting student as a member of the family. A number of Club members who have hosted students stood to speak of how rewarding experience it was.
Members interested in serving on the committee or hosting a student should speak to YEO Breada Rowley.
---
CLUB NEWS and ANNOUNCEMENTS
The Administrative Review Workroup discussing
dues, fund raising, and charitable grants
met Monday. The next meeting will be at
9:00am Thursday Oct 28
at Jerome Yantz's office, 1600 Center Avenue.
Dictionary Project
deliveries are being scheduled now. If you want to deliver to schools please contact Chuck Cusick as soon as possible.
---
Upcoming Programs
(See the official schedule at RotaryBayCity.org )
October 26: **Off Site** Meeting
Join us for lunch at the Delta College Planetarium Club members will experience the brand new 360-degree theater and hear about the expanded capabilities. November 2: A Constitutional Convention

appears as a ballot issue once every 16 years. Cindy Luczak discusses what it means to Michigan if approved by voters.

November 9: Rotary Homecoming

Wear your School Colors, Invite past Rotarians and friends.

Eilleen Curtis from the Bay Area Community Foundation BACF will talk about their new College Center at the Depot along with projects of the Youth Advisory Committee.
---
DATES TO REMEMBER
---
LINKS