Rotary Selects "Twin Club" in Turkey; Ten Minute Rotarians On Tap Tuesday
250 Volunteers Have Read to 8,600 Students in Chamber Program Resuming Soon
August 22, 2004
By: Dave Rogers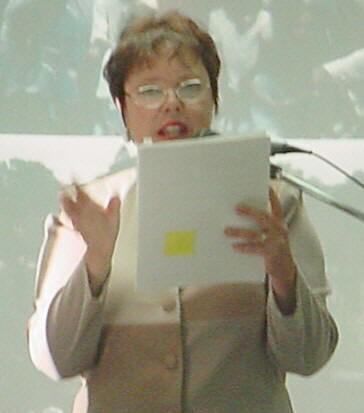 Anita Bowden describes the characteriestics of clubs in Brazil and Turkey that were vying to become a "Twin Club" with Bay City Rotary.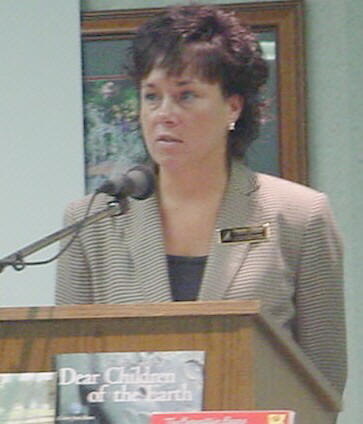 Pamela Clifford of the Bay Area Chamber of Commerce explains the "Reading is Bay County's Business" program to Rotarians.
This week's program: Ten Minute Rotarians.
Last week's program: Reading is Bay County's Business; Selection of "Twin Club."
           Turkey won out over Brazil in a show of hands vote for the "twin club" of Bay City Rotary.
      A club in a suburb of Istanbul was selected after lively debate. The decision was based on the consensus that Rotarians in America need to know more about the Islamic world, especially one where the community is needy and less literate about democracy.
      Chairperson Anita Bowden presented detailed information about the Brazilian and Turkish choices, including maps and letters from representatives of clubs seeking a U.S. partner.
      The "twin club" concept isan initiative of RI President Glenn Estess Sr. Plans for interaction between the clubs will be formulated in discussions to be scheduled, Ms. Bowden said.
      Pamela Clifford, director of Education and Workforce Development, Bay Area Chamber of Commerce, urged Rotarians to become involved in "Reading is Bay County's Business."
      "There isn't a profession or career that isn't impacted by literacy," she said, explaining that readers spend 20-30 minutes in classrooms and share personal experiences with the students in kindergarten through fifth grade.
      Volunteers also provide a hardcover book as a gift to the classroom library. Books are provided through the Bay Area Community Foundation and Vision for Education.
      "Since the program began in November, 2003, some 250 volunteers have read aloud to 8,600 students in 400 classrooms," Ms. Clifford said. More than 60 businesses and organizations have participated.
      Books used in the program emphasize the Core Democratic Values -- justice, common good, equality, diversity, patriotism and popular sovereignty.###