DoubleTree Hotel Hits 100 Percent Occupancy, Raising Economic Expectations
City Leaders Plot Development Strategy from Waterfall Park to River's Edge
August 25, 2004
By: Dave Rogers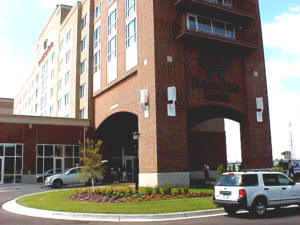 DoubleTree Hotel - Bay City Riverfront, has quickly fulfilled expectations that it may spark a widespread boom in downtown development.
      Unofficial reports from the DoubleTree Hotel - Bay City Riverfront put late August occupancy at the 100 percent level, lending more credence to a revival of Bay City's economy sparked by the hotel-conference center development.
      No less than six conference groups thronged the hotel on Wednesday and reports are that the facility has booked $2.5 million worth of advance conference business already.
      Standing under a tent on Third Street for the Waterfall Park grant announcement, City Manager Robert V. Belleman ticked off the "great and exciting projects" involving millions of dollars going in the city right now:
DoubleTree;
Waterfall Park;
Jennison Boathouse;
Pere Marquette Union Station;
Condominimums along the riverfront and downtown;
Madison Avenue Masonic Temple;
Uptown at RiversEdge.
      "We are creating living wage jobs and quality of life," said the city manager, noting that state funds from the Cool Cities initiative are helping leverage private investment dollars.
      "Let's keep the momentum going," he concluded.
      "When we get the momentum going, there's no limit to what we can do," echoed Candace Bales, executive director, Downtown Management Board.
      The city is seeking bids for site cleanup at Uptown under a $1.5 million budget. That would be the first phase of a 48-acre development at Uptown that could lead to condominium development by spring. A 40-unit condo development is projected along with a marina.
      Historians are excited by city plans to preserve and restore four historic buildings on the old Industrial Brownhoist site, the Foundry, Monarch, Corner and Kahn buildings, along with a picturesque gatehouse.
      Restoration of these buildings and potential reuse of the magnificent Albert Kahn designed I-B office building on Washington Avenue now in privatehands are considered to be key to revitalization of that part of downtown.
      The Michigan Economic Development Corporation (MEDC) that is helping fund Waterfall Park also has been contacted to help provide funding through grants and loans for the Uptown project.###