Rotary Foundation Touches Other People, Opens Horizons, Says Gagliardi
November 21, 2010
By: Dave Rogers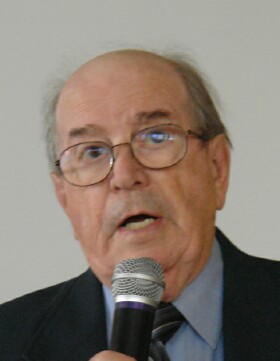 Dominic Gagliardi
"You can matter -- all can make a difference."
Those were the words of Dominic Gagliardi, of Midland, Rotary District 6310 foundation chair, who spoke to Bay City Rotarians last Tuesday.
Mr. Gagliardi, a past district governor (PDG), is a frequent speaker at rotary clubs throughout the district, working to "build pride in you and your club and what you are doing," he said.
Rotary is the foundation of a real world of peace and goodwill, he said, pointing to projects such as water wells in India, free eye clinics in third world countries, schools in remote areas, libraries in places like Brazil, computers sent to South Africa through a project headed by Jack Crowell of Delta College.
An aged person from India told a visiting Rotarian: "Before I could feel my grandchildren, now I can see them."
Mr. Gagliardi stressed that all Rotarians in the district are part of all the programs worldwide. "Because you are part of the foundation, you are part of all District 6310's programs," he said.
He urged Rotarians to practice a 30 second "elevator speech," designed to convince a listener in half a minute or less of the value of supporting Rotary programs.
He also urged Rotarians to talk to members of visiting Group Exchange Teams, such as those slated to come here soon from Turkey and Greece. "This is a great opportunity to get a feel for their problems and see what they need to build a good quality of life."
"Dream big," he urged, "since your dreams are only limited to your creativity. Enjoy the journey toward peace in the world."
---
CLUB NEWS and ANNOUNCEMENTS
Delivery of dictionaries to elementary schools is nearing completion. But the supply is running low. If you delivered and had any left over books please get those back to the club.
The next new member orientation will be December 1 at Tommy V's.
---
Upcoming Programs
(See the official schedule at RotaryBayCity.org )
November 23: Bay County Habitat for Humanity
New Executive director Mary Juhnke will be present on BCHFH and the impact her agency is working towards for our community.
November 30: Front Porch Renaissance group
Dr. Steven Ingersoll will give his vision for the future of Bay City and what he is doing to make a difference.
December 7: Saginaw Basin Land Conservancy
Valarie Roof discuss the Conservancy and the impact to our region.
---
DATES TO REMEMBER
---
LINKS