Rotary to Hear Update on International Night 100th Anniversary Program
Bring Your Money: Rob Clark Has Scads of Wonderful 'Desk Junk' to Auction
August 29, 2004
By: Dave Rogers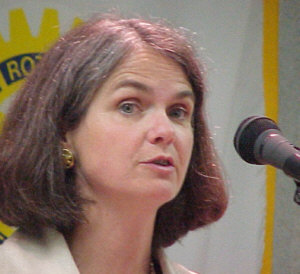 The program was facilitated by Anne Trahan.
THE BREEZES: Weekly Newsletter of the Rotary Club of Bay City, Michigan.
This week's program: International Night 100th Anniversary Program Update; Rob Clark sells his desk, a hilarious and fun-filled interactive exercise in fundraising for Rotary projects conducted by a budding auction master.
Last week's program: Harry Farris and Wes Timm, Ten Minute Rotarians.
Below:(Left)Harry Farris and (Right)Wes Timm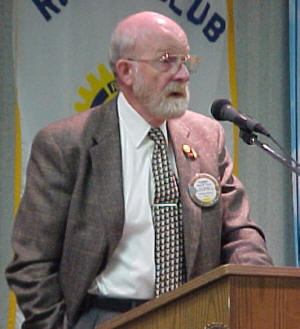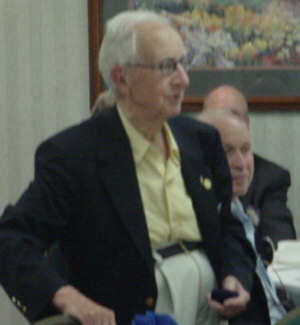 ---
      Harry Farris and Wes Timm informed and entertained Rotarians last week with stories of their lives.
      Harry, a native of Detroit, joined the Navy at the end of World War II after he graduated from Cooley High.
      Since he always liked horses, after the war he went to Michigan State College to become a veterinarian and was graduated in 1952. After a short time in practice in Cheboygan, Harry wound up in Bay City where he treated "everything from parakeets to elephants before he admittedly "went to the dogs" ... and cats.
      In1962, Dr. Ward Coomer, then 78 years old, became a senior active and opened the classification of veterinarian for Harry. Two years later he was away on a trip and on returning was surprised by being informed he had been elected president of the club.
      Many of Harry's recollections of his time as club president will be the subject of a report in the Rotary centennial history book now in preparation.
      Wes Timm's Ten Minute report was mainly about his 43 years with The Dow Chemical Co. after his graduation from the University of Michigan in 1935 as, guess what, a chemical engineer.
      After a modest beginning in the analytical lab, Wes rose to head a department of about 1,200 employees handling all functions of the business from engineering to the pipe shop.
      He helped develop a new technique for manufacturing latex and directed construction and equipping of a new plant in six months. The process he directed is still being used.
      Being employed in Midland, Wes was not around Bay City much until his retirement in 1978. In 1984 he met Cliff VanDyke and was invited to join Rotary. "This gave me a chance to meet a lot of wonderful people," he exclaimed. Mr. Timm was president of the club in 1991 and is a multi-level Paul Harris Fellow, as is Dr. Farris.
PRESIDENT'S CHALLENGES: 1) During this Centennial Year, every club member is asked to bring at least one guest (a prospective member) to lunch. This could include former memberswho have left the club. Don't scare guests off by telling them they're being invited with the goal of convincing them to join the club. Just invite them. Let them come and spend some quality time with club members. If guests express interest in Rotary, invite them a second time, then a third time. If all members bring at least one during the year, some of the guests will express and interest in Rotary. By exposing new people to Rotary, membership will take care of itself. (More challenges will be published in each week's Breezes.)###
---
eClub-One
: Members with internet connections are encouraged to visit eClub-One monthly for a makeup. To get makeup credit you need to fill out the makeup form on that site. Print the acknowlegement for you receive and turn it in to recive credit. Be sure to enter our club's district number (
6310
) on that form.
Click this link to open eClubOne in a new window:
www.RotaryEclubOne.org