Dr. Steven Ingersoll Sketches Front Porch Renaissance Ideas at Rotary
November 30, 2010
By: Dave Rogers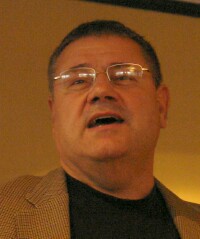 Dr. Steven J. Ingersoll
It is truly a grand vision -- that of Dr. Steven J. Ingersoll -- to revitalize the worst sections of a city through its housing stock.
Dr. Ingersoll, a former Bay City Rotarian and club president, told members here last Tuesday that Bay City has the old time charm that planners in other parts of the country are trying to recreate.
"Restored, livable, attractive places to live -- that's our future," he declared. His ideas for Bay City revolve around "repositioning architecture," converting multiple family dwellings to single family and attracting a new class of resident workers in those areas.
"Bay City could be the primary bedroom community of the tri-cities," he said, much as it already is the entertainment center. His restoration concepts harken to the days when neighbors socialized on their front porches, a way of life destroyed by the automobile.
He pointed to destruction of Detroit, Flint and Saginaw inner city neighborhoods as an example of "a culture that does not work," saying crime must be confronted or Bay City will risk suffering the same fate.
Part of his strategy is to "put tough guys in these restored houses and stare at the (criminal) commerce. Just observe it and it will stop or move elsewhere."
The optometrist-entrepreneur is putting his ideas in action on 15 residences and six commercial buildings (in projects estimated by MyBayCity.com from city brownfield application to cost about $9 million).
Along with the restored houses, Ingersoll is trying to seed revitalized education and an energized job market through "commodity production in a guild setting."
He asserted: "There is a market for specialty hand-made items on the Amish furniture model."
The old Wolverine Knitting Mill on 11th Street, formerly a Do-All Activity Center, will be the location for this initiative. He said the building is 45,000 square feet of post and beam construction ideal for the artists' loft concept that will begin with an eyeglass manufactory, training apprentices through the "bench system."
Other areas to be approached under this plan include historic restoration carpentry, various arts including painting and sculpture, wine making, etc.
He said "manufacturing tourism" will come into play as people will come to watch artisans making craft and other items. "Even with a commodity margin, it's better than unemployment," he said.
Part of Ingersoll's thrust is an assault on crime in one of the city's dilapidated housing area called "the Hood." A "pincer movement" will be created through the redevelopment of the former Madison Avenue Methodist Church into a charter school, culinary education center and performing arts venue.
Since high energy costs are at the root of much of the deterioration of inner city neighborhoods, Dr. Ingersoll proposes to install geothermal heating-cooling systems in his buildings. That would involve drilling 250 to 300 feet into the earth and tapping the natural energy through closed loop deep wells.
Another idea would be for the city to tap the kinetic energy of the Saginaw River with a water current turbine system, according to Dr. Ingersoll, who said the University of Michigan has studied such technology.
Dr. Ingersoll, a native of Greenville and graduate of Alma College and Ferris State University, is president of Smart Schools, Inc., that operates an 1,100 student charter high school in Traverse City and other charter schools. He is involved in operating optometric clinics in several locations, also, and maintains residences on Center Avenue here as well as in Traverse City. His housing restoration projects are run through Front Porch Renaissance, Inc., which he also heads.
For a 16 minute video of the Ingersoll vision for Bay City, please copy the following link and paste into your browser: http://vimeo.com/14871556 ###
---
CLUB NEWS and ANNOUNCEMENTS
Vocational Days: March 8 and March 22.
See Griff or Ralph for information. The club is looking for people to underwrite the lunch cost of our student guests. Please consider paying for your student of for some of the larger groups that go to Bay Med and Delta College.
Download Signup Form
Breezes Reporters Wanted
: If you'd like to help write the weekly Breezes please see Steve Kent. It's an easy job. No experience necessary. Training provided. High Pay (well at least a lot of thanks).
---
Upcoming Programs
(See the official schedule at RotaryBayCity.org )
December 7: Saginaw Basin Land Conservancy
Valarie Roof discuss the Conservancy and the impact to our region.
December 14: Salvation Army
Captain Mike Myers will talk about the status of Salvation Army projects.
December 21: Holiday Program
Enjoy the ever popular musical talents of some of our fellow Rotarians.
December 28: Off Site Meeting at the Do-Art Gallery, 1205 Washington Ave.
Chris Girard will talk about the Do-Art Gallery and all the talented artists in our community.
---
DATES TO REMEMBER
---
LINKS