Pere Marquette Depot Renovation in Rotary Club Spotlight This Week
Raconteur Rob Clark Cons Members Out of $412.50 in Amazing "Desk Auction"
September 5, 2004
By: Dave Rogers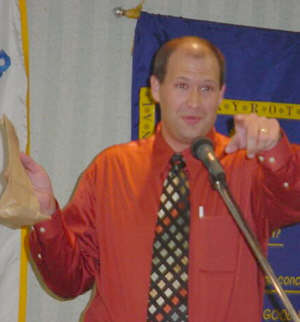 Rob Clark masterminds the "Desk Auction" assisting Rotarians to part with vast sums for items of dubious value as a benefit for International Night.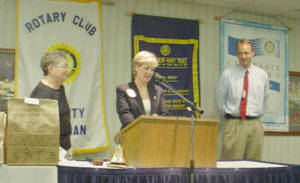 Barb Fisher, Connie Schweitzer and Alan Storm direct the chorus of planning for International Night.
      This week's program: Roger Merrifield, Restoration of Pere Marquette Union Station Depot. Mr. Merrifield, executive director of the Bay Area Community Foundation, will describe the action plan that is bringing to fruition the restoration of one of the community's historic treasures -- The Pere Marquette Depot. The restored depot will be the home of BACF and the Bay Area Convention and Visitors Bureau.
      Last week's program: International Night Update and Rob Clark's Excellent Auction.
      The run-up to International Night on Oct. 14 is gathering speed, event leaders Barb Fisher, Connie Schweitzer and Alan Storm told members of the Bay City Rotary Club on Aug. 31.
      "This event has been re-energized, so bring your friends," exclaimed club President Mike Stoner, leading the charge. "It will be a really nice program with musical entertainment."
      Look forward to a sit-down dinner with broiled salmon and succulent pork loin and all the trimmings topped off by "Celebration Cake" in honor of the 100th Anniversary of Rotary International.
(Below):Rob Monroe and Ron McGillivray congratulate each other for second level Paul Harris Fellow awards presented by RI Foundation Chair Kathy Czwerwinski.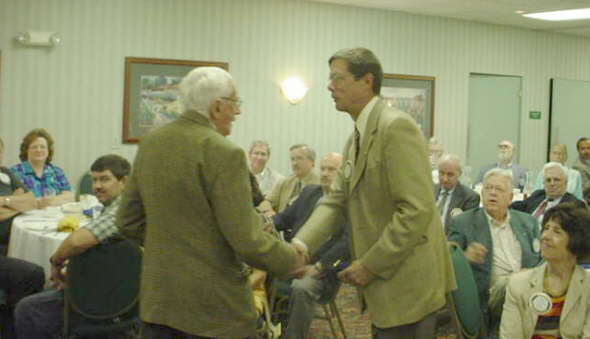 Bring bucks instead of bottles for the buckets of fun, says Jim McCue. Let us do the walking to the liquor store, says Jim.
      The annual "Really Big Raffle" will feature a "really big TV," a 51 incher with all the bells and whistles that will be a real prize for the winner. A mountain bike and $100 are second and third place prizes.
      Larry LaPorte is among the hawkers of the $50 per person event tickets for International Night and it's never too early to secure your seat at the event, to be held at the DoubleTree conference center. See Larry for tickets as well as steaks and chops at Jack's.
      International Night is Rotary's top fund-raiser of the year and will benefit the historical microparks slated to decorate downtown, informing visitors and reminding local folks as well of the rich heritage of Bay City.
      "Come and participate!" Stoner enthusiastically says.
      Rob Clark sold his desk for the third year to raise seed money for the club's International Night fund-raiser.
      A quick count of cash and IOU's at the end of the sale produced a preliminary revenueestimate of $412.50, more or less. The piece deresistance was the sale of the last item, a very large paper bag with mysterious contents, covered with encrypted writing suggestive of heiroglyphics on a mummy's tomb, that sold for $77.50.
      The President thanked Rob for having the skill to sell dozens of items of dubious value to club members.
      PRESIDENT'S ACTION LIST: (Continued)
      2) Attendance: Overall club attendance often averages under 60%. The problem is that while we have many, many members with very good attendance, we have some members with poor attendance. Former Rotary President Cliff Dochterman has said that every new president out to challenge club members to consider this: "There is a big difference between being a member of a Rotary Club and being a Rotarian."
      Challenge to all members: Every member is asked to go on line and do a make-up at rotaryeclubone.org whether they need a makeup or not. Members should learn how to do it, so that it's available when they are absent. Members with serious attendance problems will be contacted to encourage them to make use of the on-line service -- to do up to one makeup per month. Members who are ill or have other reasonable reasons for being absent can use this service without limit with approval of the board of directors.###
---
eClub-One
: Members with internet connections are encouraged to visit eClub-One monthly for a makeup. To get makeup credit you need to fill out the makeup form on that site. Print the acknowlegement for you receive and turn it in to recive credit. Be sure to enter our club's district number (
6310
) on that form.
Click this link to open eClubOne in a new window:
www.rotary.org/training