Saginaw Basin Land Conservancy Topic of Program
SBLC conserves land in one of nation's largest watersheds.
December 7, 2010
By: Stephen Kent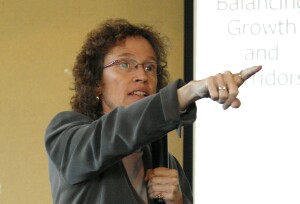 Valerie Roof
A land conservancy is a community supported, non-profit, charitable organization dedicated to the preservation of natural areas, important habitat or desirable land uses for the public benefit. The mission of the SBLC is "to conserve land and water resources for a better community now and in the future"
Roof said that the most common major cause of pollution of streams and rivers is runoff, which includes all of the products and substances we commonly associate with pollution. The SBLC strives to improve water quality in the Saginaw bay by reducing deposits of silt, fertilizers, and other pollutants through education and conservancy.
The most common reason for an animal species to go extinct is loss of habitat. Land conserved by SBLC preserves this important habitat by insuring that land is set aside and not developed or divided.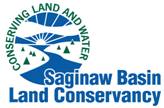 SBLC land provides public recreation opportunities and a place to enjoy nature. Non-motorized recreation such as hunting, fishing, hiking, birding, and nature study is encouraged.
The primary service area falls within Saginaw Bay Watershed which includes parts of 22 counties. Land is protected through donations or purchases of land and conservation easements. SBLC then monitors and manages that land and makes it publicly accessible.
There are currently eight SBLC nature preserves totaling 429 acres. These include Standish, Pinconning, Saganing, Pressprich, Sand Point, Shaw-Marsh, and Fegan.
Nature preserves are open to non-motorized use during daylight hours. The only restrictions are no campfires or smoking, no overnight camping, no dumping or littering, and no disturbance or removal of vegetation.
SBLC also has 69 Conservation Easement contracts on 5,260 acres in nine counties. An easement is an agreement with a landowner to keep the land natural. Subdivision is limited, commercial development is limited, and there is no dumping, fences, signs or billboards, excavation, mining or drilling, and wetlands may not be filled.
SBLC engages and educates the public through presentation, a newsletter, hands-on land stewardship projects, programs, field events, and
geocaching
. An annual photo contest is in its third year. (See the winning photos on MyBayCity.com:
2010 Winners
,
2009 Winners
,
2008 Winners
)
www.sblc-mi.org
---
CLUB NEWS and ANNOUNCEMENTS
Vocational Days: March 8 and March 22.
See Griff or Ralph for information. The club is looking for people to underwrite the lunch cost of our student guests. Please consider paying for your student of for some of the larger groups that go to Bay Med and Delta College.
Download Sign up Form
Jerome Yantz
updated the club on a project to raise private money to install a statue of
Rotary Founder Paul Harris
near the historical kiosk in Rotary Park at the Pere Marquette Depot. When completed this will be the third known statues of Harris, joining one in India and one in Evanston, Illinois. Jerome showed a brass maquette (scale model) of the proposed life size statue, which may be presented to large donors. Fund raising is well underway.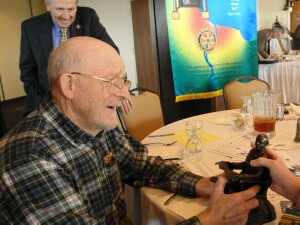 Harry Farris, PH Look-alike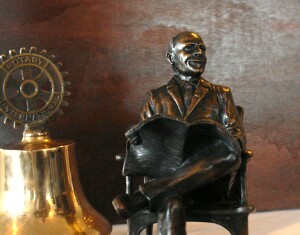 Maquette of proposed Paul Harris statue
---
Upcoming Programs
(See the official schedule at RotaryBayCity.org )
December 14: Salvation Army
Captain Mike Myers will talk about the status of Salvation Army projects.
December 21: Holiday Program
Enjoy the ever popular musical talents of some of our fellow Rotarians.
December 28: Off Site Meeting at the Do-Art Gallery, 1205 Washington Ave.
Chris Girard will talk about the Do-Art Gallery and all the talented artists in our community.
---
DATES TO REMEMBER
---
LINKS