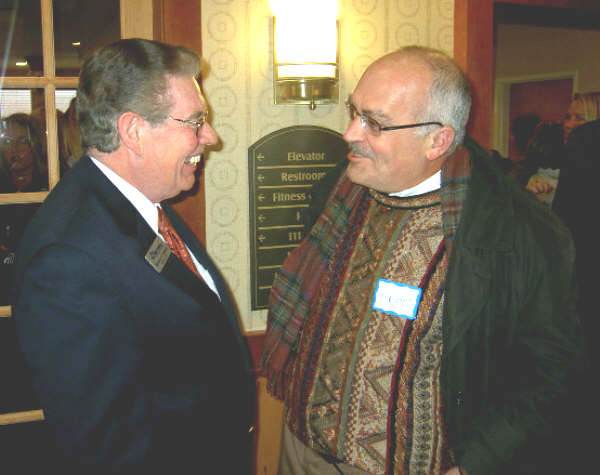 Hratch Basmadjian (Right) is a prominent Bay City Rotarian and former club president who is an enthusiastic Bay City booster. Pictured here with Chamber President Mike Seward (Left) at a recent event.
---
HRATCH BASMADJIAN: World Traveler Says Bay City is Best Place to Live
December 19, 2010
By: Dave Rogers
(EDITOR'S NOTE: MyBayCity.com this month starts a new question and answer interview feature, GET IN TOUCH WITH . . . The first interview is with Hratch Basmadjian, 58,a multi-lingual Armenian born in Beirut, Lebanon, now food and beverage director of the Bay Valley Resort and Conference Center and fervent backer of Bay City.)


MBC: Hratch, how did you prepare yourself to come to this country?


HRATCH: As you know, I was born in Beirut where I graduated from a hotel/restaurant trade school called Ecole Hotelier, which literally means "hotel school." I was lucky to get in because it was a free government school while other schools were private, and costly. Since I had gone to Armenian schools I could speak French, Arabic, Armenian, English and a little Turkish I learned from my grandparents. Most other students who went to Arab schools did not have that language background so I had a tremendous advantage. And, they gave extra points times 50 for the language questions. I finished fourth out of more than 1,000 who took the entrance test.
MBC: It must have been costly to travel here and get established -- how did you manage that?


HRATCH: That's quite a story. My first job after hotel school was in Abu Dhabi, United Arab Emirates, in 1970. That was the last year the British were in charge in Abu Dhabi. I was a maitre 'd in the only restaurant there at the time, making about $300 a month plus tips."
MBC: That doesn't sound like enough money to get you over to the U.S. and tide you over until you got a job here.


HRATCH: You are so right, but a strange thing happened that made it all possible. Being a Christian, I was given a card to purchase up to $1,000 in alcohol per month; Muslims couldn't buy alcohol by Arabic law.
MBC: I'm getting the idea -- you sold the alcohol to save up for the trip to the U.S., right?


HRATCH: Right, but here's where I got lucky. I had very little money to buy booze, but I met one of the sons of the king (he had 50-60 sons and 100 or so daughters). The son asked me one day what I was doing with my alcohol card and I replied nothing, I don't drink. Of course I said yes when he asked if I would sell my card to him. The next day he showed up with three jeeps and we went to the store and he bought $1,000 worth of beer for himself and his buddies.
MBC: OK, so how did you make out on this deal?


HRATCH: Well, he made me a gift, and you're not going to believe this, but it was $10,000. He was the king's son and his wealth seemed to be unlimited. And, he was a Muslim but he and his friends sure loved their beer. That went on for the six months I was in Abu Dhabi.
MBC: What's it like over there?


HRATCH: Remember, this was 1970 and things have drastically changed since. At that time it was almost all desert, a one runway airport with tin-roofed buildings, sand roads, no infrastructure, one hotel and the one restaurant where I worked. The weather was so hot and the water tanks were on top of the buildings so the water was too hot to take a shower. We had to wait until night and dump big chunks of ice in the tank to cool it off enough to take a shower.
MBC: Cool! So you saved plenty for your move to the states.


HRATCH: Actually I sent the money to Mom (a seamstress in Beirut) and bless her soul she put it away for me. (Dad was a shoemaker and his brother and sister were jewelers, like his uncles. Once he became a citizen, on July 4, 1976, during a destructive civil war in Lebanon, he sent for them.)
MBC: Where did you work before you came to Bay City?


HRATCH: I got a green card and came to Pueblo, Colorado, in 1970 and worked for the Best Western Chilton Inn. I've been all over: Dallas, St. Louis, San Antonio, Lakeland, Florida, Louisville, and, of course, Beirut, Abu Dhabi and Bay City.
MBC: Why did you come to Bay City after being all those much larger places?


HRATCH: I always worked for the same company and they owned the Holiday Inn in Bay City plus 40-50 other properties. I would go to quarterly managers' meetings and the talk often was how nice it was in Bay City, lots to do, friendly small town, safe, boating, fishing, etc. So I asked for the job here in 1986.
MBC: So, what do you think of the town now that you've been here nearly 25 years?


HRATCH: All the time I was growing up I only saw snow once. But I love it here, this is the greatest place I have ever been. Coming to the U.S. was the best move I ever made; opportunity is really here compared to other countries. It's not perfect but people here have no idea what real poverty is. For example, in Egypt, where my daughter Jessica lives, the per capita income is only $500 per year. In the vast majority of other countries there is no Social Security, no unemployment, the families take care of each other. If you don't work, you don't eat.
MBC: You sure have gotten around on your jobs, where else have you visited?


HRATCH: My wife Terry (art instructor at Saginaw Valley and Delta colleges) and I love to travel and we have been to Paris, London, all over Europe, Egypt -- you name it.
MBC: From the vantage point of your job at Bay Valley, what do you see as the drawing card we have for visitors?


HRATCH: We have the golf course which is one of the best in Michigan and so we get alot of traffic at Bay Valley because of that. Canadians, especially, like to come here in the summer, mainly from the Windsor, London areas that are no more than a 4-5 hour drive. We promote in the southern Michigan area. They love Bay City and they consider it up north.
MBC: Hratch, what should we do here to boost tourism and our economy?


HRATCH: We're on the right track, we need to support the state's Pure Michigan campaign, keep our downtown as vibrant as it is and stress our quality of life that makes us the ideal bedroom community for the Great Lakes Bay Region. Seniors, sell your condos in Florida and Arizona and come back to Bay City. We've got everything here!
###