Christmas in Tough Times Hikes Salvation Army Local Families in Need to 800
December 14, 2010
By: Dave Rogers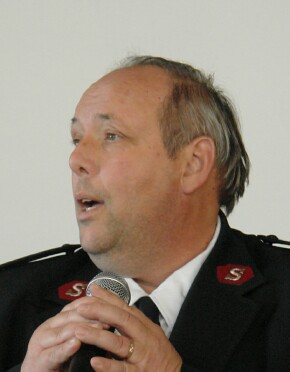 Major Mike Myers
Collaborating with Hidden Harvest and other charity groups, the Bay City Salvation Army this year hiked the number of families aided from 500 to 800.
That was the report from Maj. Mike Myers of the local organization, who spoke last Tuesday at the Rotary Club of Bay City meeting.
The local charitable group served 18,000 meals in the past year at a soup kitchen that required patrons to troop down stairs to a basement. That situation soon will be improved when the new Salvation Army building now under construction at 10th and Adams is opened.
The soup kitchen is serving 75-100 persons a day four to six days a week, he said. About 300 persons were served Thanksgiving Dinner with the help of PNC Bank, said Maj. Myers.
A Christmas Day meal will be served from 11 a.m. to 1 p.m. with the help of about 10 volunteers, he said. This project was started two years ago.
Officials wanted to add on to the present building but soon found that it was more advantageous to build a new barrier-free building on property to the north of the present structure.
"Thank God for these other organizations," exclaimed Maj. Myers, "working together does make a difference in our community."
The Food Bank in Flint also came through with inter-city sharing, bringing six truckloads of food here since June, he said.
The Salvation Army official also credited Do-All, New Dimensions, the Bay Area Community Foundation and Toys for Tots for contributing to the effort to help families.
The local group works to try to rehabilitate alcoholics in cooperation with the Flint SA that runs a thrift store to raise funds for that effort.
Another initiative is sending underprivileged children to camp, especially inner city youngsters, some of whom have never seen farm animals or held a fishing pole, said Maj. Myers.
The red kettle campaign no going on at various local stores helps provide the funds for rent and utility payments for families down on their luck, he added. "We try to help previously homeless people keep their lights on and be self sufficient so they can stay in their homes."
---
CLUB NEWS and ANNOUNCEMENTS
Welcome newest member
Wendy Dore
. As president of Doreable Entertainment and the Bay City Country Club, Wendy is a well known entrepreneur and business executive in the local area. She's well known for her fundraising activities on behalf of many local organizations.
The
Government of India
has announced their
February 2011 Polio Immunization
dates. Bradford R. Howard, District 5170 Governor, announced the organization of a group that will be traveling to Delhi and Ghaziabad to participate in these exercises and invites interested Rotarians to join the group. This is short notice, but the Indian Government just announced the January and February dates last week. If you are interested, send an
e-mail
to
Bhoward@HowardTours.net
.
Vocational Days: March 8 and March 22.
See Griff or Ralph for information. The club is looking for people to underwrite the lunch cost of our student guests. Please consider paying for your student of for some of the larger groups that go to Bay Med and Delta College.
Download Sign up Form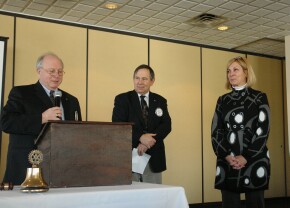 Rich Steele introduces Wendy Dore
Before Gary Reidlinger performs her induction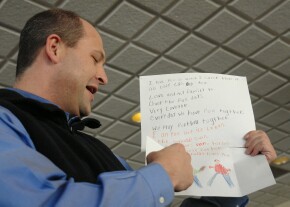 Proud Dad Rob Clark reads a charming poem from his son Owen titled "Just Because I Love You Dad".
---
Upcoming Programs
(See the official schedule at RotaryBayCity.org )
December 21: Holiday Program
Enjoy the ever popular musical talents of some of our fellow Rotarians.
December 28: Off Site Meeting at the Do-Art Gallery, 1205 Washington Ave.
Chris Girard will talk about the Do-Art Gallery and all the talented artists in our community.
---
DATES TO REMEMBER
---
LINKS