Pere Marquette Depot to Be Center for Motorcoach Tours, BACF Headquarters
Rotary Park Planned to Beautify Entrance to Historic Building
September 12, 2004
By: Dave Rogers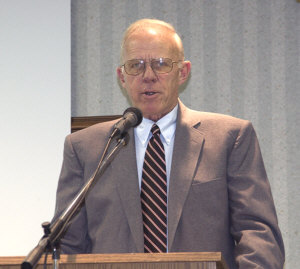 Charlie Curtiss, president of the Great Lakes Center Foundation, speaks to the Bay City Rotary Club.
This week's program: Peter Boyse, Delta College update, millage renewal information.
      Last week's program: Bay Area Community Foundation/Great Lakes Center Foundation - Renovation of the Pere Marquette Union Station Depot.
A public campaign is being launched to raise up to $600,000 to complete the renovation of the Pere Marquette Union Station Depot, Bay City Rotarians learned last week.
      Charlie Curtiss, president of the Great Lakes Center Foundation, described the renovation project and the future intended use of the building as a visitor center and office building for community groups. Mr. Curtiss was introduced by Roger Merrifield, president and CEO, Bay Area Community Foundation.
      The classic depot building, built in 1904, is Bay City's most notable example of the Prairie style of architecture, an Arts and Crafts movement popular in the Midwest, according to Dale Wolicki's book, "The Historic Architecture of Bay City, Michigan."
      The depot will be restored to its 1904 appearance because of requirements of the National Park Service under its listing in the National Register of Historic Places.
      The fact that these requirements had to be met made it difficult to do anything with the building over the last 20-25 years," said Mr. Curtiss.
      That work will include replacement of the tower, the pent roof that sheltered passengers, the east main entrance and the ornate roofed portico on the west side of the building. Also, the two story high aspect of the waiting room will be restored.
      The reasons why the 9,000 square foot building is being restored include the fact that the building it is the last of Bay City's five railroad stations. "We need to recognize history as we look forward," said Curtiss.
      When completed in the fall of 2006, the depot will be used as a welcome center for visitors to the city and as office headquarters for both the Bay Area Convention and Visitors Bureau and the Bay Area Community Foundation.
      Mr. Curtiss said projections are that as many as 500-600 motor coaches will be greeted at the depot each year. There will be a reception room, a ticket booth/information center, restrooms and a catering kitchen for special events.
      More than $3.2 million already has been raised for the project, including $1,144,000 from community, corporate and foundation funding, $1,045,000 from Midland foundations, 1,010,000 from federaland state sources, and $8,000 from individuals. The project recently got a grant of $706,872 from state transportation T-21 funds.
      Mr. Curtiss said bid documents are being prepared by project architects Quinn Evans of Ann Arbor, represented by Eileen Theiler.
      Costs are estimated at $350,000 for building acquisition, $2,815,000 for construction, $200,000 for site development (Rotary Park), $485,000 for professional fees and contingencies, and $230,000 for furnishings and equipment.
      When funding is secured, probably in March or April, bids will be sought with a groundbreaking in May. Construction is expected to take 12-15 months, he said.
      A $1 million endowment is being sought for operating expenses for the building, putting the total cost in the $4 million range, according to Mr. Curtiss.
      The building was last used as a bus depot in 1969 and was the headquarters of the Rail Development Company that managed the shopping center that included A&P and National supermarkets, Woolworth five and dime store and other stores. The complex, built in 1949, was considered one of America's first urban shopping centers. It was developed by the New York Central Railroad.
      Recognition was given during the meeting to prospective member Richard O. Milster, whose grandfather, Art Milster, was club secretary for 49 years beginning in 1924, and to Bay Medical Center for its $5,000 sponsorship of International Night, slated Oct. 14 at theDoubleTree Hotel - Bay City Riverfront.
             President's Action List: Challenge to all members. 3. New Members. We sometimes lose new members because we fail to provide them with avenues for getting involved early. Challengeto new members: All members who have been in the club for less than one year are asked to sit together at the front/center birthday table once a month to get to know one another better. Rotary founder Paul Harris said it was his practice, when hosting visitors from foreign countries, to aske them to plant a tree near his home. This eventually became what he called his "friendship garden" -- a living memorial to those visitors. By January 1, 2005, this "new member committee" was asked to present to the club a proposal for establishing a "friendship garden" somewhere in Bay City where all future Group Study Exchange (GSE) teams could plant something during their visits as a lasting memorial to international friendship. This will be done in conjunction withthe morning club.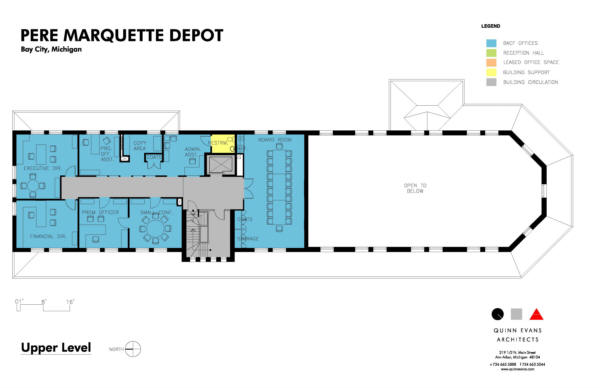 Upper Floor Plan of Pere Marquette Depot
---
eClub-One
: Members with internet connections are encouraged to visit eClub-One monthly for a makeup. To get makeup credit you need to fill out the makeup form on that site. Print the acknowlegement for you receive and turn it in to recive credit. Be sure to enter our club's district number (
6310
) on that form.
Click this link to open eClubOne in a new window:
www.rotary.org/training