Greyhound Rescue Program on This Week's Rotary Club Agenda
Peter Boyse Explains Delta College Progress, Millage Request
September 19, 2004
By: Dave Rogers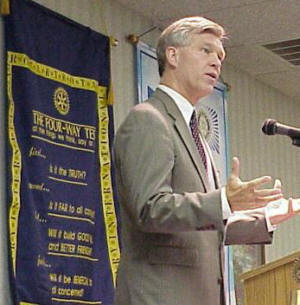 Delta College President Peter Boyse takes the Rotary podium last Tuesday.
Last week's program: Peter Boyse, Delta College update and millage request information.
This week's program: Colleen Dykstra/GreyHeart Greyhound Rescue & Adoption of Michigan.
      Delta College's student population is inceasing in age and in percentage of women, President Peter Boyse told Rotarians last Tuesday.
      The college seeks renewal of a half mill property tax levy for eight years on the November general election ballot, Dr. Boyse reminded.
      The 16-year president will retire from the 10,500 student community college in 10 months but plans to stay in the community, he said.
      Almost every Rotarian in attendance raised their hand when Dr. Boyse asked for a show of hands on whether they or a relative has attended Delta.
      The college is seeking strategies to reach the older students who are changing the school's demographics. Besides the increasing age of student, the percentage of female students is up significantly. Dr. Boyse outlined statistics showing that in 1961, when the college opened, 61 percent of the 1,800 students were male; this year males comprise only 42 percent of 10,500 student population.
      The future of education lies in technology, the college president said. On-line learning opens higher education to a whole new group of people who can't participate in traditional classrooms. "Face-to-face learning is still important, but technology opens doors," said Dr. Boyse.
      Delta has an international reach, said the president, who is headed to Kenya to meet with educators at a technical college in the Riff Valley.
      Since today's student can anticipate six major job changes in a career, Delta emphasizes workforce development through its "train you anytime, anywhere" corporate services.
      In club business, Harry Farris asked for anyone with old pictures of Rotary events to loan them for the centennial history book project.
      An update was given on the micropark project and an artist's rendering of the site was displayed.
      The club is looking for applicants for the Group Study Exchange (GSE) trip to Japan; these people would be non-Rotary young professionals in the 25-40 age range. All expenses are paid for the four week trip.
      International Night is fast approaching and volunteers, sponsors and auction items are still needed.
President's Action List: 4. Rotary Foundation Giving: "Every Rotarian Every Year $100." Challenge to all members: Every club member is asked to make a donation to the Rotary Foundation regardless of the amount ($25, $50, $100, $500, etc.). It doesn't matter how much someone gives. If everyone gives something, the dollars will take care of themselves. At one meeting per month the winner of the 50/50 drawing will have the entire amount (including the club's share) contributed in the winner's name to the Rotary Foundation to be put towards a Paul Harris Fellowship. For example, rather than getting $55 in cash, the member would receive a $110 credit with the RI Foundation.
      Following the induction of every new member, the club will make a $100 contribution in the member's name to the Rotary Foundation to be put towards a Paul Harris Fellowship. The new member will automatically receive credit from RI for the annual giving goal.###
---
eClub-One
: Members with internet connections are encouraged to visit eClub-One monthly for a makeup. To get makeup credit you need to fill out the makeup form on that site. Print the acknowlegement for you receive and turn it in to recive credit. Be sure to enter our club's district number (
6310
) on that form.
Click this link to open eClubOne in a new window:
www.rotary.org/training