Exercise Changes Your Life Forever, Rotarians Learn from Cusick, Gasta
January 4, 2011
By: Dave Rogers
The nuts and bolts, and the inspirational aspects, of exercise were the topic of last week's speakers at the Rotary Club of Bay City.
Chris Girard introduced Chuck Cusick, fellow Rotarian and fitness coach, and Ann Gasta, director of Studio 23 and a marathon runner.
The pair teamed to deliver all the information that can keep you fit, if you respond to the motivation.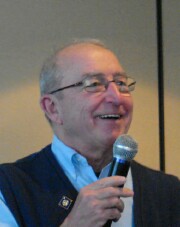 Chuck Cusick
Mr. Cusick outlined the five components of physical fitness for ordinary people:
1-Cardiorespiratory endurance;
2-Muscle strength;
3-Muscular endurance;
4-Flexibility; and
5-Body composition.
The main benefit of exercise is to get oxygen to every part of the body, especially blood flow to the brain, said Mr. Cusick.
"You must do aerobic activity to keep the blood pumping," he expounded. To achieve this effect, large muscles such as those in the legs and arms must be used. At least 20 minutes of rhythmical exercise is necessary to stimulate the heart, lungs and muscles.
Aerobic exercise is fat burning while anaerobic exercise is muscle building. Mr. Cusick outlined the FITT principles: frequency, intensity, time and type.
He said exercise should be performed three to five days a week at 40-85 percent of your heart rate, which is 220 minus your age. Walking, running, biking and swimming are the recommended activities, he said.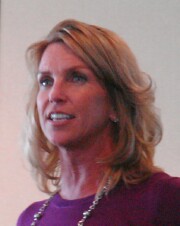 Ann Gasta
Ms. Gasta said exercise has an aura about it that makes you feel better. "Endorphins are the best drug out there and they're free," she said. "The more exercise the better you feel. It's got to be a lifestyle change, not a temporary fix."
She suggested that Rotary consider sponsoring a running event to raise money and get the community involved. She is involved in the St. Patrick's Day Race events that last year drew 5,000 participants.
Rotarian Deb Lutz attested to the benefits of running, stating that her exercise regime helped her overcome hip problems.
###
---
CLUB NEWS and ANNOUNCEMENTS
Jeffrey Weenink introduced Mariagna Zimbron who lived with the Weenink's during her year in Bay City as a Rotary Exchange student from Mexico in 2008. Jeffrey said that Mariagna was like another daughter to his family and he was so pleased to have her visit. He also encouraged all members to consider hosting a student.
The
Board Meeting
is next Tuesday before the regular meeting, Jan 11, at 11:00am.
Vocational Days: March 8 and March 22.
See Griff or Ralph for information. The club is looking for people to underwrite the lunch cost of our student guests. Please consider paying for your student of for some of the larger groups that go to Bay Med and Delta College.
Download Sign up Form
---
Upcoming Programs
(See the official schedule at RotaryBayCity.org )
January 11, 2011: Crime Stoppers
Presented by Tom Matuzewski.
January 18, 2011: Mersen
Kirk Keithly will talk about Mersen USA and what types of products his organization produces.
---
DATES TO REMEMBER
---
LINKS