Crime Stoppers Encourage Citizen Participation
January 11, 2011
By: Stephen Kent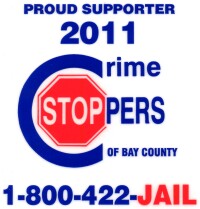 Crime Stoppers
is a crime solving organization that brings together community volunteers, the media, and law enforcement by providing a way for citizens to anonymously provide tips and leads to the police. Working together, Crime Stoppers helps make the community safer.
In the last few years Crime Stoppers has been working in schools as well. Students know who's dealing drugs, doing crime, and generally making trouble. But they rarely come forward for fear of reprisals or getting a reputation. Crime Stoppers bring their anonymous reporting channel to these students.
As program coordinator Bart Dexter meets regularly with police departments throughout the region to identify crimes where public assistance can help. Selected crimes are through the familiar TV spots and on the
www.baycountycrimestoppers.org
web site.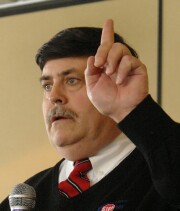 Bart Dexter
Phone calls are handled by an answering service that collects information and provides a confidential identification number to the tipster. The tip is guaranteed confidential. No names are taken and the phone does not provide caller ID. Tips are forwarded to Dexter who enters it into a computer database and reports to police.
Tips that lead to solving a crime are rewarded with cash. A tipster calls Crime Stoppers and gets an update for the special code number. If a reward is made in cash using an anonymous payment method.
Rewards, which can be up to $1,000, are determined by the CS Board of Directors based on the seriousness of the incident and if violence was involved.
Crime Stoppers is a national program but each community has its own non-profit, volunteer run organization. All funding is provided by donations from businesses and individuals.
For more information visit the
www.baycountycrimestoppers.org
web site.
---
CLUB NEWS and ANNOUNCEMENTS
Beginning this week all members will receive an e-mail announcement when the Breezes are published. The e-mail will include a link to the current issue. Links to the club, district and other web sites will also be provided.

You can also go to the club web site for links to the current issue and an index of the last several years of Breezes.
Brenda Scramlin
and
Drew Kornecky
are chairing a new
Community Service Project Committee
. The focus will be hands on type of projects. Anyone interested in being on the committee or helping with projects should contact Brenda or Drew.
Chris Girard is looking for people to serve on the
Programs Committee
. He is also looking for suggestions for new programs and for feedback on programs that have been presented.
Vocational Days
will be March 8 and March 22. Griff and Ralph will begin matching students and sponsors next week. The club is asking members to
help cover the cost
of our student guests, which is a very large budget item. Sponsors are encouraged to pay for their student guests. The rest of the members can help cover the large groups who go to Delta and Bay Med. Consider dropping an extra $10 on the ticket table.
The
District Conference
will be April 1 and 2 in Mt. Pleasant at the Soaring Eagle Casino. The organizers are looking for program ideas. Check the
District 6310 Web Site
for more information.
Kathy Czerwinski presented first time
Paul Harris
pins to
Brian Kay
and
Rod Sundstrom
. She presented a PH Plus Six pin to
Dee Dee Wacksman
. Thanks to each of these members for their contributions to the Rotary Foundation.
---
Upcoming Programs
(See the official schedule at RotaryBayCity.org )
January 18, 2011: Mersen
Kirk Keithly will talk about Mersen USA and what types of products his organization produces.
January 25, 2011: Lutheran Child and Family Services
Roger Pickering will talk about the new programs offered at the former boys home.
February 1, 2011: Ten Minute Rotarian
February 8, 2011: Polio Immunization
Cindi Bauer will talk about her recent trip to Africa to help with Polio Immunization.
---
DATES TO REMEMBER
---
LINKS