Mersen-Bay City Has Largest/Only Silicon Carbide Reactors, Rotarians Told
January 23, 2011
By: Dave Rogers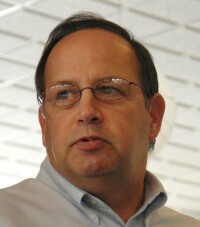 Kirk Keithly
What does Bay City have that doesn't exist anywhere else in the world?
Answer: The world's largest, and the world's only, silicon carbide reactors, according to Kirk Keithly, general manager of Mersen-Bay City, a French-owned firm formerly known as Carbone of America.
Mr. Keithly, a chemical engineer who had vast experience in wide-ranging technical fields, told the Bay City Rotary Club the firm has 151 employees here and is expanding rapidly.
From his viewpoint, there will be no double-dip recession since the firm's 17 furnaces, including the world's only 25 foot tall silicon carbide reactors, are going full blast to keep up with orders.

"Business is back with a vengeance, so much it is starting to scare us," he commented. "World markets can't get enough silicon, a lot of it going to China.
Mersen is running three shifts a day, seven days a week, he said, producing materials for the solar, semiconductor and LED industries worldwide.
"Highest sales growth is in Europe and Asia, he said. About 40 percent of Mersen's business in in expanding markets concentrated on solar a renewable energy uses.
Mersen also has plants in Midland and Greenville and is supplied by a major factory in St. Marys, Pennsylvania.
Producing iso-molded graphite at temperatures up to 3000 degrees centigrade requires many safety precautions.
Mr. Keithly is looking for workers with machining background and sales persons with technical experience.
The firm has three buildings with 120,000 square feet of floor space at 900 Harrison Street. It is a successor to United Carbon Products, started in 1945 by George Sermon and partners.
The original patents on which the business was based were issued to Sermon and Lynn Brooks, former Dow Chemical Co. lab employees.
"The basis of the company would be a unique purification process for removing impurities from graphite," wrote Marvin Kusmierz, local historian on his Bay-Journal website. "The process involves submitting graphite to very high temperatures (>1800 degrees C.) while introducing a halogen gas to aid in removal of metallic impurities.
First operations were set up 508 McGraw street with Lynn Brooks as President and General Manager. They landed a contract with the Atomic Energy Commission (AEC's Manhattan Project) when it was demonstrated UCP's process could successfully remove Boron from nuclear grade graphite.
The AEC business kept the company a float for the first two years. During this period, UCP's purification technology was being reported in technical and scientific journals. This caught the interest of chemical, metallurgical and spectrographic companies bringing in new orders. Outgrowing their McGraw facility, the business moved in 1949 to 1301 Madison avenue into a 9600 square foot building. Two major expansions of the building (1956 and 1959) increased its space to 44,000 square feet.
Later, the firm became Ultra Carbon and was acquired in 1987 by Stackpole Corporation and became Stackpole-Ultra and then was taken over by Carbone Lorraine in 1990.
---
CLUB NEWS and ANNOUNCEMENTS
Beginning last week all members will receive an e-mail announcement when the Breezes are published. The e-mail will include a link to the current issue. Links to the club, district and other web sites will also be provided.

You can also go to the club web site for links to the current issue and an index of the last several years of Breezes.
Brenda Scramlin
and
Drew Kornecky
are chairing a new
Community Service Project Committee
. The focus will be hands on type of projects. Anyone interested in being on the committee or helping with projects should contact Brenda or Drew.
Chris Girard is looking for people to serve on the
Programs Committee
. He is also looking for suggestions for new programs and for feedback on programs that have been presented.
Vocational Days
will be March 8 and March 22. This is a very large annual budget item and the committee has been discussing looking for outside sponsors. Alternatively, members might consider sponsoring one student by picking dropping an extra $10 on the ticket table that day. This is an entirely
VOLUNTARY
suggestion but offers a great opportunity to put some money toward a very popular and beneficial local program.
The
District Conference
will be April 1 and 2 in Mt. Pleasant at the Soaring Eagle Casino. The organizers are looking for program ideas. Check the
District 6310 Web Site
for more information.
---
Upcoming Programs
(See the official schedule at RotaryBayCity.org )
January 25, 2011: Lutheran Child and Family Services
Roger Pickering will talk about the new programs offered at the former boys home.
February 1, 2011: Ten Minute Rotarian
February 8, 2011: Polio Immunization
Cindi Bauer will talk about her recent trip to Africa to help with Polio Immunization.
---
DATES TO REMEMBER
---
LINKS