304 Tuscola
A new youth program from Lutheran Child & Family Services of Michigan
January 25, 2011
By: Stephen Kent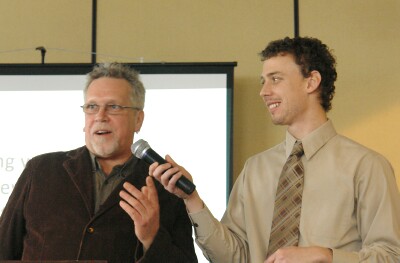 Doug Lewis and Jason Sroufe
Rotarian
Roger Pickering
, Regional Director of Lutheran Child & Family Service of Michigan (LCFS), introduced
Doug Lewis
and
Jason Sroufe
who spoke about the new
304 Tuscola
LCFS was founded in Bay City in 1899. Still headquartered here, the service has some 20 offices around the state. LCFS partners with communities, government, churches, businesses and others to provide outcome based, individually tailored, accredited human services to children and families.
In Bay City, LCFS is often identified with the Children's Receiving Home at 304 Tuscola. Built in 1929, the home was never really an orphanage. It took in and temporarily housed children bound for adoption, foster homes and sometimes back to their own families.
In the 1960's the Home began to specialize as a facility for teenage boys and girls. In 1990 the program changed to serve boys only. The home and program was closed in 2009 due to many factors including financial ones.
In early 2010 the Department of Human Services approached LCFS to start a innovative program for teenage boys which would be a perfect fit for that facility. These boys were ageing out of residential treatment and needed a community based transitional program. The first boys were placed in June 2010.
The name of the home is simply
304 Tuscola
rather than the Community Residential Treatment Home. This was chosen by the boys who said "when someone asks where you live, you give your street address."
The facility house up to 16 boys aged 14 to 17. They live in two separate 8-room groups.
Boys (students) start with typical dorm style furniture owned by the home. After a few weeks each boy is taken to Prime Brothers Furniture where they are given an allowance to purchase their own bed, dresser, table and chairs. These become the boy's personal property that they can take with them when they leave the home.
Students must be free of recent severe impairments or aggressive behavior and must be able to function in a public school setting. They are enrolled in Bay City Public Schools.
The group operates their own Youth Board which helps expand their access to peer support, community resources, leadership and career opportunities. Students maintain links with their home communities by attending activities in those communities. Each student is matched with a peer mentor and an adult mentor/advocate
For more information about
LCFS
and
304 Tuscola
visit
www.lcfsmi.org
.
---
CLUB NEWS and ANNOUNCEMENTS
Brenda Scramlin
and
Drew Kornecky
are chairing a new
Community Service Project Committee
. The focus will be hands on type of projects. Anyone interested in being on the committee or helping with projects should contact Brenda or Drew.
Chris Girard is looking for people to serve on the
Programs Committee
. He is also looking for suggestions for new programs and for feedback on programs that have been presented.
New Member Orientation
scheduled for February 9 at Tommy V's.
Annual Community Grants
will soon open for applications. Contact Kelly Frick or check the club web site for details.
Vocational Days
will be March 8 and March 22. This is a very large annual budget item and the committee has been discussing looking for outside sponsors. Alternatively, members might consider sponsoring one student by picking dropping an extra $10 on the ticket table that day. This is an entirely
VOLUNTARY
suggestion but offers a great opportunity to put some money toward a very popular and beneficial local program.
The
District Conference
will be April 1 and 2 in Mt. Pleasant at the Soaring Eagle Casino. The organizers are looking for program ideas. Check the
District 6310 Web Site
for more information.
---
Upcoming Programs
(See the official schedule at RotaryBayCity.org )
February 1, 2011: Ten Minute Rotarian
February 8, 2011: Polio Immunization
Cindi Bauer will talk about her recent trip to Africa to help with Polio Immunization.
February 15, 2011: Aging Enriched
Rotarian Mike Redford will discuss the care-giving crisis in our country, related to our fast growing aging population
February 22, 2011: BNI Michigan
Jenny DuMont will discuss Business Network International (BNI) and how it can help you in today's economy and business environment.
---
DATES TO REMEMBER
---
LINKS