Ten Minute Rotarians On Tap Tuesday; Club Participates in Paint & Pride
Greyhound Rescue Program Last Week Highlights Effort to Save Retired Racers
September 26, 2004
By: Dave Rogers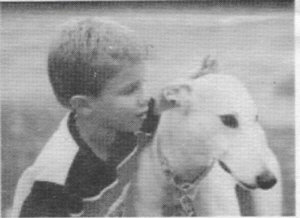 Greyhounds are thin-skinned, gentle animals that are good with children but require special care.
This week's program: Ten Minute Rotarians.
Last week's program: Greyheart Angel Fund: Greyhound Rescue and Adoption of Michigan.
      Greyheart Angel Fund, the greyhound rescue and adoption agency of Michigan, has a poignant statement of purpose: "If you open your hearts to them, they will open your eyes."
      Colleen Dykstra, of Rochester, Michigan, told Rotarians of the effort to save these gentle and unique dogs from slaughter. Although about 20,000are killed after their usefulness as racers is finished, another 20,000 are saved by adoption, she said. Ms. Dykstra was introduced by programmer Linda Heemstra.
      This gentle breed of dog evolved in Egypt some 7,000 or 8,000 years ago. Theywere owned by royalty in England and were used as staghounds. Greyhounds came to the United States in the early 1800s, she said.
      Racers are culled from thousands bred annually and are kept in wooden crates. They race every three to seven days and can reach speeds of 45 miles per hour, covering 500 yards in 30 seconds, Ms. Dykstra said. Some 16 states allow greyhound racing.
      The animals are thin-skinned and must have jackets in cold weather. They tend to have bad teeth because of poor diet and generally live 12-14 years, the speaker said.
      Besides those that are killed after their racing careers, some are sold for research at $400 per dog, she said.
      The Greyheart organization matches up the retired animals with families. The $225 adoption fee doesn't cover costs that exceed $300 per dog, she said. So the organization raises funds from the public to continue its work.
      The Michigan Greyheart group, one of about 200 such organizations in the nation, may be contacted at www.greyheart.org, or 1-866-get-grey.
      In club business, Rob Clark reported that 13 Rotarians, friends and family members participated in the Paint & Pride program that painted a house at 104 Transit Street.
      President's Action List for 2004-2005.
5. Literacy. Challenge to all members.
      Every club member is asked to visit one classroom during the coming school year as part of the "Reading Is Bay County's Business" program.
      If members don't feel comfortable doing this alone, they can pair up with another member, or with a family member, to go into a classroom and read a book to the kids. Some older members may be unable to make the necessary arrangements to visit a classroom. Younger members are encouraged to invite an older member of the club to accompany them.
      The club will make a $10 donation in the name of every club program speaker to the "Reading Is Bay County's Business" program, to be used to purchase books for club members to read to children at a local school.
      Former Rotary International President Cliff Dochterman has said: "If it isn't 'hands on," it isn't Rotary.'" This is an opportunity to do something "hands on."###
---
eClub-One
: Members with internet connections are encouraged to visit eClub-One monthly for a makeup. To get makeup credit you need to fill out the makeup form on that site. Print the acknowlegement for you receive and turn it in to recive credit. Be sure to enter our club's district number (
6310
) on that form.
Click this link to open eClubOne in a new window:
www.rotary.org/training