10-Minute Rotarian Topic of Meeting
February 1, 2011
By: Stephen Kent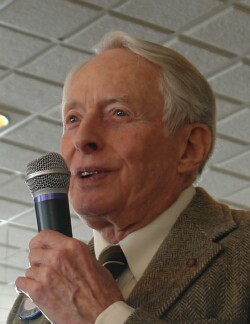 Cliff VanDyke
Cliff VanDyke
began his talk by saying "I was born in the year of the greatest Stock Market crash in history". His dad was a high school coach and teacher so he was employed during the depression. Still, that period left an impression on all who lived through it.
Coming out of High School Cliff won a Navy scholarship to go to Princeton University. Unfortunately, he had to pass a physical and was told by the Navy Doctor that his overbite would prevent him from biting down on the
Momsen Lung
mouthpiece, which is how you escape from sunken submarines.
Cliff went on to attend Knox College in his home town of Galesburg, Illinois where he was a competitive runner. He signed up for ROTC which helped pay for school, but also landed him in Korea as a prisoner of war interrogator after graduation. (He was married at the time and learned that the army sent married soldiers to Korea and unmarried ones to Germany to save paying for dependents.)
At Knox Cliff was a math and physics major, until a professor told him that he wasn't really cut out for physics and that he should go to Harvard Business school, which he did after his stint in the service.
After Harvard Cliff joined National Bank of Detroit in 1955. As head of the Michigan Division, which handled commercial lending in out-state accounts, Cliff got to know the people in Bay City. He was recruited to be President of People's National Bank (now PNC) in 1976.
Bay City was much like his home town and Cliff was immediately at home and has been involved in many community organizations and activities. He joined Rotary in March, 1981.
After retiring from banking in 1994 Cliff continued his career by working in the economic development arena through the
Bay County County Growth Alliance
.
---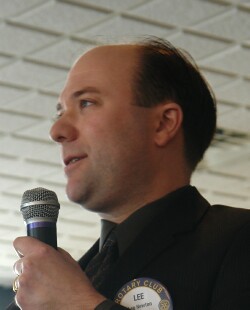 Lee Newton
Lee Newton
, an optometrist and owner of
Newton Eyecare Center
, joined Rotary in 2001. He said in his first week Hratch accosted him and set him up as the greeter for the month. Lee likes to tell the story that on his first day as greeter, when he knew few of the members, he shook hands with a distinguished gentleman and asked if he was a member of the club. The gentleman replied that no, he was Robert Young, Justice of the Michigan Supreme Court.
Lee was a 10-Minute Rotarian in 2003. This time he spoke about how his life has changed since then. In 2003 he had one six month old daughter. She will be 8 this March and he has a second daughter who's 5½.
In 2003 Lee and Molly lived in Sanford, half way between Lee's practice in Bay City and Molly's job as band director in Clare. They quickly decided that was not going to work with two kids and in 2006 they moved to Bay City.
In 2003 Lee practiced in "my hole in the wall office" on Center Ave. Six years later he moved to his current location on Wilder Road("and I'm NEVER moving again, let me tell you that", he said.)
Lee's mother is a retired nurse and his father a retired pipe fitter. He has a brother who is a specialist in large truck systems. Lee's Dad once recommended that pipe fitting would be a good career to follow. Lee said that after seeing the extremes of weather his Dad worked in, he decided to try something else.
Music is a large part of life for both Lee and Molly. Starting saxophone at age 5, he turned down his mother's offer of private lessons because "I could play everything I wanted". When he didn't make first chair in his first high school band, he decided to "revisit that lessons idea".
Lee continued to study and play through college and has performed and competed in many venues. He's come to meet and know many great musicians including Bradford Marsalis. He says that music sooths the soul and will always be part of his life.
Lee also likes to work around the house. "I don't have to dress like this, don't have to smell good, I can talk to myself and nobody cares, and I don't really have to think too hard." Projects, like putting in a catch basin, sump drain and 30 inch drainage system for his basement, are also "a good way to take out any aggressions."
"There are two things I've learned for myself" said Lee. "Prepare for the bad times and you'll only know good times. And time is all you have. Someday you'll wake up and somewhere along the line you'll wake and realize you have a lot less than you think you do."
---
CLUB NEWS and ANNOUNCEMENTS
Board Meeting Next Tuesday
Feb 8, 11:00 am - before the regular meeting.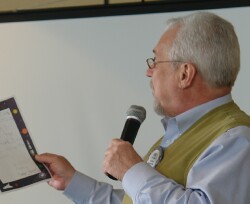 Thank you letters
The club continues to receive
thank you letters
from school kids who received dictionaries. Eric read several including this
"Dear Rotary Club, Thanks for the dictionary. I've tried to figure out the longest word. I also enjoyed seeing the planets."
And this one
"Dear Rotary Club, Thank you for giving me the ditionarys. They are usefule. I learnd so many things from it and I dident figrout whats the long word is. Sinceirly...."
Annual Community Grants
will soon open for applications. Contact Kelly Frick or check the club web site for details.
---
Upcoming Programs
(See the official schedule at RotaryBayCity.org )
February 8, 2011: Polio Immunization
Cindi Bauer will talk about her recent trip to Africa to help with Polio Immunization.
February 15, 2011: Aging Enriched
Rotarian Mike Redford will discuss the care-giving crisis in our country, related to our fast growing aging population
February 22, 2011: BNI Michigan
Jenny DuMont will discuss Business Network International (BNI) and how it can help you in today's economy and business environment.
---
DATES TO REMEMBER
New Member Orientation
scheduled for February 9 at Tommy V's.
Vocational Days
will be March 8 and March 22.
The
District Conference
will be April 1 and 2 in Mt. Pleasant at the Soaring Eagle Casino. The organizers are looking for program ideas. Check the
District 6310 Web Site
for more information.
---
Current and past
DISTRICT DISPATCH
newsletters are available on the District site shown in the LINKS section below.


Rotary Bay City on Facebook!
Click on the Blue Facebook to visit us there.

Remember! Check attendance sheets at the front desk.
---
LINKS