Rotarians From Michigan Join African Rotarians to Combat Poverty
February 8, 2011
By: Dave Rogers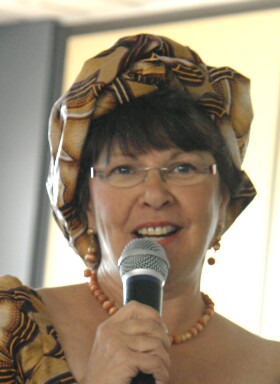 Cindy Bauer
Cindy Bauer, a Red Cross worker from Alpena, last Tuesday told Bay City Rotarians the first-hand experience of helping poor Nigerians.
Her talk was an international education in itself. Ms. Bauer graphically described conditions among the Nigerians who are desperately in need of the benefits of civilization.
She was introduced by co-program chair Chris Girard.
Last November 13 Michigan and Midwestern Rotarians joined those from the Nigerian city of Jos and surrounding area to address some of the needs of the people. It was called "Nigerian Project Safari."
Jos is a central Nigerian city of about 900,000 population noted for tin mining and described as "very cosmopolitan." Since January there have been almost daily clashes between Christian and Muslim mobs there and bombings last Christmas killed dozens.
The people and the problems in Nigeria "hit my heart strongly," said Ms. Bauer, dressed in native Nigerian garb complete with typical paper headdress.
Rotarians fixed student desks, worked to improve conditions at a Rotary-sponsored center for unwed mothers, immunized children against Polio, helped educate the populace about HIV/Aids, and taught children about the reproductive cycle to reduce unwanted births.
Although the Nigerian soil is rich in minerals and oil, little money trickles down from the corporations and the government to the common people, she said, commenting: "Information and goods don't flow freely."
As a result of the trip, Rotarians from Rotary Zones 8 and 9 in northern Michigan and Canada are working up a list of 40 plus projects to help export the benefits of civilization to Nigeria, said Ms. Bauer.
The list of problems is long and daunting:
Increased literacy;
Clean drinking water;
Sanitary living quarters and schools;
Immunization against Polio;
Desks and restrooms for children in schools;
Medical supplies and training in healthy practices;
Eye Care.
One of the most destructive and disgusting practices Rotarians are working to eliminate is the addiction to "huffing" human waste gases, said Ms. Bauer.
---
CLUB NEWS and ANNOUNCEMENTS
Annual Community Grants
will soon open for applications. Contact Kelly Frick or check the club web site for details.
Concert for Rotary
date has been set for Friday, May 6. The committee is again selling ads for the program. See Andrea Hales at the meetings for details.
---
Upcoming Programs
(See the official schedule at RotaryBayCity.org )
February 15, 2011: Aging Enriched
Rotarian Mike Redford will discuss the care-giving crisis in our country, related to our fast growing aging population
February 22, 2011: BNI Michigan
Jenny DuMont will discuss Business Network International (BNI) and how it can help you in today's economy and business environment.
---
DATES TO REMEMBER
Vocational Days
will be March 8 and March 22.
The
District Conference
will be April 1 and 2 in Mt. Pleasant at the Soaring Eagle Casino. The organizers are looking for program ideas. Check the
District 6310 Web Site
for more information.
---
Current and past
DISTRICT DISPATCH
newsletters are available on the District site shown in the LINKS section below.


Rotary Bay City on Facebook!
Click on the Blue Facebook to visit us there.

Remember! Check attendance sheets at the front desk.
---
LINKS