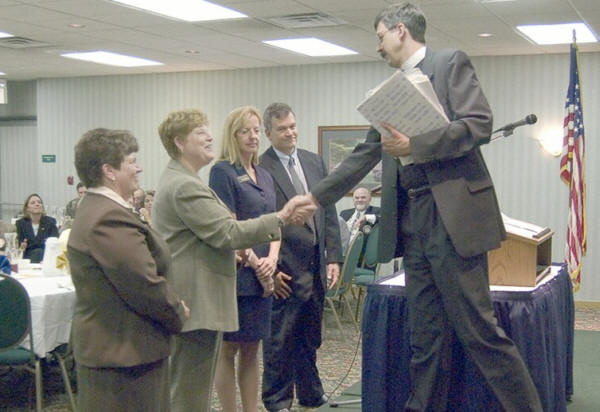 The Bay City Rotary Club inducted four new members last week: from left are Corrine Netzley, Carolyn Wierda, Trisha Burns and Richard Milster. The induction ceremony was conducted by Rev. Andreas Teich, right. (All Photos by Andy Rogers)
---
International Night Update on Tap for Bay City Rotary Club this Week
Four New Members Inducted; Anne Trahan, Ron McGillivray Speak Last Week
October 3, 2004
By: Dave Rogers
Last week's program: Ten Minute Rotarians, Anne Trahan, Ron McGillivray.
This week's program: International Night Update.
           The Bay City Rotary Club inducted four new members last week: Trisha Burns, Carolyn Wierda, Richard Milster and Corrine Netzley.
      Occupations of the quartet are, respectively, assistant director of the Bay County Library System, superintendent of the Bay City School District, attorney with Lambert Leser Isackson Cook & Giunta P.C., and superintendent of the Essexville-Hampton School District.
      Mrs. Burns, a resident of Linwood Beach, has been with the library system since 2001. She earned a bachelor's degree in English from Saginaw Valley State University and amasters in Library Science from Wayne State University, Detroit, MI, and previously served as a branch manager for the Saginaw Township Library System.
      Mr. Milster's father, Harold, and uncle, Stuart, were Rotary members while his grandfather, Arthur, was secretary of the club from 1924 to 1973. He is a Business graduate of Michigan State University, East Lansing, MI, and a graduate of the University of Louisville, Kentucky, Law School.
      Mrs. Wierda is a graduate of Bucknell University, Lewisburg, Pennsylvania, earned a masters degree in Curriculum and Instruction from Michigan State University, East Lansing, MI, and completed advanced study in Educational Administration at Saginaw Valley State University. She has been associate superintendent and director of operations in Bay City for more than six years and was named superintendent July 1. She previously served as a principal and administrator in the Saginaw Township School District, where she also was superintendent of human resources, and as a principal in the Merrill School District.
      Mrs. Netzley, a native of the Kawkawlin area, earned bachelors and masters degrees in Education from Central Michigan University, Mt. Pleasant, MI, was a human resources director for six years in manufacturing and spent 15 years in the health care field. She is a certified Master Gardener.
      Sponsors of the new members were Wanda Dziwura for Corrine Netzley, George Charles and Mike Stoner for Carolyn Wierda, LindaHeemstra for Trisha Burns and Harry Farris for Richard Milster.
      It was the largest number of new members to be inducted at one time in recent memory. The induction ceremony was conducted by Rev. Andreas Teich.
      Anne Trahan, anative of Ohio, told of building her own passive solar house, with her husband, Patrick. A professional photographer, she is a graduate of the Rhode Island School of Photography and once worked at the Greenbrier Resort in West Virginia. Among her hobbiesis canoeing.
Below:(Left)Trahan and McGillivray share a warm moment.(Right)Ms. Trahan speaks to the luncheon group.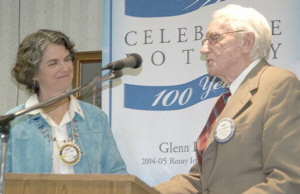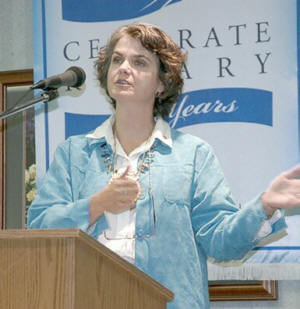 ---
      Mr. McGillivray, 92, was born in Ann Arbor on July 18, 1912. He grew up the son of a weekly newspaper publisher in Oscoda. Mac told of trapping muskrat and mink on the AuSable River and of an alarming encounter with a skunk with a white spot on its head. Doused with perfume to cover the skunk smell and sent to school, Mac recalled being quickly sent back home.
      He studiedcity planning at the University of Michigan and after graduation was paid $100 to drive a Studebaker to California because he wanted to see the Pacific Ocean. He hopped freight trains and hitchhiked to get back to Michigan.
      His masters thesis at U-M was a master plan for the City of Bay City. He worked in Washington, Cleveland, Bismarck, North Dakota, and Battle Creek before landing the job of city planner and director of public works in Bay City in 1941. He directed construction of Veterans Memorial Park and has been greatly involved in riverfront renewal. He also was involved in planning construction of North Street (now known as Wilder Road) into a major transportation artery.
      Since his retirement from the city, Mac has been a staff member of the Bay County Growth Alliance and has been involved in development of the Valley Center Technology Park in Monitor Township.
President's Action List: 6. Family of Rotary: This year we will schedule a minimum of six and as many as 10 ൒ Minute Rotarian" programs. The club's Family of Rotary Committee will coordinate these programs. Each program will have three parts, with one long-time member and one fairly new member doing a presentation, and ending with a presentation by a former club president, highlighting that president's Rotary year. Family and friends of speakers will be invited to attend these programs.###