Elder Care Topic of Talk
February 15, 2011
By: Stephen Kent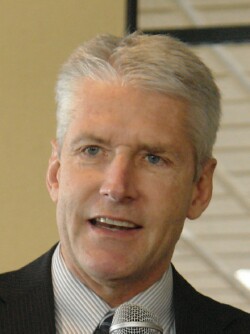 Mike Redford
Mike Redford
, the Community Relations Representation for Lutheran Homes of Michigan Foundation, talked to Rotary about elder care issues. He began by recruiting actors Anne and Rob to play the parts of two people caring for elderly parents and some of the issues they face.
The country is moving into an unprecedented time as baby boomers age. At the beginning of the boom churches mobilized to help build schools and support services for the wave of kids. Now they're needed again for the next phase.
The real issue is about care givers. 80% of care is provided by family caregivers, not by institutions. The typical caregiver is female, aged 45 to 60 and with a job and teen or young adult children. These women will provide care for over three years and spend $5,500 annually from their own pocket. 60% of caregivers are clinically depressed and too often withdraw from other activities.
This is the "Women's Issue" of our time as most care giving falls on the women of the family and most often on the oldest daughter. Michigan ranks 8th in the nation in the number of care givers with 1.1 million out of a population of 9 million people (13%).
The ratio of elderly is growing dramatically due to population changes and to longer life spans. from 2010 to 2020 the number over 65 will double to 64 million. The overall population will be older. Unless we do things differently there won't be enough care givers.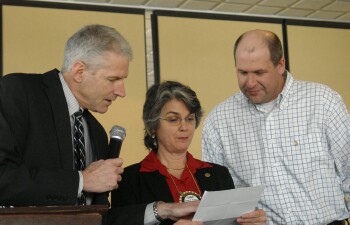 The Redford Players
23% of elderly have no children. 20% have only one child. 40% have no daughters. 50% of those over 85 years suffer some memory loss and 60% need assistance with the activities of daily living (ADL).
There is a long history of the link between social ministry and the sacraments in churches. Organizations like Lutheran Homes and Presbyterian Home Village will become more important as the elder care needs expand. Senior care comes naturally to most people. It's also a natural part of the church ministry.
Redford asked this what if question: "What if the local congregation became known in its community for having a heart of service to seniors and their families AND a package of meaningful support services at the community level that folks need?"
Seniors and their care givers need access, information, and referrals to trusted sources of support. Meaningful volunteer efforts from the congregation present a significant opportunity to reach out to this community. Lutheran Homes has developed an "Ageing Enriched" toolkit to help with resources and information. More information is available at
www.AgingEnriched.org
---
CLUB NEWS and ANNOUNCEMENTS
Annual Community Grants
applications are now being accepted. Visit the club web site for full information. Contact Kelly Frick or check the club web site
Community Grants Page
for details.
The
Youth Study Exchange
committee is planning for our incoming student and is looking for three host families. Each will take our student for 3½ months. Contact Brenda Rowley for more information.
Concert for Rotary
date has been set for Friday, May 6. The committee is again selling ads for the program. See Andrea Hales at the meetings for details.
The
2011 Rotary District 6310 Conference
will be held April 1 and 2 in Mt. Pleasant. Visit
www.MPRotary.com
for details.
The
Administrative Review Workgroup
has been meeting weekly for several months. They have looked at our club practices, policies, and procedures. They looked at the budget, dues, the foundation, projects and grants. They researched other clubs in the district. Now they want to know what you think. On March 1 they will present a program and then ask the club to participate in a survey to determine how the members feel about many issues.
---
Upcoming Programs
(See the official schedule at RotaryBayCity.org )
February 22, 2011: BNI Michigan
Jenny DuMont will discuss Business Network International (BNI) and how it can help you in today's economy and business environment.
March 1, 2011: Club Planning
Jerome, Valerie and the entire Administrative Review Work group will discuss their process and some of their questions and findings. They will also introduce the Club Survey that will be taken over the next two weeks.
March 8, 2011: Vocational Day 1
. The "Energize" young professionals group will speak.
March 15, 2011: Ken Follet Papers
.
March 22, 2011: Vocational Day 2
.
Marlene Searles
will talk about the Great Lakes Bay Region STEM Middle College
---
DATES TO REMEMBER
Program Committee
meeting at 11:00 am before the regular meeting on March 1.
Vocational Days
will be March 8 and March 22.
The
District Conference
will be April 1 and 2 in Mt. Pleasant. Visit
www.MPRotary.com
for details.
---
Current and past
DISTRICT DISPATCH
newsletters are available on the District site shown in the LINKS section below.


Rotary Bay City on Facebook!
Click on the Blue Facebook to visit us there.

Remember! Check attendance sheets at the front desk.
---
LINKS