District Governor Ruby Iwamasa Set for Rotary Club Visit Tuesday
Rotarians Tim Moulthrop, Jerome Yantz Receive Honors for Community Work
October 10, 2004
By: Dave Rogers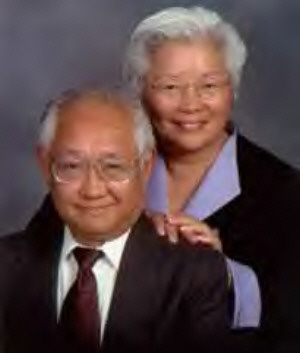 District Gov. Ruby T. Iwamasa and Robert Iwamasa.
      Last week's meeting: International Night Update.
      This week's meeting: Official visit by Ruby T. Iwamasa, governor of Rotary District 6310.
NOTE: A Rotary Club of Bay City board meeting will be held at 7:30 a.m. at Bay Arenac Behavorial Health, Room 207, 201 Mulholland Street.
      Bay City Rotarians last week saluted Guy T. "Tim" Moulthrop, honored recently by the Bay Medical Foundation for 25 years of service; and Jerome Yantz, who was honored by the Bay Area Chamber of Commerce for his work in supporting education by having an educational community service award named for him.
      Entertainment by Dr. Lee Newton and his wife Molly on piano and saxophone will be a feature of Thursday night's International Night program, Rotarians learned last week.
      About 400 persons, including many community members, are expected to attend the event in the DoubleTree Hotel - Bay City Riverfront.
      Longterm members will receive special recognition at the event, President Mike Stoner announced. There also will be a drawing crediting the winner for a contribution to the RI Foundation that will qualify them for a Paul Harris Fellowship.
      Auction items include a signed Barry Sanders jersey, donated by Rex Thatcher, watch, bracelet and ring from Herman Hiss & Son Jewelers, foosball table and other surprises. There will be silent and live auctions.
      The $200 value of four tickets on the 40-yard line to last Saturday's blockbuster University of Michigan-University of Minnesota football game was donated to the Rotary Foundation by Rotarian Joy Baker. Despite the lack of auction bidding at the meeting, Rotarian Robert Rogers was able to find a lucky buyer before the game. And what a game it was for Michigan fans! Score, 27-24 in case you were on another planet last weekend.
      This week's program will feature an official visit by Ruby T. Iwamasa, governor of Rotary District 6310. Ruby became aRotarian in 1989. She is a Paul Harris Fellow and was honored to serve as the first female President of the Midland Rotary Club in 1996-97.
      The current district governor has a background unique in Rotary. She was born and raised in the rural farming area of Anaheim, California. From 1942 to 1944 she and her family, the Shiotanis, were sent to a U.S. government relocation camp along with many Japanese-Americans.
      Ruby received her A.A. degree from Hartnell Jr. College in Salinas, California, and earned a B.A. degree in Elementary Education with a minor in Speech Correction from San Jose State. She taught in California, Maryland and Michigan.
      Ruby has been an active Rotarian, serving on the board of directors andnumerous committees. She has been on many Rotary District Conference Planning Committees and most recently, was Chairperson of the Rotary District Conference under DG Dom Gagliardi. Ruby is a member of the Planning Committee for the Great Lakes Rotary Presidents Elect Training Seminar (P.E.T.S.) which involves Rotary clubs from Michigan, Indiana and Ontario. She served as Chair of the Promotions Committee in 2002-2003.
      In Michigan, Ruby became an advocate, teacher and administrator in the cooperative pre-school movement while raising sons Kenneth, Jonathan and Andrew. She served as President of the Mid-Michigan Council of Cooperative Nurseries and later, as President of the Mid-Michigan Association for the Education of Young Children.
      In 1983, after 12 years as a Delta College Channel 19 volunteer, Ruby joined the Delta College staff. Her duties have included serving as interim general manager. Before retirement in September, 2004, she served as Manager of Educational Services and Outreach.
      Through initiatives such as the PBS Ready To Learn Service, Ruby championed the educational uses of public television programming. In 2003, Ruby received the Outstanding Hispanic Advocate award from Delta College's Multicultural Services Division, recognizing the long-standing partnership between Delta College Quality Public Broadcasting and the Summer Migrant Programs, the volunteer readers from Delta's Hispanic community and PBS Ready To Learn. Ruby has returned to DeltaBroadcasting to continue her work in education in her retirement.
      The District Governor is married to Robert Iwamasa who is retired from the Dow Chemical Co. They have 3 grown sons and 1 granddaughter, Sofie Joy.###