BNI Presents Business Ideas to Rotary
February 22, 2011
By: Stephen Kent
Jenny Dumont
Jenny Dumont, local Director for BNI, talked about "Degrees of Working ON your business not IN it."
BNI is a national business networking group with chapters in many cities. A number of Rotarians are members of the Bay City Chapter.
BNI accepts a single member from any business classification and members then refer potential customers to fellow members. BNI offers a variety of services and training opportunities to members.
Dumont discussed six areas that a business person should concentrate on for success:
Execute the Fundamentals Flawlessly
Coaching and Training
Mentoring
Networking
Growth and Development
Strategic Alliances
Membership in BIN cost $465 the first year and $365 per year after that. Membership is on a first come basis for any business classification.
---
CLUB NEWS and ANNOUNCEMENTS
NOT THE FIRST TIME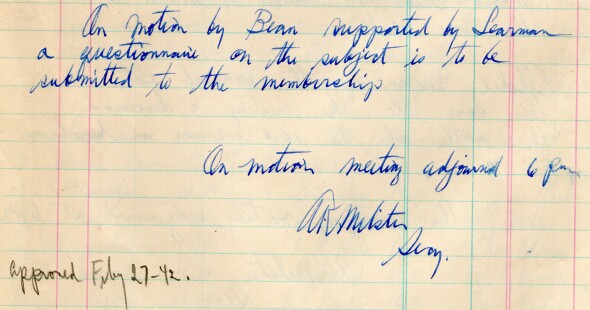 69 years ago this month the club was looking for answers and submitted a questionnaire to the membership. Over the years surveys have been periodically used to get input from the membership on important issues.
On March first, 2011 the Administrative Review Workgroup will roll out a comprehensive new survey covering many topics concerning the club. The group has spent the last month developing the survey and then testing it among themselves.
This will be an on-line survey. Members will be sent an e-mail invitation that will direct them to the survey. (Other formats are available on request.) The survey should require 15 to 30 minutes to complete.
As an incentive each member who reports to the Secretary that hr or she took the anonymous survey will receive a makeup. They will also be entered into a drawing for a prize.
The survey, its objectives and methods will be the topic of Tuesday's program.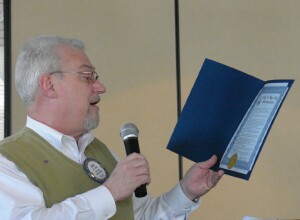 President Eric reads Proclamation
On February 23, 1905, Paul Harris
had dinner with Chicago coal dealer Silvester Schiele. They later walked to Room 711 of the Unity Building where they met Gustavus Loehr, a mining engineer, and Hiram Shorey, a merchant tailor. Harris proposed that they form a club. 106 years later that club is
Rotary International
.
President Eric reviewed some of the highlights of Rotary's 106 year history then read a proclamation enacted by the city declaring
Wednesday, February 23, 2011 to be Rotary Day In Bay City
.
Annual Community Grants
applications are now being accepted. Visit the club web site for full information. Contact Kelly Frick or check the club web site
Community Grants Page
for details.
The
Youth Study Exchange
committee is planning for our incoming student and is looking for three host families. Each will take our student for 3½ months. Contact Brenda Rowley for more information.
Concert for Rotary
date has been set for Friday, May 6. The committee is again selling ads for the program. See Andrea Hales at the meetings for details.
The
2011 Rotary District 6310 Conference
will be held April 1 and 2 in Mt. Pleasant. Visit
www.MPRotary.com
for details.
---
Upcoming Programs
(See the official schedule at RotaryBayCity.org )
March 1, 2011: Club Planning
Jerome, Valerie and the entire Administrative Review Work group will discuss their process and some of their questions and findings. They will also introduce the Club Survey that will be taken over the next two weeks.
March 8, 2011: Vocational Day 1
. The "Energize" young professionals group will speak.
March 15, 2011: Ken Follet Papers
.
March 22, 2011: Vocational Day 2
.
Marlene Searles
will talk about the Great Lakes Bay Region STEM Middle College
---
DATES TO REMEMBER
Program Committee
meeting at 11:00 am before the regular meeting on March 1.
Vocational Days
will be March 8 and March 22.
The
District Conference
will be April 1 and 2 in Mt. Pleasant. Visit
www.MPRotary.com
for details.
---
Current and past
DISTRICT DISPATCH
newsletters are available on the District site shown in the LINKS section below.


Rotary Bay City on Facebook!
Click on the Blue Facebook to visit us there.

Remember! Check attendance sheets at the front desk.
---
LINKS