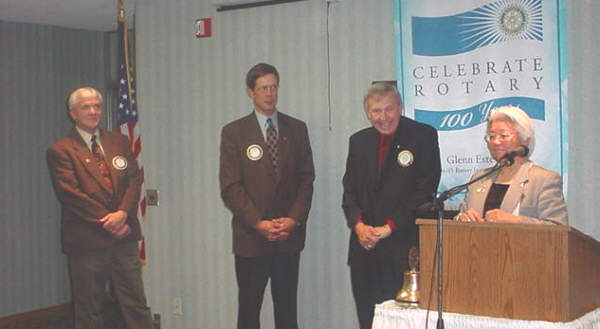 President Mike Stoner, former president Rob Monroe and past district governor Jerome Yantz hear greeting from District Gov. Ruby Iwamasa.
---
Danish Exchange Student to Speak Tuesday at the Bay City Rotary Club
Club Completes Big Week with District Governor's Visit, International Night
October 17, 2004
By: Dave Rogers
This week's program: Ann Tvede Pleth: Danish exchange student.
Last week's program: District Governor Ruby Iwamasa.
      "We want to have the best Centennial Year we can have," exclaimed District Gov. Ruby Iwamasa at last week's meeting. "We are lucky to be here to celebrate 100 years of Rotary," she enthused.
      Mrs. Iwamasa, accompanied by her husband Bob, a retired Dow Chemical Co. executive, put Rotarians to work listing their talents and turned over the responses to President Mike Stoner for use in tapping talents in club development.
      In response to the district governor's request, Rotarian Joy Baker called for "a multi-cultural initiative addressing the needs of children at risk."
      Cindy Chadwick cited her work on the district directory; Don Carlyon said his talent was "selecting staff," alluding to his encouragement of Mrs. Iwamasa while he was president of Delta College; Harry Farris piped up about his bagpiping talent;Jeff Yantz said he makes good soup; Rev. Andreas Teich sang out about his singing; Mark Jaffe was mentioned for his tennis skills; Jerry Hill plays old songs on the banjo; Rob Clark is a singer; Keith Markstrom is a fundraiser; Bronson Harris, with tongue in cheek, noted that he is a "good listener."
      The exercise was all in the interest of "sustaining and growing membership," said the district governor, citing the "Czerwinski Effect," a reference to the increase in membership during the club presidency of Kathy Czerwinski in 2001-02.
      Mrs. Iwamasa presented the club with an award for raising the second highest amount for the Rotary Foundation last year, following the Frankenmuth club. Cass City was the per capita leader.
      President Mike Stoner's General Goals for the Centennial Year:      Continue to work hard to revitalize the International Night activity. In this centennial year it will become the Rotary 100th Birthday International Night Event. (NOTE: The results are not all in, but about 380 persons attended International Night on Oct. 14 in the DoubleTree Hotel - Bay City Riverfront. Estimates are the net proceeds will exceed previous International Nights.
Support the Rotary Twin Club activity being coordinated by Anita Bowden. (NOTE: Our twin club is in Zekeriyakoy, Turkey, a suburb of Istanbul, headed by Banu Tulumen Yalcin, president.)
Work more closely with other Rotary clubs. For example, participate with the Saginaw Club's celebration as one of the first 100 Rotary club's chartered. Work with the Bay City Morning Club to plan and maintain the proposed "Friendship Park." Work with the Morning Club to plan a special joint club meeting on Rotary's 100th anniversary, Wednesday, Feb. 23, 2005.
      Summary: If all club members make an effort to accomplish these goals during the Rotary Centennial Year, we might all better understand what it means to be a Rotarian, not just members of a Rotary Club.###