Rotary Hosts High School Students for First of Two Vocational Days
"Energize", the Bay Area Young Professionals Network presents program
March 8, 2011
By: Stephen Kent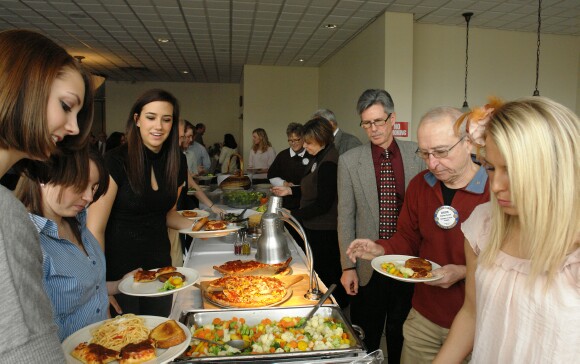 Tuesday, March 8 was the first of two
Rotary Vocational Days
. Each year the Bay City club arranges for a hundred or more students to job shadow with area businesses and professionals. Students are then invited to lunch with the club and hear a program on a topic of interest to them.
Each year about a quarter of the students choose to visit Bay Regional Medical Center.large number of students. Another quarter go to Delta College. The remaining students visit with Veterinarians, Photographers, bankers, engineers, and other professionals.
Thanks to the popularity of this program, there enough students to warrant two days. The Bay Medical group took the first day this year and the Delta College group will take the second, coming up on March 22.
---
The program for the day was presented by
Energize
, the Bay Area Young Professional Network.
A program of the Bay Area Chamber of Commerce, Energize works to "attract, engage and retain young professionals in the greater Bay Area".
It's an unfortunate fact that many young people are born and raised in this community but after school they seek their fortune elsewhere. Energize provides an opportunity for young professionals to meet, network, and learn through social, volunteer and educational programs.
The program was presented by
Cathy Koebke
, Director of Sales & Marketing;
Jennifer Spencer
, Branch Manager for Chemical Bank's Wilder Road branch; and
Andrew Kornecky
, of RediMed and Chairman of Energize.
The Energize membership, which now numbers over 175, represent all backgrounds, professionals and lifestyles. They pay a fee of $35 for three years and enjoy a number of member benefits including the opportunity to connect with the community and the business world and letting their voices be heard. Today's members of Energize will be the community leaders of tomorrow.
Energize is a program of the
Bay Area Chamber of Commerce
and works regionally with Midland MyPros, Saginaw YPN and Mount Pleasant YPN.

Jennifer Spencer
Chemical Bank


Cathy Koebke
Chamber of Commerce


Drew Kornecky
RediMed
For more information visit
www.energizebayarea.com
.
---
CLUB NEWS and ANNOUNCEMENTS
Over 45% of the membership has completed the
Member Survey
, received their makeup, and been entered in the drawing for the DoubleTree gift certificate.
If you don't have your e-mail invitation, send an e-mail to
surveycommittee@RotaryBayCity.org
Annual Community Grants
applications are now being accepted. Visit the club web site for full information. Contact Kelly Frick or check the club web site
Community Grants Page
for details.
The
Youth Study Exchange
committee is planning for our incoming student and is looking for three host families. Each will take our student for 3½ months. Contact Brenda Rowley for more information.
Concert for Rotary
date has been set for Friday, May 6. The committee is again selling ads for the program. See Andrea Hales at the meetings for details.
The
2011 Rotary District 6310 Conference
will be held April 1 and 2 in Mt. Pleasant. Visit
www.MPRotary.com
for conference details.
The club's board voted to continue the tradition of reimbursing a portion of a member's conference registration fee. Contact treasurer Doug Rise for more information.
---
Upcoming Programs
(See the official schedule at RotaryBayCity.org )
March 15, 2011: Ken Follett Papers
. The unpublished papers of author Ken Follett Papers, some 44,000 documents, were donated to SVSU's Zahnow Library. Tuesday's program will discuss this collection.
March 22, 2011: Vocational Day 2
.
Marlene Searles
will talk about the Great Lakes Bay Region STEM Middle College
March 29, 2011: Vocational Talk
: Fellow Rotarian
Candace Bales
Executive Director of the Bay City Downtown Management Board & Development Authority, will talk about her profession.
---
DATES TO REMEMBER
Program Committee
meeting at 11:00 am before the regular meeting on March 1.
Vocational Days
will be March 8 and March 22.
The
District Conference
will be April 1 and 2 in Mt. Pleasant. Visit
www.MPRotary.com
for details.
---
Current and past
DISTRICT DISPATCH
newsletters are available on the District site shown in the LINKS section below.


Rotary Bay City on Facebook!
Click on the Blue Facebook to visit us there.

Remember! Check attendance sheets at the front desk.
---
LINKS