Ken Follett Papers Housed At SVSU
March 15, 2011
By: Stephen Kent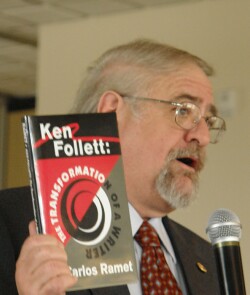 Dr. Carlos Ramet
Dr. Carlos Ramet
became interested in
Ken Follett
while taking a graduate course at the University, Chicago where students were looking at popular culture theory and how to apply that to works like thriller novels. Ramet had not read Follett at the time but came across one of his books in campus bookstore.
The paper Ramet eventually wrote grew into various articles and presentations. In the late 1990's Ramet took a sabbatical from SVSU and used the time to review his work and organize it into a book, which was published in 1999.
Ramet intentionally didn't try to contact Follett while writing the book. "I felt that if you are going to write on a writer you should be able to do it as you would a work on Dickens or anyone else based on the documents available on his books." Before the book was published, however, "I thought it would be a good idea to contact Follett before his lawyers did." That was the start of a long correspondence between the two men.
About a year later Follett wrote to Ramet saying that he was moving to another house and had a collection of correspondence, research papers, business records and first drafts, and wondered if Ramet would like to have those. The materials arrived in 18 large boxes and ended up in Ramet's house.
After about a year Ramet arranged with the SVSU library and Follett to house the collection there. In 2004 Follett came to SVSU for the dedication. Follett returned in 2010 with another large collection of his material. At that time he presented SVSU with $100,000 which has become an endowment to maintain the collection.
The archives, in 168 boxes and comprising over 60,000 separate documents, are being scanned, digitized, cataloged and organized on the Internet. This is the worlds largest collection of Follett's materials. The web site is publicly available and easily accessed as the
Ken Follett Virtual Exhibit
. The SVSU library also has a collection of the works and other rare books.
---
CLUB NEWS and ANNOUNCEMENTS
Over 80% of the membership has completed the
Member Survey
, received their makeup, and been entered in the drawing for the DoubleTree gift certificate.
If you haven't done your part, or don't have your e-mail invitation, send an e-mail to
surveycommittee@RotaryBayCity.org
The club welcomed
Dee Dee Wacksman
home from her trip to New Zealand where she spent a week just after that country's earth quake. She took in a morning Rotary meeting while there and reported that breakfast cost $24 for tea and coffee, little boxes of cereal, and toast. "I looked around and said 'where are the eggs? No eggs for $24?"
Annual Community Grants
applications are now being accepted. Visit the club web site for full information. Contact Kelly Frick or check the club web site
Community Grants Page
for details.
The
Youth Study Exchange
committee is planning for our incoming student and is looking for three host families. Each will take our student for 3½ months. Contact Brenda Rowley for more information.
Concert for Rotary
date has been set for Friday, May 6. The committee is again selling ads for the program. See Andrea Hales at the meetings for details.
The
2011 Rotary District 6310 Conference
will be held April 1 and 2 in Mt. Pleasant. Visit
www.MPRotary.com
for conference details.
The club's board voted to continue the tradition of reimbursing a portion of a member's conference registration fee. Contact treasurer Doug Rise for more information.
---
Upcoming Programs
(See the official schedule at RotaryBayCity.org )
March 22, 2011: Vocational Day 2
.
Marlene Searles
will talk about the Great Lakes Bay Region STEM Middle College
March 29, 2011: Vocational Talk
: Fellow Rotarian
Candace Bales
Executive Director of the Bay City Downtown Management Board & Development Authority, will talk about her profession.
---
DATES TO REMEMBER
The second
Vocational Day
will be March 22.
The
District Conference
will be April 1 and 2 in Mt. Pleasant. Visit
www.MPRotary.com
for details.
Club
Golf Outting
- Monday, June 27, 2011.
---
Current and past
DISTRICT DISPATCH
newsletters are available on the District site shown in the LINKS section below.


Rotary Bay City on Facebook!
Click on the Blue Facebook to visit us there.

Remember! Check attendance sheets at the front desk.
---
LINKS