Rotarians and Student Guests Learn about Great Lakes Bay Early College
March 22, 2011
By: Stephen Kent
Rotary held its second Vocational Day on March 22. 75 students were guests of Rotary and various businesses and institutions. Two weeks ago 65 students attended the year's first Vocational Day.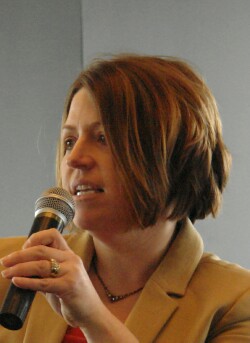 Marlene Searles, Director
Great Lakes Bay Early College
Students and Rotarians heard a program presented by Marlene Searles who talked about the new
Great Lakes Bay Early College.
A program of the Saginaw ISD, Bay-Arenac ISD and Midland ESA, the program will focus on Science, Technology, Engineering and Mathematics (STEM) and will prepare students for college and STEM job skills, which are in high demand in the Tri-cities area.
The FREE program is open to students entering 11th grade in fall of 2011. All students are eligible including those in home school, charter, other public and/or private schools.
Students will earn a high school diploma and up to 60 college credits. They will be "credentialed as College Ready" which will allow them to seamlessly move on to an associates or bachelors degree program. The program is designed to provide personalized instruction in a small group setting.
Early College allows high school students to attend SVSU, Delta or Davenport University. Students go full time to the college to get both college credit and their high school diploma. Local business partners will participate with job shadowing and internships.
The Great Lakes Bay Early College, one of 20 such programs funded by the state of Michigan, plans to enroll 160 students this fall. 80 will be from Saginaw, 40 from Bay County and 40 from Midland. Selection will be by random lottery.
For full information visit the
Saginaw ISD
web site.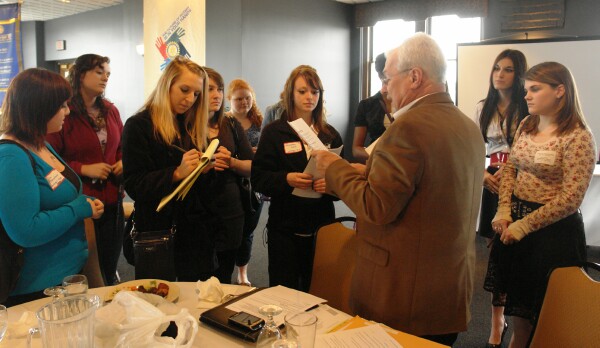 Interested Students get Camp Rotary information from President Jylha
---
CLUB NEWS and ANNOUNCEMENTS
Thanks to everyone who completed the
Member Survey
. If you have not checked your name off the big board, please do so or contact Steve Kent (
Secretary@RotaryBayCity.org
) to receive your makeup. The drawing for the Doubletree gift certificate will be held at an upcoming meeting.
Annual Community Grants
applications are being accepted through the end of the month. Visit the club web site for full information. Contact Kelly Frick or check the club web site
Community Grants Page
for details.
Rotary is accepting donations toward
Japanese earthquake and tsunami relief
. The district has pledged $4,000 to the fund.
The
GSE team from Greece
are in the district now. The Sebewaing and Pigeon clubs will host a lunch reception at the Stein Haus in Bay City on April 10. The Bijou Orchestra will present a concert following the lunch at 2:00 Everyone is invited. RSVP to
KristinBearden@gmail.com
by April 1 if you plan to attend.
The annual club
Golf Outing
has been scheduled for June 27. The Helicopter Golf Ball Drop will again be featured. The committee will meet in 2 weeks.
The
Youth Study Exchange
committee is planning for our incoming student and is looking for three host families. Each will take our student for 3½ months. Contact Brenda Rowley for more information.
Concert for Rotary
date has been set for Friday, May 6. The committee is again selling ads for the program. See Andrea Hales at the meetings for details.
The
2011 Rotary District 6310 Conference
will be held April 1 and 2 in Mt. Pleasant. Visit
www.MPRotary.com
for conference details.
The club's board voted to continue the tradition of reimbursing a portion of a member's conference registration fee. Contact treasurer Doug Rise for more information.
---
Upcoming Programs
(See the official schedule at RotaryBayCity.org )
March 29, 2011: Vocational Talk
: Fellow Rotarian
Candace Bales
Executive Director of the Bay City Downtown Management Board & Development Authority, will talk about her profession.
April 5, 2011: Youth Exchange
:
Brenda Rowley
and
Andrea Hales
will talk about Rotary Youth Exchange and how our club is involved.
April 12, 2011: Joe Lehman
will speak on the
Mackinaw Center for Public Policy
.
April 19, 2011: Jill Kroll
of the Nathan Weidner Children Advocacy Center, will speak on forensic interviewing.
---
DATES TO REMEMBER
The
District Conference
will be April 1 and 2 in Mt. Pleasant. Visit
www.MPRotary.com
for details.
April 10: Greek GSE Team reception
at the Stein Haus followed by Bijou Orchestra Concert at the State Theater.
Club
Golf Outing
- Monday, June 27, 2011.
---
Current and past
DISTRICT DISPATCH
newsletters are available on the District site shown in the LINKS section below.


Rotary Bay City on Facebook!
Click on the Blue Facebook to visit us there.

Remember! Check attendance sheets at the front desk.
---
LINKS