Mackinac Center Chief Says Gov. Snyder Has Made "Promising Debut"
April 13, 2011
By: Dave Rogers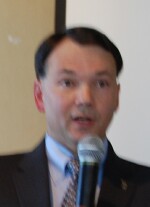 Joseph G. Lehman
A self-described "farm boy" from Marissa, Illinois, Joseph G. Lehman now is president of the non-profit Mackinac Center for Public Policy, Midland.
Speaking Tuesday to the Rotary Club of Bay City, Mr. Lehman's remarks ranged from state economics to the federal budget under the rubric of the center's free market, non-partisan declarations.
The center is promoting ideas Mr. Lehman and his colleagues at the "think tank" feel are vital to the restoration of Michigan's economic viability and industrial competitiveness.
He cited the state's fall in 10 years from the top third of state economies to the bottom, commenting: "Something's wrong; we used to be rich, now we're poor."
New Gov. Rick Snyder "has made a promising debut" and "has come on hard and fast, using his accountant's background," at solving the state's budget problems, said Mr. Lehman.
The governor has "eliminated virtually all the corporate welfare baked into the Michigan economy," including some direct subsidies and special tax deals, noted Mr. Lehman.
"He seems to take a no nonsense approach and won't let the balance sheet lie to him," the speaker commented about Snyder.
Snyder's approach to unions has been "clearly different" than that taken by Wisconsin Gov. Scott Walker, said Mr. Lehman. He pointed to "quietly revised programs" such as a strengthened emergency financial manager law and a March 1 executive order that ended enforced unionism by 40,000 child care workers in Michigan.
The center has identified what it says is one of Michigan's major drawbacks: public sector workers' benefits that exceed those of private sector employees.
Defined benefits, such as those enjoyed by public school teachers and administrators, are more costly to maintain, he said. Of a $5.7 billion gap between the public and private sectors, half the difference is created by the public schools, he said.
Michigan, according to Mr. Lehman, "may be the canary in the coal mine" with its high spending, eroded tax base and future liabilities signaling similar problems at the federal level.
The Mackinac Center was founded in 1987 by the Cornerstone Foundation whose board members included D. Joseph Olson, general counsel for Amerisure Insurance, then Senator John Engler, and Richard D. McLellan, attorney with Dykema Gossett of Grand Rapids. It has grown to be the largest state "think tank" in the nation.
Mr. Lehman is an engineering graduate of the University of Illinois and former project manager for the Dow Chemical Co. In 2008 he succeeded Lawrence W. Reed, former Northwood University economics professor, as president. Mr. Reed now is president of the Foundation for Economic Education in Washington, D.C.
---
CLUB NEWS and ANNOUNCEMENTS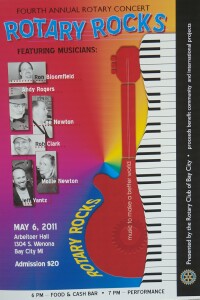 The
Concert for Rotary
is Friday, May 6. The committee wants to sell 200 tickets. If you can't go, buy a pair of tickets anyway and give them to someone. The committee is also selling ads for the program.
The concert is a great opportunity for Rotary to show that it's not just a bunch of old guys meeting in a smokey room. The show is titled "
Rotary Rocks
" and that pretty much tells the story. Get one of Cindy Chadwicks' posters and put it up in your place of business.
If you missed the opportunity to have
Anne Trahan
take a new picture for the Rotary Directory, don't fret. Give her a call or see her at the meeting to work out a sitting.
The
OUTBOUND GSE team to Greece
needs a Rotarian leader. All expenses are paid. It's a great opportunity. The district is ALSO looking for team members: Young professionals who are not Rotarians and not related to Rotarians. See Bob Chadwick if you're interested or have a candidate.
The annual club
Golf Outing
has been scheduled for June 27. The Helicopter Golf Ball Drop will again be featured.
Check your Foundation giving status
on the
rotary.org
web site. To set up your own log-in there you need the club number (2830), district number (6310) and your RI number, which can be found on your Rotary magazine, your dues invoice, and in the club directory.
---
Upcoming Programs
(See the official schedule at RotaryBayCity.org )
April 19, 2011: Jill Kroll
of the Nathan Weidner Children Advocacy Center, will speak on forensic interviewing.
April 26, 2011: Jan Rise
will offer her
Spring Gardening Tips
.
May 3, 2011: Jerome Yantz
will speak about
The Rotary Foundation and YOU
.
May 10, 2011: Afghanistan
District Governor Eileen Jennings will talk about her recent trip to Afghanistan.
May 17, 2011: Eovations president Claude Brown
will discuss his company and the line of products they are creating in Bay County.
---
DATES TO REMEMBER
Rotary Concert
- Friday, May 6, 2011.
Club
Golf Outing
- Monday, June 27, 2011.
---
Current and past
DISTRICT DISPATCH
newsletters are available on the District site shown in the LINKS section below.


Rotary Bay City on Facebook!
Click on the Blue Facebook to visit us there.

Remember! Check attendance sheets at the front desk.
---
LINKS