Lansing Political Reporter Peter Luke to Give Timely Insight on Campaigns
Rotarians Charmed by Danish Exchange Student Last Week
October 24, 2004
By: Dave Rogers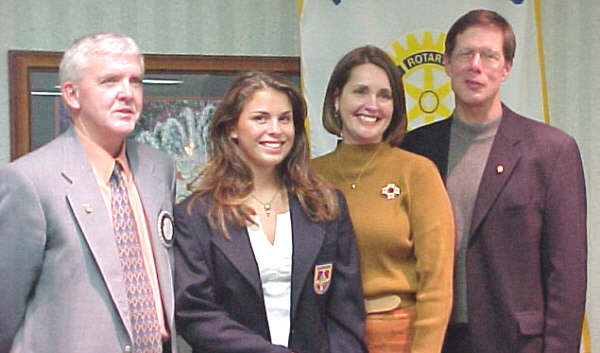 Mike Stoner, left, and "host family" Deb and Rob Monroe, welcome Anna Pleth, high school senior exchange student from Denmark.
      Last week's program at the Bay City Rotary Club: Anna Pleth, exchange high school student from Denmark.
      This week's program: Peter Luke, Lansing political correspondent for Newhouse News Service.
      Peter Luke, Lansing political correspondent for The Bay City Times and Saginaw News, as well as six other Newhouse/Booth newspapers in Michigan, will speak to the Bay City Rotary Club on Tuesday on a very pertinent topic: politics.
      Mr. Luke is expected to give insight into the current political campaigns, destined to conclude with the quadrennial Presidential election on Tuesday, Nov. 2.
      Introducing Mr. Luke will be programmer Tony Dearing, editor, The Bay City Times.
      Miss Pleth, 17, showed remarkable poise and speaking ability at the Rotary podium, several members were heard to remark after her presentation last week.
      Asked the difference between the Danish and American educational systems, Miss Pleth said from her perspective the Danish system is "more intense." American students are often taken to snoozing in class, she said frankly.
      Despite the increased academic intensity in schools, Danish children are taught to address their teachers by their first names while in America a more formal means of addressing teachers is preferred.
      Miss Pleth, a senior at Central High, has just completed playing on the girls tennis team. "I really enjoyed it, made a lot of new friends and learned a lot more," she said. While tennis here is played mainly on concrete courts, in Denmark most courts are either grass or clay, she added. She will be continuing to practice and play this winter at the Midland Community Tennis Center.
      She attended the homecoming dance, which she described as "so American, like we see in the movies."
      Already multi-lingual,Miss Pleth is studying Spanish at Central as well as increasing her English skills.
      People in Denmark don't mind paying 50 percent income taxes, she said, since they get health care and university education free.
      Another big difference is that young people can drink at age 15 in Denmark. But hardly anyone drinks to get drunk, she said.
      She thanked Rotarians for sponsoring her exchange year like this: "It was my dream to come to America and you made it come true."###