Nathan Weidner Children's Advocacy Center Crisis Counselor Speaks to Rotary
April 19, 2011
By: Stephen Kent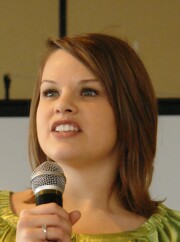 Katie LaFleur
Katie LaFleur, Crisis Counselor at the Nathan Weidner Children's Advocacy Center in Bay City, started her presentation by saying "Child sexual abuse is hard to hear about and to talk about even". For that reason her organization goes out to educate the community. The center sees kids from 2 to 17 years old.
The Weidner center employees a forensic interviewer and a crisis counselor. Both of these individuals are highly trained to talk to and work with children.
A case is managed by a team from law enforcement, the prosecutor, and child protective services. An original complaint is files with one of those organizations which then contacts the Weidner center to arrange the interview.
A session begins with the interviewer meeting with the child and the parents. The child is then interviewed alone with the team observing and recording from another room. Parents do not usually participate in the interview.
The goal of the interview is to collect correct information about any sexual abuse that may have occurred. The team then decides if there is a case to be pursued.
Sexual abuse or assault is anytime a child is threatened, forced or pressured into any form of sexual contact. Such abuse by adults or other children is a widespread problem. Some studies show that 1 in 3 girls and 1 in 4 boys will be sexually assaulted by the age of 18.
Offenders are mostly male but females are also found. Children are almost always abused by someone they know and trust. The Weidner center processes around 200 cases a year and in 98% the child knows the suspect.
The results of the interview may warrant followup with an investigation and eventually prosecution. The legal process can be confusing, slow and frustrating for the family. The team works with the family to get the best possible outcome. They also educate the family that the real life process is not like CSI and other shows on TV.
The counselor's job is to work with the entire family. The children seldom know how to respond and often feel guilty themselves. Parent's reactions range from disbelief to hurt to "I'm gonna kill him", or the urge to just leave. Counseling helps insure a more appropriate response.
For more information visit
nathanweidnerfoundation.org
---
CLUB NEWS and ANNOUNCEMENTS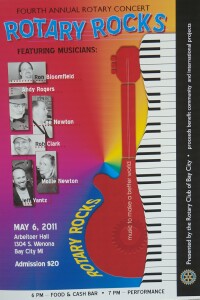 The
Concert for Rotary
is Friday, May 6. The committee wants to sell 200 tickets. If you can't go, buy a pair of tickets anyway and give them to someone. The committee is also selling ads for the program.
The concert is a great opportunity for Rotary to show that it's not just a bunch of old guys meeting in a smokey room. The show is titled "
Rotary Rocks
" and that pretty much tells the story. Get one of Cindy Chadwicks' posters and put it up in your place of business.
MEMBER PHOTOS:
If you missed the opportunity to have
Anne Trahan
take a new picture for the Rotary Directory, don't fret. Give her a call or see her at the meeting to work out a sitting. The directory picture is free. Retouched digital photos and portraits for your own use are available for a small charge.
The
Community Grants
committee met and made recommendations for grants totaling $8,000. A board vote will be held by e-mail. Recipients will be announced after approval.
The annual
Rail Trail Cleanup
has been scheduled for April 30. Meet at the community center at 9:00 AM for assignments. The
Carroll Park
cleanup will be held May 7 starting at 8:00 AM. The Club always has a group to participate. Andreas and Tracy Teich will open their home for refreshments and snacks after the Carroll Park event. Talk to Drew, Brenda and Sita for more information.
The
OUTBOUND GSE team to Greece
needs a Rotarian leader. All expenses are paid. It's a great opportunity. The district is ALSO looking for team members: Young professionals who are not Rotarians and not related to Rotarians. See Bob Chadwick if you're interested or have a candidate.
The annual club
Golf Outing
has been scheduled for June 27. The Helicopter Golf Ball Drop will again be featured.
The GSE Team from Greece has returned home. By all accounts the visit was a great success.
If you'd like to contact any member by e-mail, click on his or her name below the picture.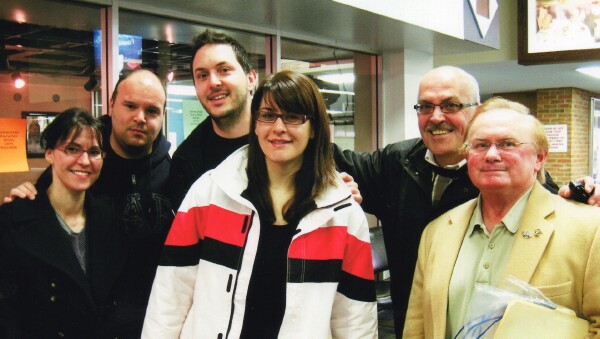 GSE Team from Greece 20101
Sevy Spyridogiannak, Avraam Aslanidis, Dimitris Kovkovtsas, Maria Chatzinikolak
With Bay City Rotarians Hratch Basmadjian and Bob Chadwick
---
Upcoming Programs
(See the official schedule at RotaryBayCity.org )
April 26, 2011: Jan Rise
will offer her
Spring Gardening Tips
.
May 3, 2011: Bob Chadwick
will speak about
The Rotary Foundation and YOU
.
May 10, 2011: Afghanistan
District Governor Eileen Jennings will talk about her recent trip to Afghanistan.
May 17, 2011: Eovations president Claude Brown
will discuss his company and the line of products they are creating in Bay County.
---
DATES TO REMEMBER
Rotary Concert
- Friday, May 6, 2011.
Club
Golf Outing
- Monday, June 27, 2011.
---
Current and past
DISTRICT DISPATCH
newsletters are available on the District site shown in the LINKS section below.


Rotary Bay City on Facebook!
Click on the Blue Facebook to visit us there.

Remember! Check attendance sheets at the front desk.
---
LINKS