Get Ready For Spring Gardening
April 26, 2011
By: Stephen Kent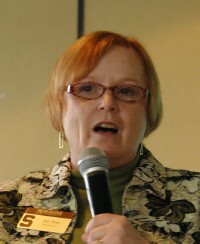 Master Gardner Jan Rise
Master Gardner Jan Rise, MSU Extension Service, spoke to Rotarians about getting ready for spring gardening. Summarizing a longer talk, Jan talked about the form of a garden based on straight lines and obviously man made, and curved lines which mimic nature and are more pleasing to most people.
She described formal and informal gardens, showing slides illustrating each. Formal gardens are based on straight lines and geometric shapes. The informal garden setting feature more curved lines and less rigid organization. She also illustrated some rock garden settings.
Texture plays an important part of a well designed garden. Coarse, medium and fine textures can be represented by different types of plants from large foliage leaves to fine grasses. Mixing texture provides depth.
Pots can be used for beautiful settings in limited spaces. Illustrations included many of the small street gardens found in Chicago.
Pay attention to the tags that come with most plants. They will guide you to the placement of the plants and the climate required. Jan noted that you may find micro climates within a yard where the soil is dryer or wetter and the temperature is cooler or warmer than other areas.
Noting that the local planting season is about two weeks late this year, Jan said that gardeners anticipate that we could still see some frost into the first week of June. The local last frost date is normally thought of as Memorial Day.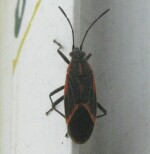 box elder bug
This is the season when the box elder bugs are coming out. They live in crevasses all winter long and come out in the warming weather. You can wash them off your house or vacuum them up if they're inside. They do no real harm, which is good because you can do little about them.
"The forsythia is blooming and that's the signal to get weed and feed on your yard."
Grubs have been a big problem, but just because your grass has died doesn't mean that you have grubs. Pull back a patch of grass and count the grubs. Two or three is OK. Ten or more is a problem.
You can treat for grubs now or in the fall. Grubs (immature June Bugs) eat the roots of your grass. If you cut your grass a little longer it will grow more roots giving the grubs more to eat without hurting the lawn.
For more information visit the MSU Extension web site at
www.baycounty-mi.gov/msue
.
---
CLUB NEWS and ANNOUNCEMENTS
Be sure to see the
April District Dispatch
. Click here to link to the
PDF.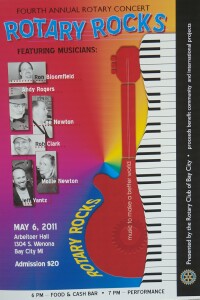 The
Concert for Rotary
is Friday, May 6. The committee wants to sell 200 tickets. If you can't go, buy a pair of tickets anyway and give them to someone.
Jeff Yantz
, one of the Rotarian musicians is offering his latest CD for sale now and at the concert. Proceeds from any CD's sold in advance at the meetings will be donated to the concert.
The
Carroll Park
cleanup will be held May 7 starting at 8:00 AM. The Club always has a group to participate. Andreas and Tracy Teich will open their home for refreshments and snacks after the Carroll Park event. Talk to Drew, Brenda and Sita for more information.
The annual club
Golf Outing
has been scheduled for June 27. The Helicopter Golf Ball Drop will again be featured. There are 130 golf outings in the area this year. The Rotary outing will be different. Everyone is encouraged to
dress as your favorite golfer
, current or historic. Prizes to the best looking team!
Rather than having a single cart sponsor this year, the Golf Committee invites you to
sponsor your own cart
. Get your company name displayed on your cart for $50.
MEMBER PHOTOS:
If you missed the opportunity to have
Anne Trahan
take a new picture for the Rotary Directory, don't fret. Give her a call or see her at the meeting to work out a sitting. The directory picture is free. Retouched digital photos and portraits for your own use are available for a small charge.
---
Upcoming Programs
(See the official schedule at RotaryBayCity.org )
May 3, 2011: Bob Chadwick
will speak about
The Rotary Foundation and YOU
.
May 10, 2011: Afghanistan
District Governor Eileen Jennings will talk about her recent trip to Afghanistan.
May 17, 2011: Eovations president Claude Brown
will discuss his company and the line of products they are creating in Bay County.
---
DATES TO REMEMBER
Friday, May 6, 2011:
Rotary Concert
.
Saturday, May 7, 2011:
Carrol Park Cleanup
8:00 am at the park. Refreshments at Andreas' house after.
Tuesday, May 10, 2011: Club
Joint meeting with Morning club
. District Governor Eileen Jennings will speak. (Board meets at 11:00 before regular meeting).
Monday, June 27, 2011: Club
Golf Outing
.
Tuesday, June 28, 2011:
GSE arrives from Afghanistan
.
---
Current and past
DISTRICT DISPATCH
newsletters are available on the District site shown in the LINKS section below.


Rotary Bay City on Facebook!
Click on the Blue Facebook to visit us there.

Remember! Check attendance sheets at the front desk.
---
LINKS