Rotarians Hear Program on Rotary Foundation
May 3, 2011
By: Stephen Kent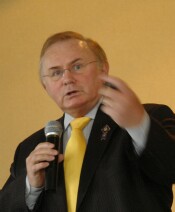 Bob Chadwick
Rotarian, and past District Governor, Bob Chadwick presented a program on the Rotary Foundation and the other good works of Rotary, both locally, nationally and internationally.
Members often ask where their dollars contributed to the Rotary Foundation go. Some things are obvious and well known. The global effort to eradicate Polio is well publicized. This worldwide effort is now concentrating on the last pockets of this dread disease.
Other dollars go to the Group Study Exchange program that sponsors young professionals to visit other countries for a month to see how their contemporaries work around the world. Ambassadorial Scholars provide another exchange program for college students to study abroad for a year.
World health programs, clean water projects, the building of schools and support of education programs are just a few of the many other programs.
Money for these efforts come from matching grants, district simplified grants, and the contributions of Rotarians and Friends of Rotary.
Contributions can be made to the Annual Program Fund or to the Permanent Fund. Annual Giving is encouraged with the slogan "Every Rotarian Every Year".
Giving is recognized through such honors as the Paul Harris Fellow, the Paul Harris Society, Rotary Sustaining Members. The Bay City Club is represented by many members of these groups. On Tuesday Rob and Debra Monroe were honored as Major Donors. Andreas and Tracy Teich were honored as they become members of the Paul Harris Society.
| | |
| --- | --- |
| Kathy presents pin to Rob Monroe | Andreas and Tracy Teich |
---
CLUB NEWS and ANNOUNCEMENTS
Be sure to see the
April District Dispatch
. Click here to link to the
PDF.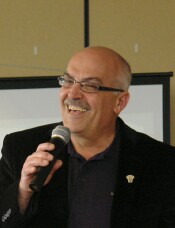 Farewell Hratch
A sad farewell but best wishes to Past President and Rotarian extraordinaire,
Hratch Basmadjian
, who leaves for the Chicago area where he'll run a large Holiday Inn. Andy Rogers posted a video clip of Hratch's farewell remarks (and a generous offer).
View it Here
Last weekend a number of Rotarians participated in the
Rail Trail Cleanup
project. This weekend (May 7) another group helped with the
Carroll Park
cleanup then gathered at the nearby home of Andreas and Tracy Teich.
The annual club
Golf Outing
is coming up fast. June 27 is just a few short weeks away. The Helicopter Golf Ball Drop will be featured again. Of the 130 golf outings in the area this year, Rotary's may be the most colorful as everyone is encouraged to
dress as his or her favorite golfer
, current or historic. Prizes will be given to the best looking team! Remember that you can sponsor your own cart this year. Get your company name displayed on your cart for $50.
MEMBER PHOTOS:
If you missed the opportunity to have
Anne Trahan
take a new picture for the Rotary Directory, don't fret. Give her a call or see her at the meeting to work out a sitting. The directory picture is free. Retouched digital photos and portraits for your own use are available for a small charge.
The
Rotary Rocks Concert
(and general party) happened last Friday, May 6 at Bay City's Arbeitoer Hall. About a dozen musicians representing Rotary and several local bands rocked the house with classic rock, original songs, jazz and other offerings.
This is the fourth year for the "concert" and it gets better and more fun each time. The buffet table was loaded with sandwiches, two styles of wings, sausage and kraut, and cookies. There was no reason to go home hungry!
Andy Rogers posted a video clip of Rob Clark and Ron Bloomfield's Rotary Rocks "teaser" at Tuesday's meeting.
View it Here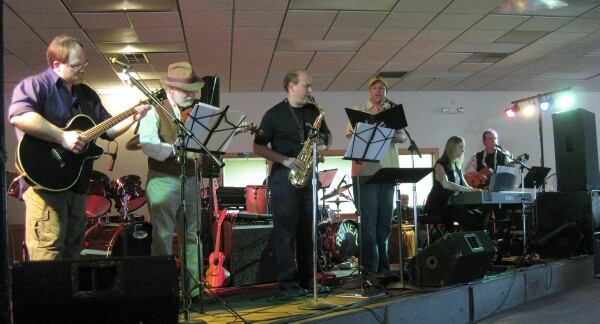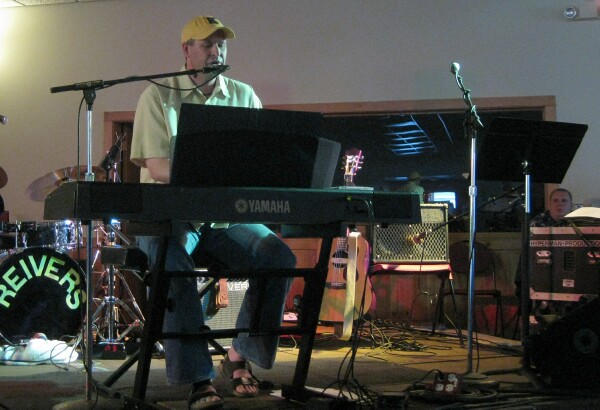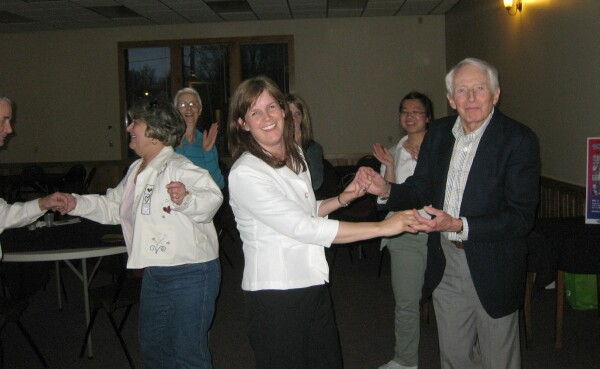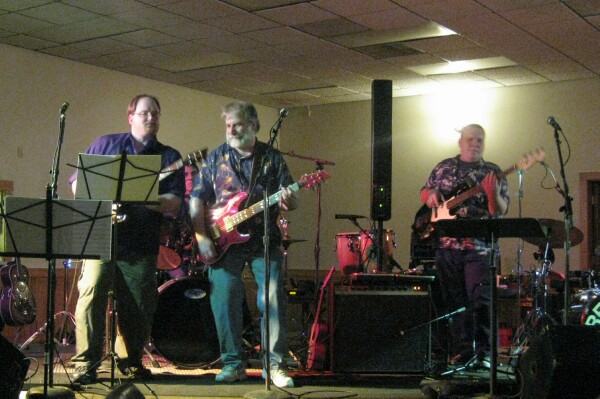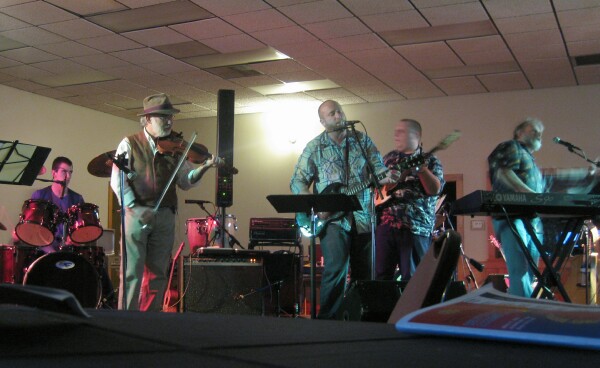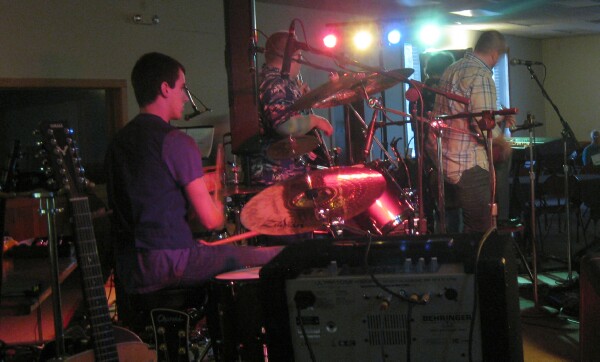 ---
Upcoming Programs
(See the official schedule at RotaryBayCity.org )
May 10, 2011: Afghanistan
District Governor Eileen Jennings will talk about her recent trip to Afghanistan.
May 17, 2011: Eovations president Claude Brown
will discuss his company and the line of products they are creating in Bay County.
---
DATES TO REMEMBER
Tuesday, May 10, 2011: Club
Joint meeting with Morning club
. District Governor Eileen Jennings will speak. (Board meets at 11:00 before regular meeting).
Saturday, May 28, 2011:
GSE Team from Club Afghanistan arrives. They will speak to the club on May 31.

Monday, June 27, 2011: Club Golf Outing.

Tuesday, June 28, 2011: GSE arrives from Afghanistan.



---

Current and past DISTRICT DISPATCH newsletters are available on the District site shown in the LINKS section below.




Rotary Bay City on Facebook!
Click on the Blue Facebook to visit us there.

Remember! Check attendance sheets at the front desk.
---
LINKS