Shearer Building Developer Jim Reid to Take Rotary Podium Tuesday
Sliver of Electorate to Rule, Says Times Lansing Correspondent Luke
October 31, 2004
By: Dave Rogers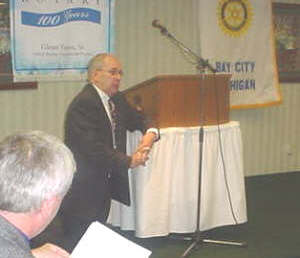 Pastor Les Tyvela of Immanuel Lutheran Church gets on his knees to thank Rotarians for their patience over lack of parking during a recent state Lutheran pastors conference at the DoubleTree.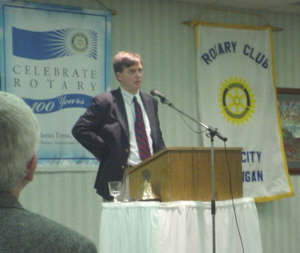 Peter Luke says "it all boils down to turnout" in describing how the Michigan election will be determined.
THE BREEZES - Weekly Newsletter of the Rotary Club of Bay City


This week's program: Jim Reid, of Reid Renovation, developer of downtown luxury housing, discussing the Shearer Building and other condominium projects.
Last week's program: Peter Luke, Lansing political correspondent for Newhouse Newspapers including The Bay City Times and Saginaw News.
      More than 300,000 newly registered voters may hold the key to which Presidential candidatecarries "battleground Michigan," political writer Peter Luke told Bay City Rotarians last week.
      The timely program providing insight into the "big political picture" was introduced by Tony Dearing, editor, The Bay City Times.
      Since July the number of registered voters in the state has grown from 6.8 million to 7.1 million, said Mr. Luke, who covers Lansing and state politics for the Newhouse Newspaper chain including The Bay City Times, Saginaw News and six other Michigan dailies.
      According to Mr. Luke, 60 percent of the new voters are Democrats and in his opinion if more than 4 million Michiganians turn out to vote the Republicans can't win the state. That would be a turnout of about 57 percent, while predictions have the turnout in Michigan hitting 60 percent or more.
      The state's demographics are changing, he said. "Once reliable Republican areas are losing Republicans and Democratic areas are losing population also," he said.       Forinstance, some northern counties that have traditionally been solid Republican are shrinking in population, as are large cities with mostly Democratic voters. Suburban areas like Livingston County that have been GOP strongholds are being infused with newresidents who vote Democratic moving out of the cities.
      "Five of the six strongest Republican counties on the west side of the state have lost Republican votes," he said.
      Macomb County, with a population of 800,000, was the hotbed of the so-called "Reagan Democrats." "It was a big shock in 2000 when Gore carried Macomb," said Mr. Luke. "The Republicans haven't yet figured out the impact of the population shift."
      The election results will depend on who turns out, said the political writer. In 2000 about 4 million evangelical Christians in Michigan stayed home on election day. "No one knows if they will turn out this time," said Mr. Luke.
      A tiny sliver of the electorate will no doubt make the difference, he said. And there are lots of factors that could affect who dominates the turnout. For example:
All members of the United Auto Workers union have the day off, as do many school districts with heavy Michigan Education Associationunion members, including the Grand Rapids Public Schools.
The MEA and the NEA (National Education Association) have been "organizing like crazy," which will be a "huge benefit to the Democrats," said Mr. Luke.
A school initiative is on the ballot in Detroit that may boost turnout there to over 300,000, making it difficult for Republicans to make any headway there.
      If Gross Domestic Product (GDP) is above 4 percent, incumbents generally gain ground, and if it is below 2 percent, the challenger gains, Mr. Luke said. However, GDP now is 3 percent. That fact, and the President's approval rating right about 50 percent puts things "right on the cusp," the political writer said, adding: "Then we have the overlay of Iraq, of which Sen. Carl Levin says people have no idea how bad it really is."
      What about the polls? "Theoretically they could all be wrong," said Mr. Luke, noting that the "undecided voters generally break to the challenger."###