Rotary District Governor Reports on Trip To Afghanistan
May 10, 2011
By: Stephen Kent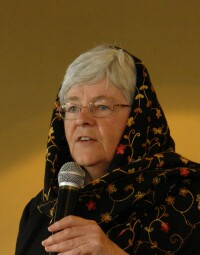 Dist. Gov. Eileen Jennings
District Governor Eileen Jennings
visited the Bay City club and reported on her recent Rotary trip to Afghanistan.
Jennings was stayed in the home of former Rotary Ambassadorial Scholar Mohibullah Israr, who studied at CMU in 2008. After returning to his home, Israr and another Rotary Scholar built a school with the help of Rotary contributions from this district.
Israr's school serves both boys and girls. After Israr's year in Michigan, the Bay City Club sponsored a drive to collect books for the school. These were shipped to Afghanistan and are in use today.
While visiting the school Jennings was invited to participate in class exercises, in particularly the teaching of English. She discovered a great tool by doing the "hokey pokey" with the students. "It's a great way to teach some basic English as it names the parts of the body in a fun way", she said.
To conform to custom, Jennings always wore a head covering on her trip. She did not wear a burqa except on one occasion. She related an experience where riding in a car with Israr's wife the other woman pulled back her covering with pride to show that she could, if only in the confines of the car.
As a woman Jennings was somewhat restricted in where she could go. She visited a store for women but the men had to check it out first. She was not in other stores.
Jennings visited during winter. Because the cold time is short, homes have no heating. People cover with blankets and might use a small cooking stove in occupied rooms to add a little warmth. "I was cold the whole time" said Jennings. "But it reaches 120 degrees in the summer, and there are mosquitoes, so I preferred visiting in winter."
The local Rotary District held a Polio Immunization Day during the visit and Jennings was treated as a representative of Rotary International. She felt honored to help and administer vaccine to children.
---
COMMUNITY GRANTS PRESENTED:
Kelly Frick, Chair of the Community Grants Committee, started a new tradition by presenting checks to supported organizations at the meeting.
Do-All, Inc.
was granted $2,000 toward the Vision for Bay County program, which provides eye glasses to low income individuals. The program is an outgrowth of an effort started by Rotarian Dr. Lee Newton. Glasses will be provided by
Newton Eye Care Center
, which donates all of their time and resources. Do-All qualifies the recipients and raises funds to cover the basic costs.
United Way of Bay County
received $1,000 toward its Back To School Clothing program that provides new clothing for kids in need. Each child receives socks and underwear, two shirts, jeans and tennis shoes. Rotary's grant goes farther with the help of a matching grant from
Robert and Helen Lee
.
The rest of the grants will be presented in weeks to come.
---
CLUB NEWS and ANNOUNCEMENTS
Be sure to see the
April District Dispatch
. Click here to link to the
PDF.
President Eric reported that the
Administrative Review Work-group
continues to meet. They plan to report to the board in June, have a club assembly in July, and follow up with recommendations by September.
The annual club
Golf Outing
is coming up fast. June 27 is just a few short weeks away. The Helicopter Golf Ball Drop will be featured again. Of the 130 golf outings in the area this year, Rotary's may be the most colorful as everyone is encouraged to
dress as his or her favorite golfer
, current or historic. Prizes will be given to the best looking team! Remember that you can sponsor your own cart this year. Get your company name displayed on your cart for $50.
MEMBER PHOTOS:
If you missed the opportunity to have
Anne Trahan
take a new picture for the Rotary Directory, don't fret. Give her a call or see her at the meeting to work out a sitting. The directory picture is free. Retouched digital photos and portraits for your own use are available for a small charge.
---
Upcoming Programs
(See the official schedule at RotaryBayCity.org )
May 17, 2011: Eovations president Claude Brown
will discuss his company and the line of products they are creating in Bay County.
May 24, 2011: Great Lakes Bay Regional Alliance. Terry Moore, President/CEO, will speak.

May 31, 2011: Afghan GSE Team is scheduled to speak as their visit begins.

June 7, 2011: YMCA Chuck Brooks will update the club on the construction of the new Family Y.

June 21, 2011: Youth Exchange Joshua Hales (son of Andrea) will talk about his upcoming year abroad.


---
DATES TO REMEMBER

Saturday, May 28, 2011: GSE Team from Club Afghanistan arrives. They will speak to the club on May 31.

Monday, June 27, 2011: Club Golf Outing.



---

Current and past DISTRICT DISPATCH newsletters are available on the District site shown in the LINKS section below.




Rotary Bay City on Facebook!
Click on the Blue Facebook to visit us there.

Remember! Check attendance sheets at the front desk.
---
LINKS