Rotary Update -- May 24, 2011
May 24, 2011
By: Stephen Kent
---
CLUB NEWS and ANNOUNCEMENTS
Be sure to see the
April District Dispatch
. Click here to link to the
PDF.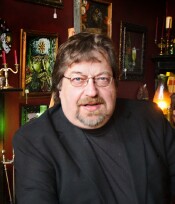 Leo Najar
by Andy Rogers
The club bids a sad farewell to Leo Najar who passed away suddenly last week. Leo was a treasure to the community and the club and will be sorely missed. His musical accompaniments and flourishes at our meetings were always fun. His "Rotary Choir" at the fireworks Festival was an experience. He was a showman, an artist, a creator, an educator, and a good friend to all. See
MyBayCity.com Obit
COMMUNITY GRANTS PRESENTED:
Kelly Frick presented Community Grants checks to two organizations.
The Literacy Council of Bay County
received $1,000 toward a free summer tutoring program aimed at young students who are behind in math and reading skills. The check was received by Kathy Rayner who spoke about the work of the Council.
A check for $1,500 was presented to the Community Foundation's
Rail Trail and River Walk Committee
. Rotarian Sita Compton received the check for the committee. The funds will be used toward replacing old, and installing new map signs along the rail trail.
NEW MEMBERS
: Welcome to returning Rotarian
Lynn Weaver
who has rejoined the club after a couple of years off. Lynn is now with the Anderson Financial Group of Hilliard Lyons. And welcome to new Rotarian
Tricia Coonan
, sales manager at the Double Tree Hotel and Conference Center.
The
GSE Team From Afghanistan
is scheduled to arrive May 28. The club is still in need housing for our guests from May 28 through Memorial Day. The number of team members is not certain but it should be from 3 to 5 people.
Rotary International Convention Dispatch from Dee Dee
:
" Hi am at Rotary convention jazz blaring in the background. wow this is almost too much to take in I am on overload!! Am picking up many ideas from other people and clubs. Reinforces my respect for Rotary. I may never be the same. Be prepared for a big report from me when I return. Love to all!! DD? "
The annual club
Golf Outing
is coming up fast. June 27 is just a few short weeks away. The Helicopter Golf Ball Drop will be featured again. Of the 130 golf outings in the area this year, Rotary's may be the most colorful as everyone is encouraged to
dress as his or her favorite golfer
, current or historic. Prizes will be given to the best looking team! Remember that you can sponsor your own cart this year. Get your company name displayed on your cart for $50.
MEMBER PHOTOS:
If you missed the opportunity to have
Anne Trahan
take a new picture for the Rotary Directory, don't fret. Give her a call or see her at the meeting to work out a sitting. The directory picture is free. Retouched digital photos and portraits for your own use are available for a small charge.
---
Upcoming Programs
(See the official schedule at RotaryBayCity.org )
May 31, 2011: Afghan GSE Team is scheduled to speak as their visit begins.

June 7, 2011: YMCA Chuck Brooks will update the club on the construction of the new Family Y.

June 21, 2011: Youth Exchange Joshua Hales (son of Andrea) will talk about his upcoming year abroad.


---
DATES TO REMEMBER

Saturday, May 28, 2011: GSE Team from Club Afghanistan arrives. They will speak to the club on May 31.

Monday, June 27, 2011: Club Golf Outing.



---

Current and past DISTRICT DISPATCH newsletters are available on the District site shown in the LINKS section below.




Rotary Bay City on Facebook!
Click on the Blue Facebook to visit us there.

Remember! Check attendance sheets at the front desk.
---
LINKS