Rotary Club Afghan team members, left, Babrak Mikahel, Saramel Safi, and Faresha Shaheed, left, meet with Mike Stoner, at the club meeting Tuesday.
---
Afghan Team Visit to Rotary Here First in Nation, Says Mike Stoner
May 31, 2011
By: Dave Rogers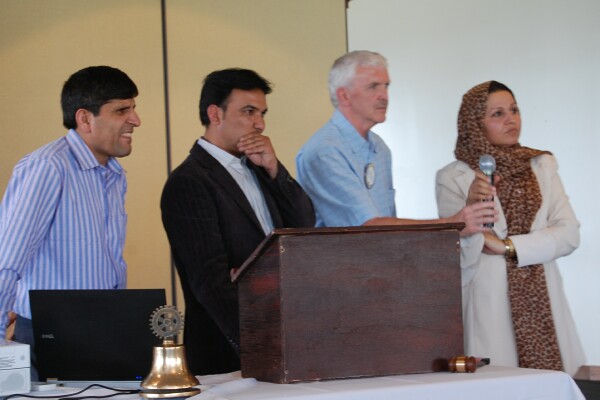 The first
Rotary Group Study Exchange team from Afghanistan
to visit the United States was at the Rotary Club of Bay City on Tuesday and now is on a week-long tour of District 6310 in the mid-Michigan area.
The three-member group visited the Bay County Library System, Bay City Central High and other sights in Bay City after their arrival at Detroit Metro Airport last Saturday.
The Afghan team is comprised of:
Sahar Mal Safi, dentist;
Babrak Miakhel, journalist with the British Broadcasting Company (BBC); and
Fareshta Shaheed, a national gender mainstreaming specialist.
Mike Stoner, Rotary Club of Bay City Group Study Exchange chair, described the visit as a sort of "People-to-People" visit,first ever for an Afghan team to the U.S., adding: "Our goal is when they come back to their country, they can tell who we really are and who we're really like."
The bigger picture of the Rotary program, that involves exchanges of GSE teams, is world peace, one of the organization's goals.
"It is really an amazing trip for me, being (from the) most undeveloped (country) visiting the most developed country," Safi commented.
He drew a laugh from local Rotarians when he noted that on his first trip out of his country he ended up in Pinconning, having an orange pineapple ice cream cone at Purtell's dairy bar.
On the beach of Lake Huron at Tawas for a cold swim, Stoner joked "He got to see things he doesn't get to see in Afghanistan." (women in bathing suits)
Safi explained the need for dental, and medical care, in his country where about 80 percent of the population lives in remote areas. Dentistry is rare there and many country folk still have teeth extracted by barbers. He is hoping Rotary will help provide health outreach to remote areas of his country.
Mikahel said that since the fall of the Taliban with the U.S. invasion in 2001 more than 20 radio stations, two television stations and nearly two dozen newspapers and magazines have sprung up in Afghanistan.
Ms. Shaheed, the grand-daughter of the last Shah of Afghanistan, said she has been working the last 16 years on gender issues that are sensitive in that country. Life expectancy of women is only age 44, she said, describing it as "among the worst in the world."
Because she is attempting to change traditional Afghan cultural prejudice against women, she meets "considerable resistance" to her work, said Ms. Shaheed. "Men, they have the good life," she commented.
Midland Rotarian Lynne Mischley, the Group Study Exchange inbound chairperson, said the Afghan guests are job shadowing with local people in their profession.
Originally ten Afghans were slated to make the trip, but due to dates changing several could not make the trip, Mischley said.
She urged local people who encounter the group to keep in mind cultural differences. For example, Afghanis only eat meet butchered in the Halal process and pray five times a day in the Muslim tradition.
Introducing themselves during their Bay City Rotary presentations, the Afghan visitors said "thank you in the name of Allah." Religion is a big part of the life there and the country is called "The Islamic Republic of Afghanistan."
---
CLUB NEWS and ANNOUNCEMENTS
Be sure to see the
April District Dispatch
. Click here to link to the
PDF.
The annual club
Golf Outing
is coming up fast. June 27 is just a few short weeks away. The Helicopter Golf Ball Drop will be featured again. Of the 130 golf outings in the area this year, Rotary's may be the most colorful as everyone is encouraged to
dress as his or her favorite golfer
, current or historic. Prizes will be given to the best looking team! Remember that you can sponsor your own cart this year. Get your company name displayed on your cart for $50.
MEMBER PHOTOS:
If you missed the opportunity to have
Anne Trahan
take a new picture for the Rotary Directory, don't fret. Give her a call or see her at the meeting to work out a sitting. The directory picture is free. Retouched digital photos and portraits for your own use are available for a small charge.
---
Upcoming Programs
(See the official schedule at RotaryBayCity.org )
June 7, 2011: YMCA
Chuck Brooks will update the club on the construction of the new Family Y.
June 14, 2011: GM Power-train
Joe Mazzeo
will talk about the status of GM in our area and some new products by the car manufacturer.
June 21, 2011: Youth Exchange Joshua Hales
(son of Andrea) will talk about his upcoming year abroad.
---
DATES TO REMEMBER
Monday, June 27, 2011: Club
Golf Outing
.
---
Current and past
DISTRICT DISPATCH
newsletters are available on the District site shown in the LINKS section below.


Rotary Bay City on Facebook!
Click on the Blue Facebook to visit us there.

Remember! Check attendance sheets at the front desk.
---
LINKS