Don Carlyon to Describe Benefits of Nebraska Unicameral Legislature
Jim Reid Aims to Bring Park Avenue, New York City, to Downtown Bay City
November 7, 2004
By: Dave Rogers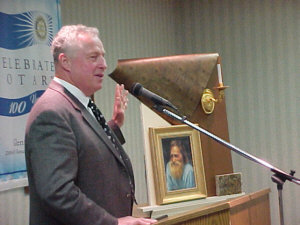 Developer Jim Reid addresses the Rotary Club with samples of his luxury amenities package arrayed behind him on an easel.
THE BREEZES - Weekly Newsletter of the Rotary Club of Bay City.
This weeks' program: Don Carlyon, former Delta College president and onetime Nebraska state trooper, explaining benefits of the Nebraska unicameral legislature.
Last week's program: Jim Reid, Reid Renovation, condominium developments in downtown Bay City.
           Jim Reid, podiatrist turned real estate developer and contractor, is doing his part to remake downtown Bay City.
      The burly former high school football linebacker told the Bay City Rotary Club that he is trying to emulate Park Avenue in New York City with the Shearer Building and some of his other downtown projects.
      In fact, Dr. Reid traveled to New York City and took pictures and made notes on the properties there, giving him many ideas incorporated into the construction projects here.
      Prices, of course, will be far from Park Avenue standards, but still will be substantial for Bay City. Units in the Shearer Building will be about $170 per square foot, ranging up to $430,000, he said.
      He's become an enthusiastic booster of the City of Bay City, especially since the City Commission passed a nine year tax abatement on the Shearer Building. Designed to encourage buyers to buy properties and live downtown, the tax break cuts property taxes from about $7,000 to $10,000 a year per unit to about $320 a year for the first six years and about $680 for the remaining three years.
      "This is quite a decrease; it really helps me as a developer," said Mr. Reid, noting that rehabilitation of an old downtown building "costs a little more than normal" but that this concession from the city encourages people to "come downtown and take a chance on you." He noted that he has asked for an additional two years on the tax break since the building is under construction for two years and there is no opportunity to pass on the tax break during that time.
      Dr. Reid was asked: Has downtown condominium construction reached the saturation point?
      The answer may be apparent in the fact that after completion of the Shearer Building he will work on the Knepp's Building and other units that are in a lower price range. "There is a whole other level of the population that would like to live downtown," he said. "A lot of people want to move downtown, and no one's addressing the other level."
      One idea raised by Dr. Reid, reduction of structural property taxes, is already being pursued by city government, as indicated in a Bay City Times article on Sunday, Nov. 7.
      Dr. Reid says he has already leased most of the six storefronts and sold several of the units in the Shearer Buildingand expects the first residential buyer to move in during January. "Then we're going to have a great big party," he said enthusiastically, adding: "And you're all invited." Dr. Reid noted that sales of the Shearer Building, Antrim Place and other developments of his are being handled by Harris-Bush Realty.###