Bay Area Family Y 'Paving the Way' to New Community Jewel
June 10, 2011
By: Dave Rogers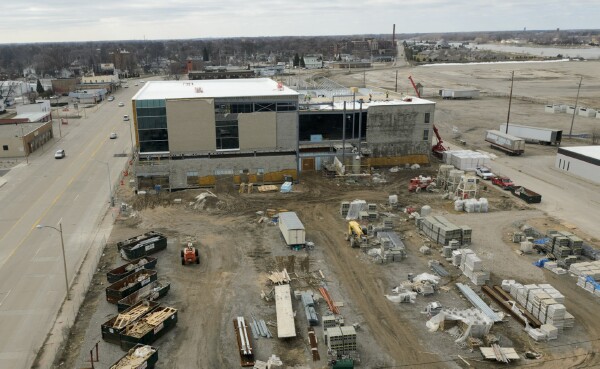 YMCA from City Hall by Andy Rogers - March 2011
As the massive walls of the new
Dow Bay Area Family Y
rise on Washington Avenue, officials have launched two new campaigns for community support:
Paving the Way, a fund-raising capital campaign supporting the new facility; supporters can buy bricks that will be located at the main entrance and will help provide "a strong endowment for many years to come," according to Y Executive Director Chuck Brooks.
A Corporate Membership Program for youth development, healthy living and social responsibility; companies and organizations can achieve a cost reduction up to 50 percent with lump sum payment for employees.
Mr. Brooks, membership coordinator Andrew Kornecky and board secretary Jill Callahan updated members of the Rotary Club of Bay City last Tuesday on the building program.
The Y has raised $425,000 since April and has about $1,575,000 to go on its fundraising to complete the building at Tenth Street and Washington Avenue, said Mr. Brooks.
Of 930 bricks available, about 100 have already been spoken for, said the Y director, characterizing them as "wonderful gifts for memorials, graduates, weddings and family remembrances." Each brick purchaser will receive a keepsake certificate.
Heavy spring rains and surprise discovery of two underground storage tanks have delayed the project but now construction is proceeding toward the point where hard hat tours will be conducted on the unfinished structure.
Passersby will soon be able to see the outside veneer and architectural block that will define the structure visibly, said Mr. Brooks.
Recruitment and hiring of staff is underway, along with planning for transition from the old building on Madison and Columbus to the new structure.
A Business After Hours and Dow Chemical Company open house will be slated to introduce the building and its programs, said the director.
Mr. Kornecky said the Y is offering incentives to get current members to use the new facility and has set a program for present and new members all to receive charter member designation.
An Active Tracks Fitness Management Program to be conducted here is the only one like it in Michigan, he said. Y officials cited statistics showing a $1 investment in employee fitness yields about a $4.50 return in increased productivity and less absenteeism.
---
CLUB NEWS and ANNOUNCEMENTS
Be sure to see Eileen Jennings final District Dispatch for her term as governor.
Click here to link to the PDF.
The annual club
Golf Outing
is coming up fast. June 27 is just a few short weeks away. The Helicopter Golf Ball Drop will be featured again. Of the 130 golf outings in the area this year, Rotary's may be the most colorful as everyone is encouraged to
dress as his or her favorite golfer
, current or historic. Prizes will be given to the best looking team! Remember that you can sponsor your own cart this year. Get your company name displayed on your cart for $50.
MEMBER PHOTOS:
If you missed the opportunity to have
Anne Trahan
take a new picture for the Rotary Directory, don't fret. Give her a call or see her at the meeting to work out a sitting. The directory picture is free. Retouched digital photos and portraits for your own use are available for a small charge.
---
Upcoming Programs
(See the official schedule at RotaryBayCity.org )
June 14, 2011: GM Power-train
Joe Mazzeo
will talk about the status of GM in our area and some new products by the car manufacturer.
June 21, 2011: Youth Exchange Joshua Hales
(son of Andrea) will talk about his upcoming year abroad.
---
DATES TO REMEMBER
Tuesday, June 14: Board meeting at 11:00 am before regular meeting.
Monday, June 27, 2011: Club
Golf Outing
.
---
Current and past
DISTRICT DISPATCH
newsletters are available on the District site shown in the LINKS section below.


Rotary Bay City on Facebook!
Click on the Blue Facebook to visit us there.

Remember! Check attendance sheets at the front desk.
---
LINKS