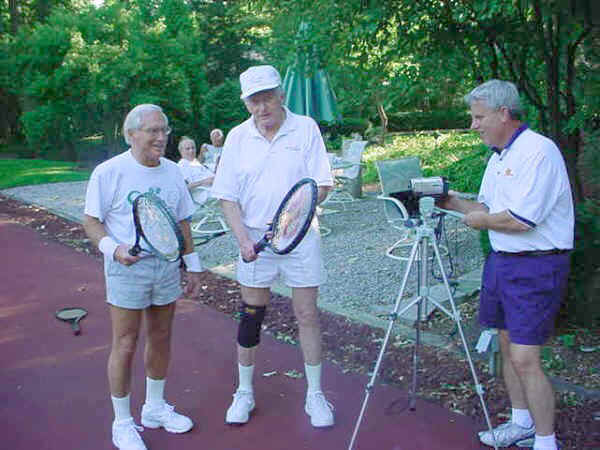 Lynn Stamiris, right, demonstrates how Dartfish software can improve their tennis game to Eddie Gledhill, left, and Cliff Van Dyke.
---
Video Software Helps Improve Sports Performance, Worker Productivity
Engineer Lynn Stamiris Explains How Dartfish is Used by Athletes, Industry
November 14, 2004
By: Dave Rogers
      What if you could videotape your golf swing and analyze every aspect of it, from address to follow through, and view it frame by frame? And what if an employer could videotape workers and adjust their environment to improve productivity?
      Well, now this can be done with a pace-setting technology called Dartfish that is being used by athletes and teams in almost every sport and industries all over the world.
      This technology is being distributed in the Saginaw Valley, andMichigan, by former industrial executive Lynn Stamiris, of Bay City.
      Tennis Pro Mike Woody of the Midland Community Tennis Center is the latest coach to adopt the Dartfish system in teaching the fine points of his sport.
      Anddown in East Lansing, swimmers under Coach Matt Gianiodis of the Spartan swim team are viewing frame-by-frame analyses of their strokes.
      As golfers know well, even the slightest deviation from the correct swing path can make a shot go askew. With the video analysis, the golfer knows instantly how to make corrections and get the shot back on track, says Mr. Stamiris.
      "DartTrainer products allow you to integrate video to its maximum potential in sports training," said Mr. Stamiris after a recent demonstration to a tennis doubles group in Bay City.
      Among players marveling at the immediate visual feedback were Eddie Gledhill, Cliff VanDyke, Andy Wendland and Bob Rogers, along with this reporter.
      April Hendrichs, head coach of the U.S. Women's National Soccer team, used the Dartfish software in preparation for the 2003 Women's World Cup Tournament, calling it "an invaluable tool."
      Other sports for which coaches are using the software include football, track and field, softball, baseball and volleyball.
      How did Mr. Stamiris come across this unusual product? An industrial engineer by training and life-long amateur athlete, Mr. Stamiris experienced an epiphany of sorts while watching the 2002 Winter Olympics.
      While working as an Industrial Engineer at Delphi-Saginaw, Mr. Stamiris had been searching for a tool to benchmark manufacturing processes, measuring differences in machine cycles, operator skills and ergonomically sound methods. As NBC was re-broadcasting a gold medal performance on the ski hill using an overlay comparison to the silver medal performance, the announcer identified the cutting edge video software technology as Dartfish. The skill difference in the hundredth of a second win was visible only through this amazing tool. Stamiris knew he had found his answer!
      Striking examples of the various applications were seen again as NBC broadcast the 2004 Summer Olympics from Greece. NBC used this software technology for the synchronized diving exhibitions and the comparison of precise movements from platform to water.
      The real value with Dartfish is in training. Olympic, professional and collegiate athletes in a variety of sports from track to diving to volleyball are using the software. Of the 103 medals won by USA at the Summer Olympics, 77 were won by athletes who trained with Dartfish.
      Dartfish technology allows real time video study and analysis using special software techniques. Athletes have been using Dartfish technology as a training tool since 1998. Working one on one with their players, coaches can film an action, compare it to the best performers in the world or to the player's personal best.Nuances not identifiable to the naked eye can be seen on video, enhanced through manipulation with the software.
      Professional athletes, such as those playing for the Seattle Mariners, have also improved their performance focusing on pitching and hitting at the developmental level. Football Punter Micah Knorr, of the Denver Broncos, increased the average hang time of his punts by two to three tenths of a second over last year's average. "An eternity in this profession," one coach commented. Through the futuristic technology, athletes can relate immediately to what's going on and react with immediate change.
      This summer, the Central Michigan Women's Field Hockey team began training with Dartfish video software. Coach Cristy Freese and her assistants Earl Marais and Meg Lewis are excited about the opportunity to refine core tasks in field hockey.
      Mr. Stamiris, through his own company called Standardeyes, is also an international manufacturing sales representative for Dartfish. He has worked with Michigan companies as well as in the global marketplace including Mexico and Korea. A major automotive parts supplier is using the software to train the operators in assembling a dashboard cockpit for a 2005 model. A Korean Automotive supplier uses this software to replace traditional written job instruction guides. They always have a visual record of the best methods for reference. A sports medicine and physical therapy facility of a major Michigan university benchmarks and records patient progress with the video technology.
      For more information, contact Lynn D. Stamiris, account manager, lynn.stamiris@standardeyes.biz, or phone 989-895-1433 or 989-295-0772 (cell phone).###