Rotary Foundation Takes Spotlight This Week With Kathy Czerwinski
The Unicameral Has Many Advantages for Nebraska, Mainly Money Savings
November 14, 2004
By: Dave Rogers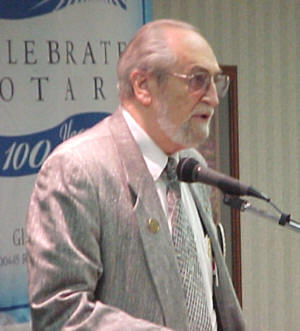 Don Carlyon addresses the Rotary Club of Bay City on the Nebraska Unicameral.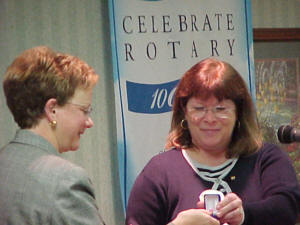 RI Foundation chair Kathy Czerwinski, right, presents Cindy Chadwick with a Paul Harris Fellow, plus 1, award.
THE BREEZES-WEEKLY NEWSLETTER OF THE BAY CITY ROTARY CLUB
This week's program: Kathy Czerwinski, Rotary Foundation.
Last week's program: Don Carlyon, Nebraska's Unicameral.
      They call it the Unicameral.
      It's Nebraska's Legislature, one house only, and it's the only one of its kind in the nation.
      Every legislator is a senator, all 49 of them, selected on a non-partisan basis. Almost everybody in the state knows all of thesenators because there are so few.
      And, they only meet an average of 75 days a year.
      Compare that to Michigan's 148 legislators, 110 representatives and 38 senators, meeting it seems continually every year.
      Singing the praises of the Unicameral at last week's Bay City Rotary Club meeting was Don Carlyon, one time Nebraska state trooper and retired Delta College president.
      In 1934 some 60 percent of Nebraskans approved a change in the state constitution to provide for the one house legislature, Mr. Carlyon noted.
      The action cut the cost of government in half, reduced committees from 61 to 18 and resulted in about a 50 percent cut in costs per bill passed.
      "Lobbyists have much less influence because the process is more public," said Mr. Carlyon, who once drove for Nebraska Governor Val Peterson and therefore got a chance to view state government first hand.
      He said it's also easier to gain cooperation between the executive and legislative branches with the Unicameral. Only three rounds of debate are permitted before a vote is required on proposals, he said.
      "I am a great fan of the Unicameral," commented Mr. Carlyon. "It is the most efficient method of state government and therefore the most unlikely to be used anyplace else," he said, waving a hat boasting the name of the USS Nebraska, a nuclear submarine.
DISTRICT 6310 NOTES:
Bay City was second among district clubs in annual giving to the Rotary Foundation with $8,530, following Frankenmuth with $15,420.
The Owosso club recently hosted Michigan Gov. Jennifer Granholm. PDG Dick Campbell told the Governor it was a tradition for governors to appear at Owosso Rotary, and she complied.
Several Rotarians from the district are joining Dave and Barbara Groner leaving Wednesday on an 8-day trip to Nigeria for a National Immunization Day (NID).
The district conference is scheduled April 29-May 1 in Midland at the Marriott Ashman Court downtown. Make plans now to attend.###