Rotary Installs New Officers for 97th Year
July 5, 2011
By: Stephen Kent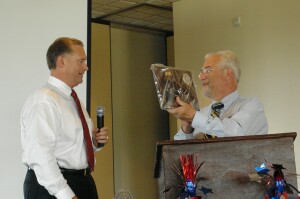 2011-2012 President Ed Keating presents plaque
to outgoing President Eric Jylha
Tuesday, July 5 marked the
97th Passing of the Gavel
for the Bay City Rotary Club. Outgoing President
Eric Jylha
presented award certificates to 24 members who, with makeups, had perfect attendance for the past year.
Eric then outlined some of the accomplishments of the past year including International Night with speaker Rick King, another great golf outing, the Rotary Rocks Concert, and several visits by District Governor Eileen Jennings. We also enjoyed a visit by ambassadorial scholar Tyler Matthews before he left for Oxford in England and a number of other outstanding speakers focusing on local and international projects and events.
Highlights of the year included visits by the Afghanistan GSE team a month ago. This was the first time these young professionals had been outside a war zone. Among their many experiences was an American Birthday Party on their arrival.
The club also participated in the GSE visit of the Greek Team. This group spent more time in other communities but Bay City hosted the Going Away party.
A major accomplishment has been the work of the Administrative Review Workgroup. This team of people has been meeting weekly for most of the year and will continue for a few more months. The objective is a review of all aspects of club operations and recommendations to be made to the board in the next few months.
---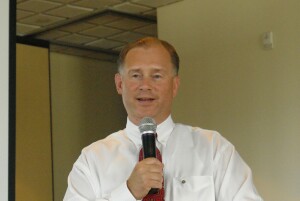 Ed Keating - President 2011-2012
After receiving the historic President's Pin from Eric,
Ed Keating
passed his President-Elect pin to
Kim Prime
. He then thanked his brother for the Paul Harris Pin and noted that their Father had also been a Rotarian.
Ed then presented remarks on the upcoming year with the international theme "Reach Within to Embrace Humanity".
Among the accomplishments of recent years has been raising over $50,000 toward major projects including the Wayfinding Project, the YMCA, and the Bay City Players. The club also funds Community Grants, the Dictionary and Thesaurus projects and international projects.
To continue the club's good works we need to sustain the membership level. With 110 current members the club needs to work to increase the numbers. President Ed is proposing two membership campaigns during the year.
Among the more important projects is the Job Shadowing events for students. Ed thanked Griff and Ralph for their work on these and called for the club's support as these important projects continue.
Ed introduced the board and committee chairs and invited anyone interested in Club Service to contact him about positions still open.
---
Paul Harris
awards were presented to several people at Tuesday's meeting. The first was presented by visiting Rotarian
Phil Keating
to his brother
Ed
, the incoming Bay City President. Phil is a PH winner himself and a past president of the Big Rapids Rotary Club. Phil presented Ed with his Paul Harris and his Plus One designation.
Cathy Czerwinski
then presented two additional Paul Harris awards. The first was a surprise presentation to
Phil Keating
, who had just presented to his brother. The second was presented to
Chuck Cusick
who received his Plus Eight award.
After many years of service this is the last presentation by Cathy who will pass the duties to Gena Gates, the new chair for Paul Harris awards.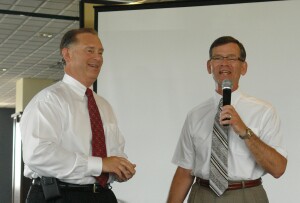 Keating and Keating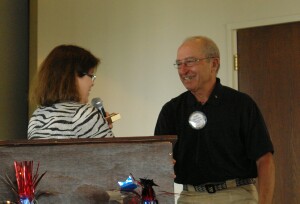 Chuck Cusick receives Paul Harris Plus
---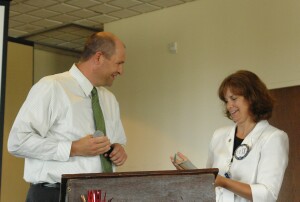 Rob Clark presents Rose Award to Andrea Hales
Rob Clark
presented the 4th annual
Rotary Outstanding Service and Excellence (ROSE)
award to Andrea Hales. The award embodies the motto Service Above Self. Previous winners were Cindy Chadwick, Linda Heemstra and Ed Keating.
Andrea Hales
represents service to the community, the club and the world through her membership and her spirit. Andrea has repeatedly led efforts related to fund raising, event planning, and more recently our Youth Exchange program. She has put a spark into the Sargent at Arms position and is one of the first smiling faces you see at each meeting.
---
CLUB NEWS and ANNOUNCEMENTS
A big Rotary "Sorry 'Bout That" to
Jim Griffiths
who reported that the truck he borrowed from his brother has a U of M plate. But a reminder that
Cindy
has some green nail polish to fix that!
Jerome Yantz
commented on the upcoming Detroit Club 100th Anniversary celebration and noted that Detroit sponsored the Bay City Club. He joked that he and Harry Farris were there. (
Don Carylon
added that he was there waiting for Jerome and Harry 100 years ago!)
Harry Farris
said that he went to New Hampshire to see his grandson graduate from Law School. While there he was showing off playing football with his grandson and great grandson and cracked a rib. He's all healed now.
---
Upcoming Programs
(See the official schedule at RotaryBayCity.org )
July 12, 2011: Miss Bay County 2010
Katie LaRoche will talk about her year as Miss Bay County.
July 19, 2011: Bay Area Women's Center
Jessica Gregory will speak on the organization's long history of helping women and men in domestic abuse situations.
July 26, 2011: 10 Minute Rotarian
August 2, 2011: The Diversified Group.
Joel Wilson will talk about his company and explain about being a publicly traded company.
---
Current and past
DISTRICT DISPATCH
newsletters are available on the District site shown in the LINKS section below.


Rotary Bay City on Facebook!
Click on the Blue Facebook to visit us there.

Remember! Check attendance sheets at the front desk.
---
LINKS